Gigabyte revisions: no official response, but new developments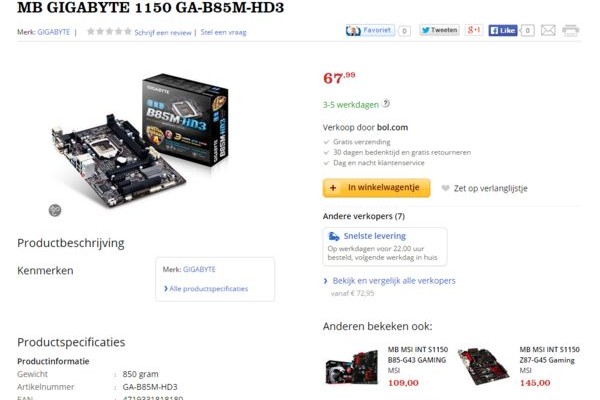 Late last year, we published an article on Hardware.Info which we described that motherboard manufacturer Gigabyte develops new revisions of existing motherboards that offer less functionality and / or performance, and then sells the exact same product and EAN codes (barcodes). That may, in the modern world of automatic linking orders between online shops, distributors, importers and manufacturers, result in you receiving a different product than you think to buy. In our article we demonstrated using the Gigabyte GA-B85M-HD3 motherboard that not only visually but also in terms of operation be major differences are between the revisions. What has happened since?
The article has definitely made some loose: many sites worldwide took over and in our own country we received feedback from various online shops they were unaware of this practice, and not exactly happy about it. An official response from Gigabyte has promised us, but now – two months after original publication – still not inside. The Dutch office of Gigabyte has told us for an official response to depend on Gigabyte Taiwan. And Gigabyte Taiwan in turn has given us nothing official event let know.
What we did do was unofficial feedback in the form of two e-mails during the Christmas season of Gigabytes global PR manager. There we were as important substantive response to that described throttling Revision 2.0 of the tested B85M-HD3 motherboard can also come from other manufacturers, with the explicit accusation that we unilaterally reported a problem, without looking at other manufacturers.
From this reaction and other reactions Gigabyte Taiwan which are directed to other sites show that our primary point in this matter has not been reached. The crux of the article was not a Gigabyte motherboard that overclocks back because of overheating. The point that we wanted to make is that Gigabyte significantly modified and functionality / quality discounted products sells the same product codes / barcodes. The "throttle test" was purely a way to demonstrate that GA-B85M-HD3 rev. 2.0 actually is not significantly changed compared to rev. 1.0, as the signs in the clear function test performed by us different.
Gigabytes implicit accusation of other motherboard manufacturers was that budget signs of other brands also clocks back when you get a heavy duty Core i7 puts on. Although not relevant to the point we aankaartten, we are responding to this do: at present, we are putting the final touches to a roundup of budget H81 boards of the four major brands, this phenomenon which we have tested extensively. But, again, this was not what the original article passed and does not detract from the seriousness of the matter of adjusting significantly during the lifetime of a product characteristics.
Webshops
In the emails we Gigabytes' head of PR have been also said that a consumer would be informed before it would proceed with a purchase. Since Gigabyte is clear on the site about new revisions, selling new revisions with the same codes would therefore be no issue.
That Gigabyte is clear on its own site, is indisputable and we have never disputed. The problem is that distributors and online shops are not aware of when the board changes, and thus the information on their website not (can not) adapt. Commenting on Gigabyte late December we showed for example that the largest IT online shop in the world, Newegg in America, in the B85M-HD3 still showed the photo of revision 1.0, while that was not delivered for months. Miraculously were a few days after our email adjusted the pictures of the B85M-HD3 at Newegg (presumably so after a call from Gigabyte), but the vast majority of online shops is still not the case.
When we the article on the B85M-HD3 published had all online shops Hardware.Info Price comparison still photos of Revision 1.0 are online. Meanwhile, a number of shops, has presumably because of our article, adapted the photos, but the vast majority are still data revision 1.0. And so, when you get there as a consumer thinks the product order that you see in the picture, you finally buy something else.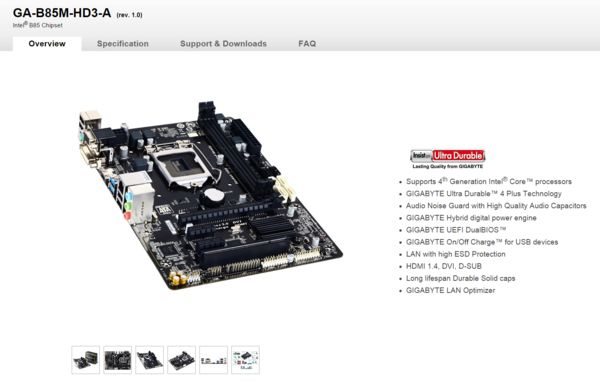 Following the article we had contact in the last days of December and the first days of January, with several large IT shops in the Netherlands as well as other price comparison sites. One by one we got had gotten feedback that no one ever heard of a motherboard that Gigabyte had a new revision with a request to modify data on the sites. Either: Gigabyte There must be honest about on the site, it makes it at least not actively work to do enter this information in its partners.
Results
Although Gigabyte so to this day despite several requests us not have to send official response, there are some things happened. The motherboards mentioned in our articles and various other publications have had much to do – coincidence or not – suddenly indeed given a new name and product codes. There is next to the GA-B85M-HD3 suddenly a GA-B85M-HD3-A and revision 1.0 of this board seems – judging by the photos – identical to revision 3.0 of the GA-B85M-HD3. Excellent, this is exactly what we would like to see. But whether significant new revisions a new name (with suffix A) and new codes are giving is done once or a change in strategy, we need to wait and see. The fact is that there are also the last two months many new revisions have come out as useful to follow this Gigabyte RSS feed.
We have checked all new revisions released in 2015 and found there – at least based on the pictures – no example like the B85M-HD3 rev. 2.0, where there are clearly significant adjustments. The new revisions lately seem minor adjustments where it justify the basis that the products continue to be sold under the same name and product codes. However, our position remains: if a product changes significantly, a new name and new codes are needed. Let's hope -A variants from launch will happen more often with significant changes.
Now what?
Since Gigabyte even after many reminders from our side does not want to respond to the situation, it is difficult to conclude definitively that matter. It is positive that a significant number of modified products are rebranded with a new name and new codes. At the same time, laying the new revisions through and it is not clear whether Gigabyte in the future again significant changes in the negative sense will carry on existing signs, without changing product codes.
Precisely because Gigabyte wants or can not provide clarity, we can really only give you as a consumer one tip. If you want to buy a Gigabyte motherboard – for example based on a review of Hardware.Info or another site – go before you proceed to buy first at the site of Gigabyte and check for new revisions are released. So, try to be on the basis of the photos estimate if there are significant changes: for example, components are missing or obviously modified? If that is the case, but was not clear what the exact changes are, please contact Gigabyte and ask them to make it explicitly clear what has been adjusted. And above all, when you go to order a product, please first contact the store where you want to place the order and ask them to look at their warehouse which revision they are and will send. Granted, a lot of work, but the only way you know yet sure you get a motherboard that matches the copy which you read a review.
Of course we keep our finger on the pulse. Should anyone again a new revision with identical codes with significant finding (positive or negative) differences we hear it. Above all, we hope that Gigabyte, despite the lack of response, has learned from the commotion and now just only minor revisions and improvements continues to sell the same code.
Gigabyte revisions: no official response, but new developments
updated:
February 24, 2015
author: