Fiji is the only new chip in the Radeon 300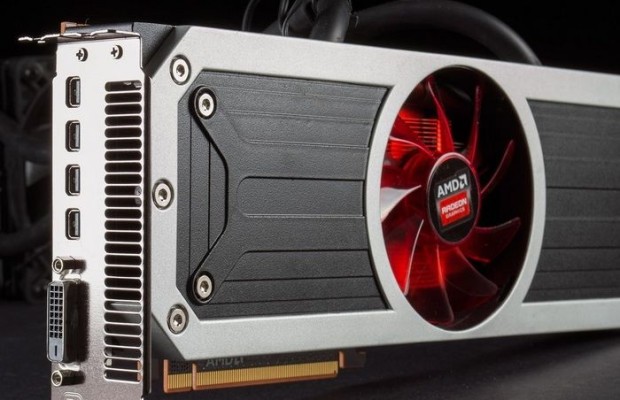 AMD hastily preparing a new family of graphics cards Radeon 300, it is no longer a secret. It is known that the main strike force will be chip Fiji, but, unfortunately, it also seems to have become the only really new graphics processor in the lineup that supports GCN 1.3. The rest of the solutions in the new line will be based on existing architectures GCN 1.1 and 1.2. We can not say that this news is shocking, because the prerequisites for it have been in the past – in particular, the rumors of a modernized Hawaii were not rumors. Given the plight of AMD, quite logical step, but it is no less harmful to the reputation, because originally something from her waiting not so.
According to the source, the new line of all three cards will receive a new version of the architecture GCN, and all of them will use the kernel Fiji. Bermuda was still another dual-processor solution. Series Radeon R9 380 will receive the core Grenada, which is just and will thus slightly perelitsovanny Hawaii – without architectural changes, but the power-optimized and the grown clock frequencies. Of course, not going anywhere version GCN 1.1. Some good looks Radeon R9 370, which will be based on the kernel with support for Tonga GCN 1.2.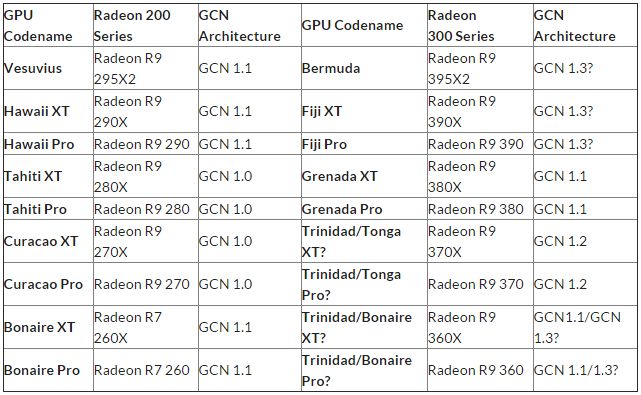 The basis of the card entry-level Radeon R9 360 will form a nucleus of Trinidad, a well-known series of R7 260 to Bonaire, in the latter case a new version of GCN will not be out of the question. This information has not been confirmed and is in the nature of rumors, so can only wait for the announcement. Nevertheless, we know that the basis of sales are not the flagship graphics card cost under $ 1,000. So, AMD will be forced to lower prices for Radeon R9 390 (without X) to a level similar solutions NVIDIA, if she really wants to strengthen the shaky position in the market of discrete graphics. Perelitsovanny Hawaii is unlikely to be able to attract a lot of buyers – all the fans expect from the company AMD miracle, and, certainly, to the status of a miracle can only claim Fiji.
Fiji is the only new chip in the Radeon 300
updated:
February 21, 2015
author: