Exynos 7420 yielded slightly Snapdragon 810 in the test AnTuTu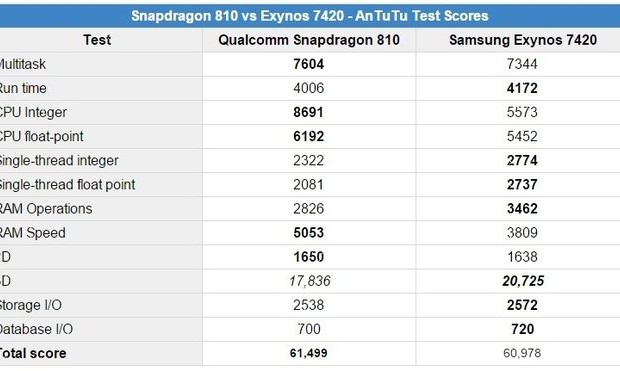 Do not have time to settle down and get really popular Snapdragon processor 805 is a new product from Qualcomm – chip Snapdragon 810 – is ready to show the highest level of performance in several new smartphones. Direct competitor, if we consider the SoC-system with the maximum level of productivity for today, for the processor chip called the Samsung Exynos 7420. Apparently, it was he who would be responsible for the smooth operation of Android-system in the future flagship of the South Korean company – smartphone Galaxy S6.
Find out whose same processor at least according to the results of preliminary testing will be more powerful, help benchmark AnTuTu. It was in his base hit test results for both chips, a comparative table that is shown in the image below.
Production on the 14-nm process technology Samsung Exynos 7420, as can be seen on the results of the benchmark is slightly inferior to his opponent in half tests. In this case, the final score of the two SoC-systems that have managed to overcome the mark of 60 thousand. Points by results AnTuTu, almost equal. Snapdragon 810 is only 0.82% ahead of its main competitor, "the shop". In this case, it is worth recalling that the processor from Qualcomm made on 20-nm process technology.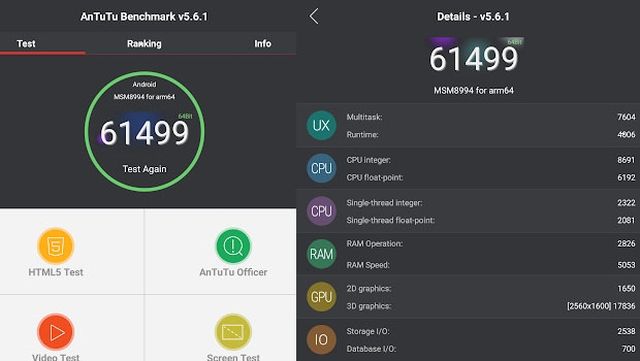 As can be seen, a graphics accelerator Mali-T760 result showed 14% better than the adapter Adreno 430. Last month, the network has data from benchmark GeekBench on the impact of Samsung Galaxy S6. Here at both trials – in single-core mode and multi-core load – Exynos 7420 showed better productivity and overtook Snapdragon 810.
The following comparison shows statistics from AnTuTu, which included performance of two processors from Samsung – all the same Exynos 7420 and eight-chip Exynos 5433 installed in the Samsung Galaxy Note 4. Last positioned developers of Samsung as the main competitor Snapdragon quad-805.
Exynos 7420 yielded slightly Snapdragon 810 in the test AnTuTu
updated:
February 15, 2015
author: