NVIDIA Tegra X1 waste all records on AnTuTu reach almost 75 000 points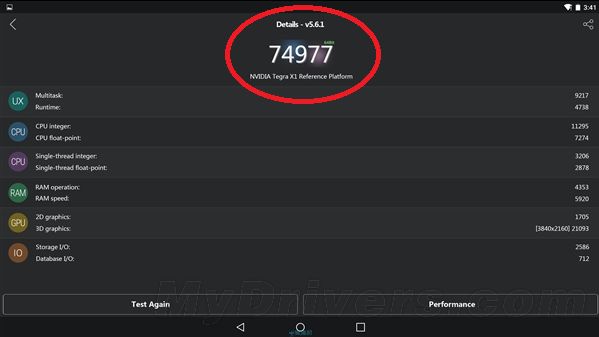 Presented at the last CES in Las Vegas, Tegra X1 represents a major change in trend compared to previous SoC for mobile NVIDIA. The Colossus of Santa Clara pointing to a more standardized, with two quad-core CPU in big.LITTLE configuration and a very interesting GPU architecture with Maxwell borrowed from desktop.
As reported GizmoChina, the processor is sifted test AnTuTu, clocking a result very high if contrasted to other solutions for the mobile. It is, however, a solution designed especially for tablet devices, the more generous dimensions, and with solutions of dissipation and energy requirements less disabling.
Tegra X1 records a score of 74,977 on the famous test suite, where the first position was previously occupied by Meizu MX4, who stopped to "only" 47 765, thanks to its MediaTek MT-6595 with GPU PowerVR G6200MP4. A result in any case very attractive for the new chip of Santa Clara, which will be met with Exynos Samsung 7 series, which proves very promising according to the latest rumors, and the various Snapdragon.
Unfortunately you have to consider that the spread of the SoC NVIDIA has never gone hand in hand with its performance. Even last year Tegra K1 promised sparks, however the chipset of Santa Clara was chosen by a few manufacturers and adopted only on a handful of solutions of particular caliber: we mention among the best examples 9 and the Shield Nexus Tablet, the latter designed and produced by the same NVIDIA. More information about Tegra X1 in this page.
NVIDIA Tegra X1 waste all records on AnTuTu reach almost 75 000 points
updated:
February 21, 2015
author: