DirectX 11 vs DirectX 12: AMD increases are more than tangible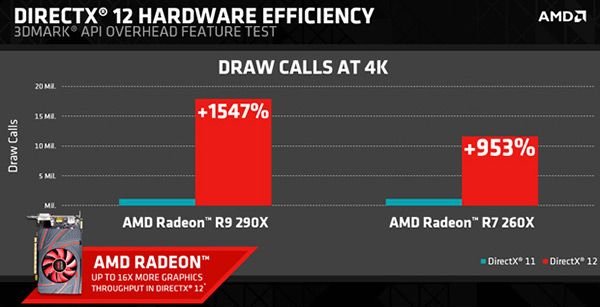 Following the release of the new version of 3DMark, which took place yesterday and which we discussed in this news, AMD has made available on its internal blog some performance data obtained with their video cards with the test 3DMark API Overhead Feature.
The data show how increased draw calls to the resolution of 4K in the transition from DirectX 11 to DirectX 12 ones: with Radeon R9 290Xsiamo to + 1547%, then a figure of more than 15 times higher using DirectX 12 than of the current generation. Dynamic similar to the Radeon R7 260X, an increase of 953%.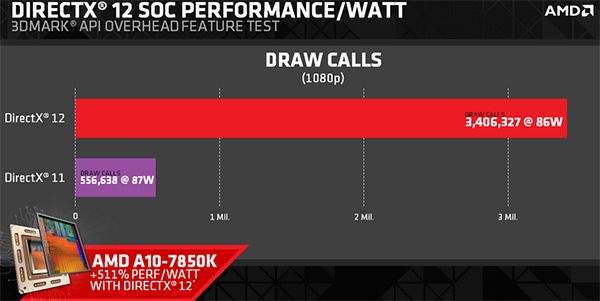 Noteworthy is also the figure for the draw calls to 1920×1080 resolution obtained using the AMD APU A10-7850K, then using the component integrated GPU. In this case, we get a figure that is higher by 511% in terms of speed performance consumption in watts.
One last piece of information provided by AMD refers to the performance scalability as the number of CPU cores available. Note how in the transition from DirectX 11 to DirectX 12 the multicore processor is exploited in a much more complete, with much higher performance ever with DirectX 12 but especially with a scalability that comes up to 6 cores exploited simultaneously. By the way of comparison with DirectX 11 API data are far more content and especially do not get scalability from 2 to 4 cores.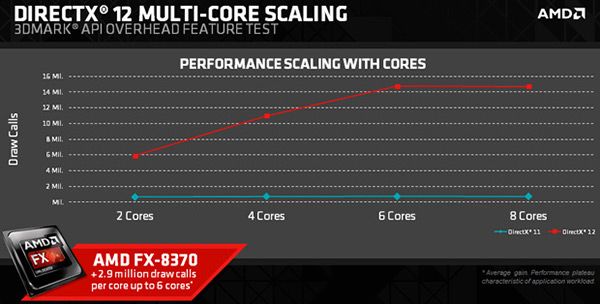 These data confirm what has long indicated: DirectX 12 will achieve significant performance improvements, with a more efficient management of resources CPU side, diminishing important overhead. With specific tests increases are those highlighted here; remains to understand to what extent the performance increase with more traditional patterns of use is the latest 3D titles.
Source: AMD
DirectX 11 vs DirectX 12: AMD increases are more than tangible
updated:
March 28, 2015
author: