CES 2015: New models NAS QNAP use AMD processors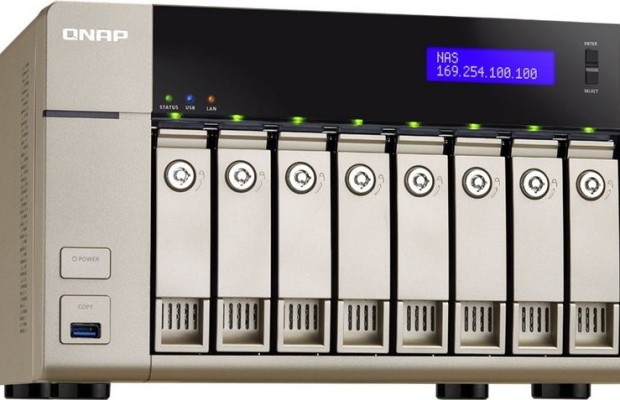 As a rule, the network storage system uses processors Intel, or if you do not require high performance, cost-effective Marvell chips and other solutions based on architectures other than x86. But the company QNAP was not afraid to be a pioneer and has equipped its new model of network storage, presented at CES 2015 processors Advanced Micro Devices, which, in general, are no worse than those of other manufacturers. As the "heart" of new products has been selected G-series processors, or rather, systems on chip AMD quad-core, clocked at 2.4 GHz.
Most likely, it is a model GX-424CC, which is based on micro-Puma. This chip is manufactured using 28-nanometer technology standards, supports 64-bit mode and all modern instruction sets, including AVX and AES. The volume of the second-level cache is two megabytes. The maximum amount of RAM – 16 GB. Level of heat is only 17.5 watts, that to solve the type of NAS is quite acceptable. In addition, the system includes graphics core, which means that new solutions QNAP may well work as a surveillance station. Just a new family consists of four models:
TVS-863: 8 drive bays, 8 GB memory, a controller 10GbE;
TVS-863: 8 drive bays, 4 GB memory expansion slot PCI Express;
TVS-663: 6 drive bays, 4 GB memory expansion slot PCI Express;
TVS-463: 4 drive bays, 4 GB memory expansion slot PCI Express.
As you can see, even the low-end model is expandable, and it is possible to install a network controller at a rate of 10 Gbit / s. Supports running virtual machines directly on the NAS, although modest processor so we doubt that it is a good idea. But support from companies such as VMware, Microsoft and Citrix, ensures a high level of compatibility. The new family of NAS QNAP TVS-x63 will be available for purchase by the end of January. Prices will be announced later.
CES 2015: New models NAS QNAP use AMD processors
updated:
January 8, 2015
author: