ASRock is ready to work with processors Godavari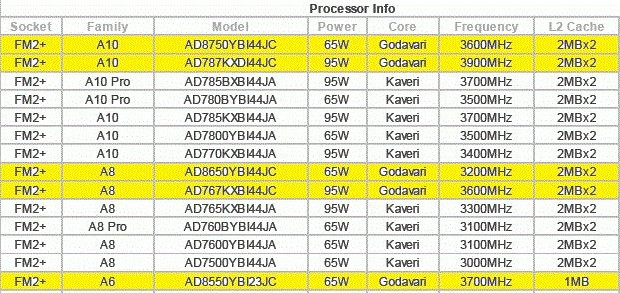 Careful study of the price lists of foreign stores has allowed us to find that among the processors will Godavari model "seven thousand" series, only adds to the feeling that the family is presented in a new Kaveri "wrapper". Associates CPU World mentioning the support of processors Godavari found in a special section of the site ASRock. As planned, the processors set Godavari can be any board with Socket FM2 + socket after updating BIOS.
Colleagues have reduced the expected characteristics of processors Godavari from this list in a single table, adding to the processor A8-7500. Please note that the A6-8550 processor has only two cores, so the cache memory in his two times less than the quad-core models.

Hybrid processors Godavari should be presented in the end of May, so we certainly have not just hear about them in the remaining time before the announcement.
ASRock is ready to work with processors Godavari
updated:
April 30, 2015
author: