AMD confirms: the debut of the video cards in the 300 series is near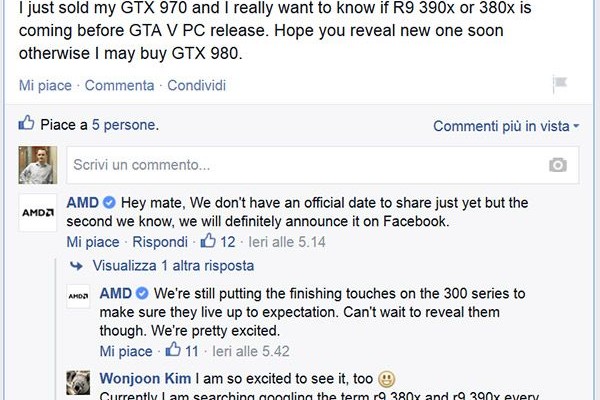 The next generation of video cards AMD Desktop will be named the 300 series and will be available on the market in the coming months. All information that had already emerged online, but now are indirectly confirmed officially by the same American company through an intervention in their Facebook profile for Australia and New Zealand.
The post, which is accessible at this address, it is the response to a user asking whether the launch of the tabs R9 390X or 380X will take place before the debut of the PC version of the game GTA V. The response from AMD account is that at the present time has not been defined yet a specific date for launch, and that the family of products in the 300 series are at the moment, the finishing touches so that the cards are to match expectations.
E 'at this point conceivable that the debut of these cards will take place during the second quarter of 2015. There is particular interest in the proposal to the high end, which according to rumors emerged online to date should implement type memory stacked directly GPU so as to achieve maximum bandwidth values well above those currently available video cards on the market.
AMD confirms: the debut of the video cards in the 300 series is near
updated:
February 6, 2015
author: