Workstation BOXX APEXX 5 supports up to five graphics cards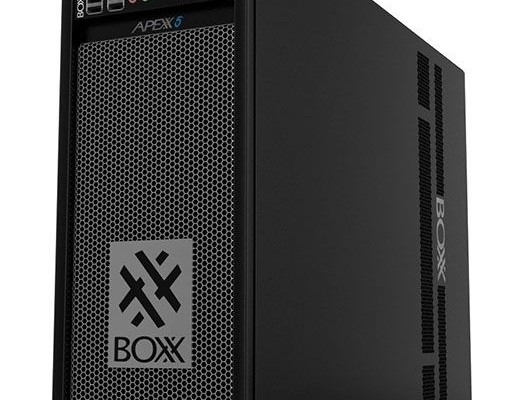 The company introduced the world to a new BOXX workstation called APEXX 5 with up to five graphical or computational accelerators. New made in the tower section, large enough to provide them with accommodation and cooling. In the maximum configuration, the system can carry Quadro K2200 for service displays and four Tesla K40 accelerator for complex mathematical calculations or graphic.
Other configurations are possible, including four or three Quadro K6000 Quadro K5200 and one Tesla K40. Every customer can choose the right configuration to him. By default, a pair of processors Intel Xeon E5-2637 v3. This quad-core chips with Hyper-Threading support, and a clock frequency of 3.5 GHz. The volume of the cache is 15 MB. As a result, the user has eight cores fast. But possible and installing a pair of Xeon E5-2699 v3, then the number of cores reaches 36 (2 processor with 18 cores).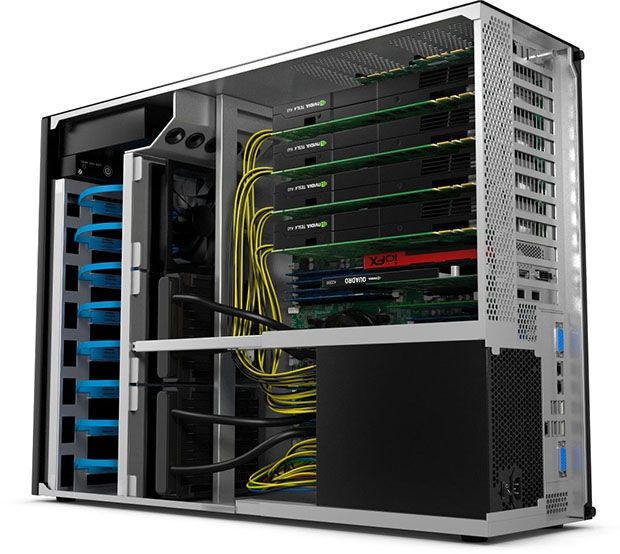 APEXX station 5 supports up to eight full-size hard drive, there is a choice from a wide range on the market HDD and SSD. Basic configuration APEXX 5 is estimated at US $ 13,189 and includes, in addition to the above-mentioned processors Xeon E5-2637 v3 32 gigabytes of memory DDR4, accelerator NVIDIA Quadro K5200 with 8 GB of video memory, SSD Intel 240 GB volume, optical drive, mouse, keyboard as well as a licensed version of Windows 7 Professional.
Workstation BOXX APEXX 5 supports up to five graphics cards
updated:
February 25, 2015
author: