LG unveiled promotional video of "smart" watches Watch Urbane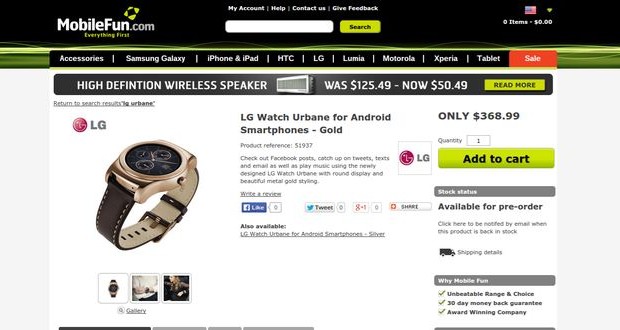 In anticipation of the smart watch, LG Watch Urbane South Korean manufacturer fueled interest in wearable devices to promote his upcoming trends. "Smart" watch in steel will be presented at the MWC Barcelona 2015, and until then, potential buyers can enjoy their refined look only at the photographs of advertising and promotional videos from the manufacturer.
Model LG Watch Urbane will be released in two colors – gold and silver, with different leather straps, metal bracelet and strap type «nato strap». As for the estimated cost of "smart" hours, Watch Urbane, that developers positioned as a device premium level already lighted on the website of the British retailer MobileFun with a price tag of £ 290, and the US subsidiary of the same store offers LG Watch Urbane for $ 369.
Recall that worn on the wrist gadget has the following specifications:
round display P-OLED diameter of 1.3 "(33 mm) and a resolution of 320 × 320 pixels;
Qualcomm Snapdragon processor 400 with a clock speed of 1.2 GHz;
512 MB of RAM;
4 GB flash drive;
The battery capacity of 410 mAh;
dimensions 45,5 × 52,2 × 10,9 mm.
However, if you think that the provisional price of watches Watch Urbane, which can be considered a "luxury" execution got to the lab for testing 3DNews gadget LG G Watch R, goes beyond your financial capabilities, the user Anthony_B from the social network Google+ is ready to tell you the original way out.
It's enough to become the owner of the above-mentioned LG G Watch R and, with some effort, to refine wearable device with a grinding stone and polishing machine packed with soft felt. Of course, this transformation LG G Watch R can not match the quality of processing the body with a factory manufacturing the same LG Watch Urbane. However, sanded and polished LG G Watch R undoubtedly acquired its charm and a certain share of uniqueness.
LG unveiled promotional video of "smart" watches Watch Urbane
updated:
February 25, 2015
author: