In the first quarter, Seagate reduced deliveries HDD nearly 7 million units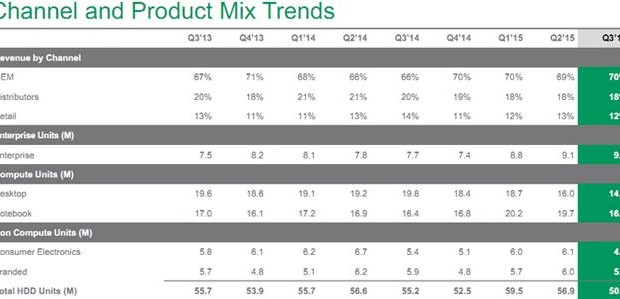 On Friday, the work in the first quarter of calendar 2015 the company reported Seagate. In the reporting period, the Seagate refers to the third quarter of fiscal 2015. In the first three months of the year the company raised $ 3.3 billion. Against the background of $ 291 million. Net profit. Number of hard drives sold for the quarter was 50.1 million. Copies. Outwardly, not bad, but all is learned in comparison. For example, in the previous quarter the company has shipped 56.9 million. HDD – nearly 7 million. More pieces. Thus, Seagate confirmed by Intel already noticed the trend of a sharp (and unexpected) decline of sales in the PC market.
Seagate quarterly revenue and net income of the company in respect of annual declined: a year ago in the same period it raised $ 3.4 billion. And a net profit equal to $ 320 million. At the same time it sold 55.6 million. Hard drives. Compared with the fourth quarter earnings in 2014 has no special meaning. In the quarter, the company Western Digital pretty "helped" Seagate, paying her by the court $ 773 million. For the hiring of a former employee of a competitor.
If you look at categories of products supplied, the following picture. Delivery of server hard drives totaled 9.1 million. Pieces and quarterly comparison is not changed. This is a definite success Seagate, which had previously yielded Western Digital drives in the corporate sector. Deliveries HDD for desktop predictably decreased in the quarter to 16 million. Units to 14.3 million. Pieces. Deliveries notebook HDD decreased unpredictable: with 19.7 million. Units to 16.8 million. For the consumer electronics also released smaller drives instead 6.1 million. 4.8 million total units. Obviously, the decreased demand for game consoles. The company also reduced the supply of packaged versions of HDD: from 6 million. Units to 5.1 million. It will be interesting to know, how the company Western Digital?
Source: Seagate
In the first quarter, Seagate reduced deliveries HDD nearly 7 million units
updated:
April 19, 2015
author: