Samsung Display company gave details of flexible AMOLED displays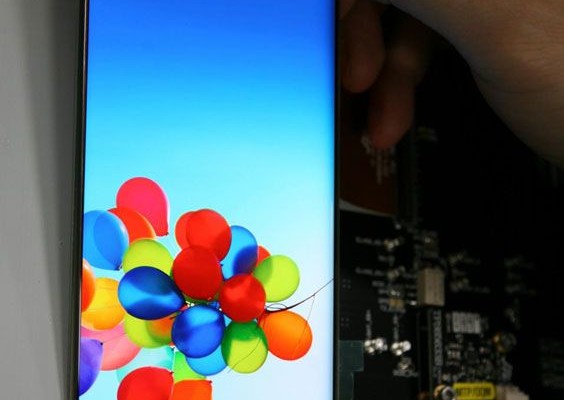 Company Samsung Display, is the largest manufacturer of panels such as OLED, spoke about her most advanced product – Flexible AMOLED display for smartphones. This displays are commercially available and are used in smartphones Galaxy S6 Edge. As you know, Galaxy S6 Edge screen goes around both edges.
Advantages of Flexible AMOLED is high brightness and contrast, color saturation, low power consumption and high speed hail.
Flexible AMOLED display substrate made of polyimide, instead of glass as a rigid panel. Use of the polymeric material is not only possible to ensure flexibility, but also to make extremely thin substrate – most twice thinner thin glass substrate of the liquid crystal display. On the substrate are electronic circuits and light-emitting materials.
Display resolution equal Quad HD (1440 x 2560 pixels), that is formed on a substrate of 3.6 million pixels, which given the size of the display corresponds to the density of 577 pixels per inch. Independent control of each pixel to reduce energy consumption, including only that portion of the screen where the image is displayed, while the LCD display output even small icon require backlighting of the entire screen.
Color gamut display Flexible AMOLED displays are superior to all existing mobile devices. It is almost completely covers the space Adobe RGB, which is about 30% wider space sRGB, male LCD screens of mobile devices. According to Samsung, LCD screens of mobile devices can essentially cover only about 70% Adobe RGB due to limitations LED backlight LCDs mobile devices. Note that according to Samsung Display can trust completely – this company is not only the largest manufacturer of panels such as OLED, but also the largest manufacturer of LCD panels.
Response Time Flexible AMOLED equal to 0.01 ms, which is hundreds of times less than in liquid crystal displays. This eliminates blur dynamic images. Furthermore, Flexible AMOLED performance independent of temperature, whereas the liquid crystal displays at low temperatures begin to "brake".
In the case of Galaxy S6 Edge display flexibility helps enable information output by the lateral edges of the device. In the future, Samsung has promised to release devices with flexible screens that will be folded or twisted, occupying less space.
Source: Samsung
Samsung Display company gave details of flexible AMOLED displays
updated:
April 24, 2015
author: