Review headphones Sony MDR-1ADAC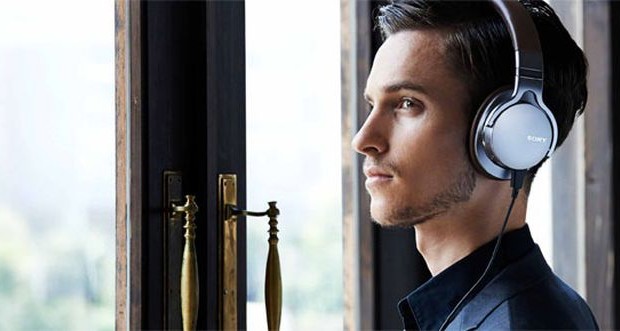 Headphones like the old model Sony, the continuity of the design is obvious, that's just inside at Sony MDR-1ADAC a whole new world. It weighs about 300 grams, but the color you hardly feel the weight, they sit very well. This model has kindly given me a friend (Alex, thank you), despite the active use, looks great gadget. Brown soft leather, comfortable headband, large cups completely cover the ears. On the right cup – "jog" to control the volume, rather tight, which is good, accidentally rapidly increase the volume will not work. Left – connectors, 3.5mm audio connection, microUSB for charging and a connector directly to the various gadgets. Rather, almost the same, there is a pin. Next – the power button with indicator light-point.
In a cup under the visible mesh speakers (40 mm) is used diffuser LCD polymer film coated with aluminum, the Sony say that such a solution provides a more uniform and clear sound throughout the frequency range.
Headphones are quite large, but you can not say that they are too big. In the cafe or on the street you will not stand out much. Comfortably worn around the neck. Only one color, silver and brown. Build an excellent, areas with the Sony logo made of metal and the rest – plastic. I think for such a revolutionary model could come up with some unique design. While this could be viewed as a kind of training is simply not enough time to design headphones, as it was necessary to deal with the stuffing.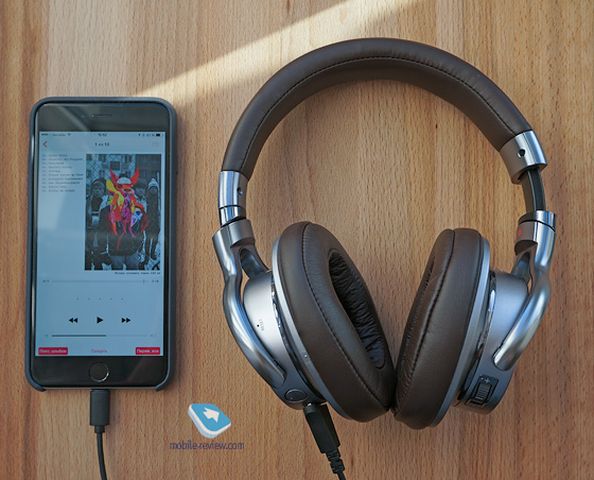 What is interesting, these headphones? There's a DAC, I mean amplifier. It works when you plug headphones directly to the connector Lightning your smartphone or directly to the connector microUSB / USB. Okay? Yes, just fine. But after 8 hours of headphones turn into a pumpkin, you will be recharged. If this upsets you, then think about what headphones could use a smartphone battery – that's just too smart you would have to charge. In general, as long as it is a vicious circle. The second feature, extensive connectivity to the very different techniques – directly to the microUSB, USB or Lightning. This allows a completely different look at music. However, you will need files in FLAC. Suitable as DSD, AIFF, FLAC, ALAC, PCM. Interestingly, you have a folder with the music? Write in the comments. The third feature, support for high-resolution audio, what is called a Sony Hi-Res Audio. This set of measures to improve the sound quality not only in the headphones, but also in other vehicles. It is gratifying that the company did not have rejected this strategy in 2015, she saw a continuation of even plates (but talk about it separately). Features Sony MDR-1ADAC are: sound range 3 Hz – 100 kHz Sensitivity 102 dB / mW.
Now let's talk about how to connect.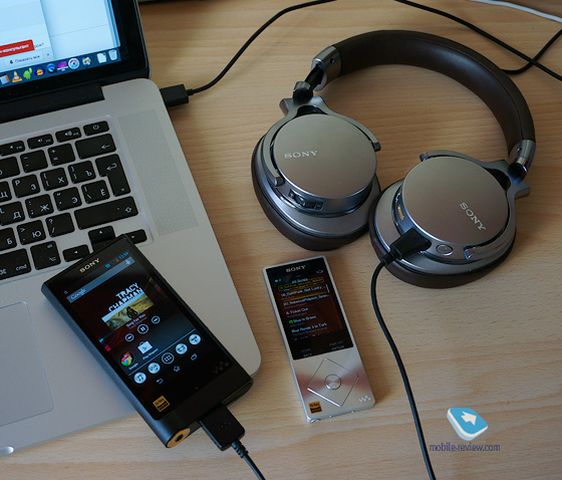 Sony MDR-1ADAC: Ways to connect
At this point, I want to dwell, because the headphones in this sense, multi-faceted and can be used in many different ways. Let's look in order, what are my options.
With Apple devices headphones can be used in two ways: either by connecting normal audio or using a cable with plug Lightning. Rumors about the appearance of such devices went last year, now it is no longer a rumor but a reality – apart from Sony, Philips became involved in the race, and Onkyo, probably soon be a model Beats. That means that there is a market for headphone cable Lightning. But Sony MDR-1ADAC – thing special, unique because of the DAC.

MicroUSB cable with plug helps you connect headphones to the device Xperia, in my case it was the Sony Xperia Z3. As is the case with the iPhone, using an audio cable or if the shooting sound connector, the quality is different, and, of course, this affects the perception of music, your feelings. I will not talk about audiophiles, rather a question of enthusiasts, music lovers, these headphones for them – a gift, since it can be loaded into the memory of the smartphone with Android albums in FLAC and with the help of Sony MDR-1ADAC feel every note, that's cool.

Cable with plug WM-port will connect headphones directly to the player Sony, for example, this ZX-2 (pictured, review coming soon). And here I must say that the quality is different, although ZX-2 is not as much noticeable.
When headphones are connected to the USB port on your PC or laptop, you can use them to listen to music that way. In the case of the Mac in the sound settings, you need to select the audio output device. You can use any cable microUSB, tried to MacBook Pro 15 Retina, the sound quality is excellent. For use with laptops on Windows, you need to download the driver here.
In all other cases, you can use an audio cable, or from a kit or your own.
In general, remember you need one at Sony MDR-1ADAC is possible to get a very different sound quality by connecting the headphones to your vehicle by using different cables. And everyone will be able to find your favorite way. The sound varies, but you will notice it only when using FLAC – grows with MP3 reserve volume (which is natural), and you realize how much this track does not have enough quality, a noise rather than details.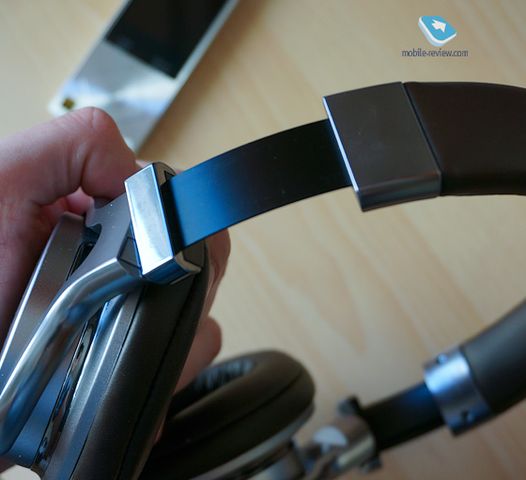 Sony MDR-1ADAC: Sound quality
These are good headphones with many features, so to speak briefly. If you do not short, the sound impression, be prepared to sit and listen for a long time known compositions again and again, Sony MDR-1ADAC can pull out the light a lot of interesting – again remind you about FLAC, or about the ALAC. If you have iPhone, try the player Flac Player + and similar to FLAC, or download the ALAC – last journey much easier, another question that we must look for such a composition, or convert their own albums. Should be connected only with the Lightning, at first it seems highly unusual. For example, to recharge the iPhone while listening to music will not work.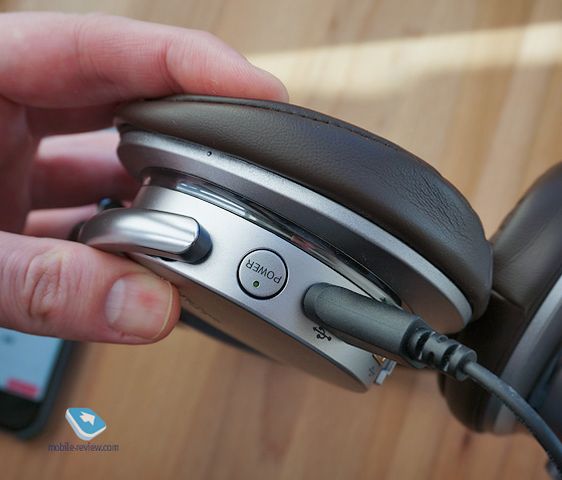 But with the Sony Xperia Z3 use the cable is not very convenient, it is necessary to pull the plug connector on the top left, when carrying the device in a jacket pocket cable once just fell. The sound quality is also different, using the microUSB cable increases the volume, there are parts, the impression is not used like a smartphone, a player Sony – ZX1. With the Sony Walkman NWZ-ZX2 simply unmatched sound quality.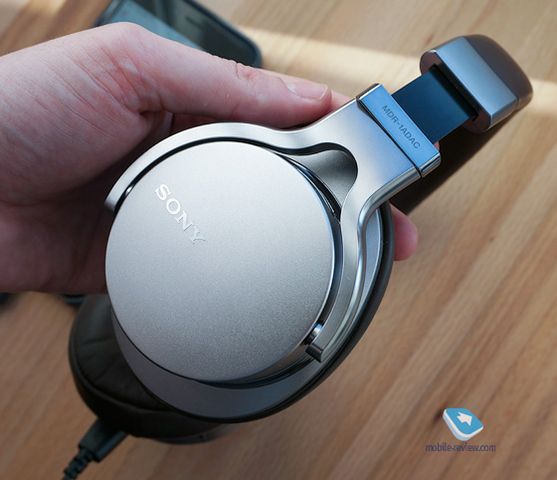 But, of course, ZX2 buy hundreds, but the iPhone and other smartphones have millions. Consider Sony MDR-1ADAC – sort of audiophile module, the missing link for the music special emotions.
Sony MDR-1ADAC: Conclusion
In the retail price is not a model for the mass market. Excellent headphones are not for audiophiles and music lovers, using a variety of devices. For example, this iPhone 6 Plus, Sony Xperia Z3, player Sony, laptop, tablet, and with all these devices Sony MDR-1ADAC show their best side. The quality is highly dependent on the track, well, it's like always, just in case, these headphones are particularly noticeable.
This accessory I remember very well, as I remember the first Walkman series A and other religious gadgets firm. I think Sony fans will understand me and will experience after the test or purchase the same emotions. Namely – delight.
Review headphones Sony MDR-1ADAC
updated:
March 12, 2015
author: