Review 13-inch laptop-transformer Acer Aspire R 13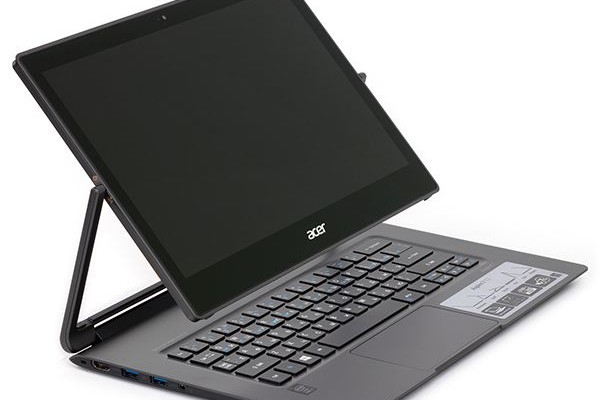 Late last year, Acer has unveiled a 13-inch notebook-transformer with an innovative design: Acer Aspire R 13. Currently, lineup Acer Aspire R 13 includes six different models that have slightly different configuration but are made in one and the same housing and have the same screen. We consider a model that has the full name of Acer Aspire R7-371T-77FF (NX.MQQER.003). In general, the system name of the Acer laptops quite confusing. And to understand why, on the one hand, a laptop called Acer Aspire R 13, and on the other hand, Acer Aspire R7, you need to have a very special way of thinking and imagination. For brevity, we will refer to our model notebook-transformer Acer Aspire R7-371T.
Acer Aspire R 13: Picking and packing
Acer Aspire R7-371T comes in a compact cardboard box black.
In addition to the laptop comes bundled charger 45W (19; 2.37 A), various brochures and stylus with penlight batteries.
Acer Aspire R 13: Laptop Configuration
Specification laptop Acer Aspire R7-371T, which was in our lab, is shown in the table. Next we look at all the features of this configuration.
Acer Aspire R7-371T-77FF (NX.MQQER.003)
Cpu
Intel Core i7-4510U
Chipset
N / A
ROM
4GB LPDDR3-1600
The Video
Intel HD Graphics 4400
Screen
13.3-inch 2560 × 1440 touchscreen)
(IGZO-matrix Sharp LQ133T1JW02)
Sound subsystem
Realtek ALC283
Drive
1 × SSD 256GB
(Kingston RBU-SNS8100S3 / 256GD, interface M.2)
Optical drive
no
Card reader
SD
Network Interfaces
Wired Network
no
Wireless Network
Qualcomm Atheros AR5BWB222 (802.11b / g / n)
Bluetooth
Bluetooth 4.0
Interfaces and ports
USB (2.0 / 3.0)
1/2
Mini-DisplayPort
no
HDMI 1.4
there is
VGA (D-Sub)
no
RJ-45
no
Headphone output
have a (combined)
Microphone input
have a (combined)
Input Devices
Keyboard
without the numeric keypad, backlit
Touchpad
klikpad function MultiTouch
IP-telephony
Webcam
there is
Microphone
there is
Battery
4-cell Li-Ion 3220 mAh (48 Wh)
Dimensions
344 × 230 × 18 mm
Weight without power supply
1.5 kg
Power Adapter
65 W (19 V, 3.42 A)
Operating system
Windows 8.1 (64-bit)
Average price
T-12145481
Retail offers
L-12145481-10
Thus, the basis of the laptop Acer Aspire R7-371T is a dual-core processor Intel Core i7-4510U (Haswell). This processor is an SiP (System in Package), i.e. in the same package combines the processor and the chipset. Processor Intel Core i7-4510U has a nominal clock frequency of 2.0 GHz, which can be increased in Turbo Boost mode up to 3.1 GHz. The size of its L3 cache is 4 MB, and TDP – only 15 watts. In this CPU integrated graphics core Intel HD Graphics 4400, the base frequency is 200 MHz, and the frequency mode Turbo Boost – 1,1 GHz.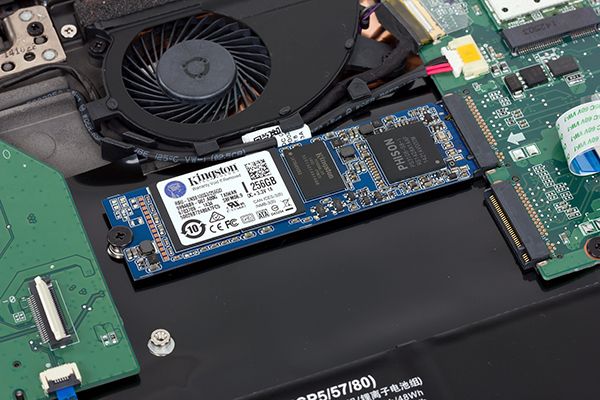 Processor Intel Core i7-4510U supports up to 16 GB of memory DDR3L-1333/1600 or LPDDR3-1333 / 1600, as well as up to 4 ports USB 3.0, up to 4 ports SATA 6 Gb / s ports and up to 12 PCI Express 2.0. The notebook Acer Aspire R7-371T found only 4 GB of memory LPDDR3-1600, with no slots for memory modules is not, and memory chips soldered directly to the motherboard.Naturally, neither of which increase the amount of memory in this case we are not talking. At least, the memory operates in dual channel mode.
Storage subsystem notebook Acer Aspire R7-371T a SSD-drive Kingston RBU-SNS8100S3 / 256GD 256 GB with built-in M.2 (key M). The notebook has space for a second SSD-drive with built-in M.2.
Communication capabilities Acer Aspire R7-371T determined by the availability of wireless dual-band (2.4 and 5 GHz) Network Adapter Qualcomm Atheros AR5BWB222. This module meets the specifications IEEE 802.11a / b / g / n and has a built-in controller Bluetooth 4.0.
The audio subsystem notebook based on HDA-codec Realtek ALC283, but for installed sound system consisting of two speakers, which are located on the back side of the case.
The notebook uses removable 4-cell lithium-ion battery capacity of 3220 mAh (48 Wh).
It remains to add that the laptop is equipped with a built-in webcam, which is located above the screen.
Acer Aspire R 13: Appearance and ergonomics housing
Stylish design – one of the main distinguishing features of notebook-transformer Acer Aspire R7-371T. He is very thin and light: it does not exceed the maximum thickness of 18 mm, and weight – 1.5 kg.
Naturally, the question arises: if it's so thin and light, why Acer Aspire R7-371T does not belong to the category of ultrabook? Indeed, most of the characteristics of specification Ultrabooks: it is based on the processor Intel, has a touch screen, and the thickness of the housing fits the category of ultrabook third generation. Nevertheless, Acer Aspire R7-371T never called ultrabook, and the corresponding sticker on it is not. It seems to us, the explanation is the following: in the configuration of the laptop there is one detail that can not be attributed to the category of ultrabooks – talking about the wireless adapter. The fact that ultrabooks necessarily have to have a wireless communication module and supports Intel WiDi. At the same time, the laptop Acer Aspire R7-371T used wireless adapter Qualcomm Atheros AR5BWB222, and WiDi technology is not supported. Furthermore, the time has passed ultrabooks, and today manufacturers simply do not tend to get a certificate, even if the laptop is fully meets all the criteria ultrabook. However, the name and the presence or absence of the certificate – is not so important. It is important that the Acer Aspire R7-371T – very thin and light notebook-transformer with a stylish design.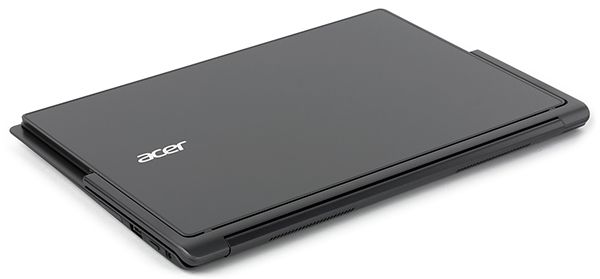 Laptop case is made of metal and plastic. More specifically, the lower panel is made of classic plastic ABS + PC, and from the outside it has a soft-touch coating of soft-touch. As shown, the fingerprints on the surface are not visible, so a slap body of this laptop will not look.
But the most constructive of the notebook and a working surface, framing the keyboard and touchpad, made of metal, painted in dark gray. Laptop screen also has a metal cover in dark gray, and the laptop lid, in addition, has a glass coating Corning Gorilla Glass 3. On the lid there is an illuminated during the manufacturer's logo.
Laptop screen has a frameless design, ie the screen with the frame closed glass Corning Gorilla Glass 3 and form a single surface, so that when the screen is off, it seems that he has no frame at all.
On the front side of the notebook status indicators are located: the battery and power.
Perhaps the main feature laptop-transformer Acer Aspire R 13 is to mount the screen to the body.It is this attachment system, called Ezel Aero Hinge, allows the device to be easily transformed into one of the six user modes. These modes do not even have a well-established names other than the traditional notebook and tablet classic.
This is achieved by the fact that the screen is fixed at a special place in the frame where it can, if necessary, to rotate around its axis. And at any position of the screenplay is minimal, which is very convenient when using touch input. It is also important that the pivot mechanism of the screen has a sufficiently stiff that can reliably fix the shield in any position.
Since the transformer, Acer Aspire R7-371T mode allows the use of classical plate power button located on the right side of the case next to the power connector. At the same end has one USB 2.0 port and a slot for SD-cards.
On the left side of the body are two ports USB 3.0, HDMI, and a combined audio jack type mini-jack (headphones, microphone).
On the front side, there are no connectors.
Removing the bottom panel of the case (you need to unscrew the screws 12), you can gain access to the cooling system, wireless module, drive, and battery.
Acer Aspire R 13: Input Devices
Keyboard
The notebook Acer Aspire R7-371T used already become traditional to modern laptops Chiclet keyboard with increased spacing between the keys. The main keys have a size of 15 × 15 mm, and the size of the gap between the keys is 3 mm. Keys plastic and have a classic black color, with the letters on the keyboard (Latin and Russian) white and clearly visible buttons on a black background. Under the keyboard surface is uniform with the rest of the housing. In fact, this surface just done a hole under each key on the keyboard.
On the quality of the keyboard in this notebook can be considered quite good. It has a rigid base that does not flex even under strong pressure. The keys have a soft stroke with a light pressing fixations. In principle, the print on this keyboard is quite comfortable. In addition, the keyboard has two-level backlight whose brightness can be controlled by the function keys. Thanks to the built-in light sensor in the dark lighting are activated automatically. However, the maximum brightness is rather weak, and to detect the fact of illumination, it is necessary to use a laptop in complete darkness. But in the dark all the keys and letters on them easily distinguishable.
However, this is at the keyboard and disadvantages. In particular, all the function keys F1-F12 combined with the numeric keys and are activated only in combination with a function key Fn. For example, to set a familiar combination Alt + F4 must also hold down Fn. That is, if you are actively using the function keys, such a solution is very inconvenient. Another problem is the keyboard layout. Place right Ctrl key is ranked Del, as usual top the Del key at all. The key with the letter "e" also changed its position and placed next to a shortened key Caps Lock. In a word, to such a layout will need to get used to.
Keyboard Features
Digital block
no
The presence of illumination
there is
The feel of the print
good
Features touchpad
The size of the touchpad
61 × 105 mm
Multi-function
there is
Sensitivity
high
Accidental activation
no
General impression
Excellent
Acer Aspire R 13: Audio path
To estimate the output sound path designed for headphones or external speakers, we resorted to the instrumental testing using an external sound card Creative E-MU 0204 USB and utility RightMark Audio Analyzer 6.3.0. Testing was conducted for stereo, 24-bit / 44.1 kHz.
According to the results of testing the audio section in the notebook Acer Aspire R7-371T was rated "very good". A full report of the test results in the program RMAA 6.3.0 submitted on a separate ppage,the following is a brief report.
Frequency response (in the range of 40 Hz – 15 kHz), dB
0.02, -0.09
Very Well
The noise level in dB (A)
-86.4
Ok
The dynamic range iofdB (A)
86.2
Ok
Harmonic distortion,%
0.0057
Very good
Total Harmonic Distortion + Noise, dB (A)
-74.2
Indifferently
Intermodulation Distortion + Noise,%
0,030
Ok
Interpenetration channels dB
-85.8
Very Well
Intermodulation at 10 kHz,%
0,017
Very good
Overall Rating
Very good
Acer Aspire R 13: Screen
The notebook Acer Aspire R7-371T use IGZO-matrix Sharp LQ133T1JW02 with LED backlight based on white LEDs. The matrix has a glossy glass cover, its diagonal size is 13.3 inches, and resolution – 2560 × 1440 pixels. Naturally, a matrix sensor.
According to the specifications of the matrix Sharp LQ133T1JW02, pixel density is 221 ppi, a typical value of maximum brightness – 350 cd / m² and contrast – 1000: 1. Response Time (total time on and off) is 25 ms, and horizontal and vertical viewing angles – 160 °.
Note that the screen brightness control, in this case not by a pulse-width modulation (PWM) LED backlight, and by changing the voltage on the LED. That is, this matrix does not flicker at all.
According to our measurements, the maximum brightness of the screen on a white background is 340 cd / m² and a gamma value – 2.30. The minimum brightness of the screen on a white background is 24.5 cd / m².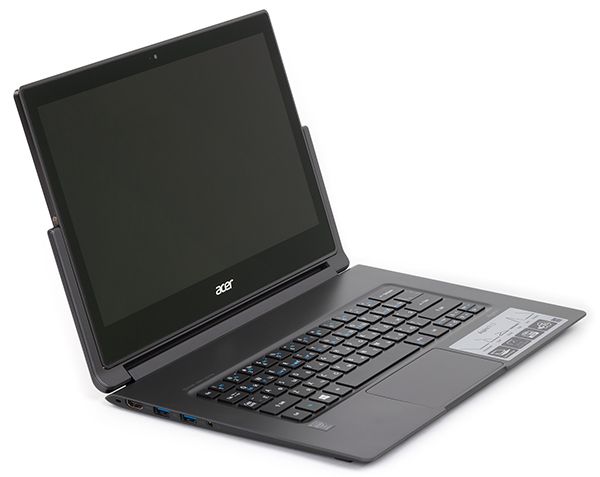 Test Results screen
Maximum brightness white
340 cd / m²
Minimum brightness white
24.5 cd / m²
Gamma (maximum brightness)
2.30
Color gamut screen laptop Acer Aspire R7-371T covers 99.5% of the space sRGB and 68,6% Adobe RGB, and the volume of the color gamut is 91.2% of the sRGB and 65.3% of the Adobe RGB. In principle, this is a very good result.
The spectra of the primary colors nice isolated from each other, but the range of red and green colors are mixed a little with each other.
The color temperature of the screen laptop Acer Aspire R7-371T stable throughout the grayscale and is approximately 6500 K (increase the color temperature in the dark areas can be ignored, as this may be due to measurement error).
Stable color temperature because the primary colors are well balanced across the gray scale.
As for color accuracy (delta E), its value does not exceed 10 units (except the dark area) that can be considered quite a normal result for this class of screens.
If we talk about the viewing angles of the screen, they are really very good. When you look at the picture at any angle color hardly distorted and only slightly reduced brightness.
In general we can say that the screen on a laptop Acer Aspire R7-371T very good quality. He is bright, has excellent color gamut and good viewing angles.
Work under load and idle
In idle mode, as it should be, the frequency of the processor in a laptop is 800 MHz (of course, we are talking about a balanced pattern of energy consumption), ie the Intel SpeedStep technology no complaints there. The processor temperature in this mode is about 40 ° C.
When CPU test Stress CPU (utility AIDA64 Extreme Edition – test the stability of the system), which uses integer calculations, the CPU frequency is 2.8 GHz. The temperature in this mode, the CPU load is increased to 67 ° C.
When the CPU load test Stress FPU, c which uses floating point calculations and heats more processor cores frequency decreases to 2.3 GHz, and the temperature of its nuclei increases to 80 ° C.
Last download mode – this is a test Stress FPU test and Stress GPU (s), ie, the simultaneous loading of processor cores and the GPU. In this mode the frequency jumps cores from 1.2 to 2.4 GHz, and their temperature about 74 ° C.
In general, it must be stated that the cooling system in a laptop Acer Aspire R7-371T efficient enough and doing its job under all load conditions.
The memory subsystem performance and storage
According to the utility AIDA64 Cache & Memory Benchmark, the data writing speed to the memory of 24794 MB / s and a read speed – 21180 MB / s. Memory DDR3-1600 (peak capacity of 12800 MB / s) in dual-channel mode, it is quite typical values.
As already noted, the storage subsystem in a laptop Acer Aspire R7-371T is one SSD-drive capacity of 256 GB. Utility ATTO Disk Benchmark determines the maximum speed of its sequential read at 550 MB / s and writes – at the level of 530 MB / s. Even for today's SSD is a very good result.
The utility determines CrystalDiskMark sequential read speed of 500 MB / s and writes – at the level of 342 MB / s. The difference results from the data ATTO Disk Benchmark is because the ATTO Disk Benchmark determines the speed of reading and writing tasks at a queue depth (Queue Depth), equal to 4, and the utility CrystalDiskMark – at a depth of task queue of 1.
We also present the results of testing such popular tools as AS SSD Benchmark and HD-Tune.
Noise level
The notebook Acer Aspire R7-371T applied cooling system, consisting of a cooler. At rest, the cooler fan does not turn on, and the laptop does not make any noise.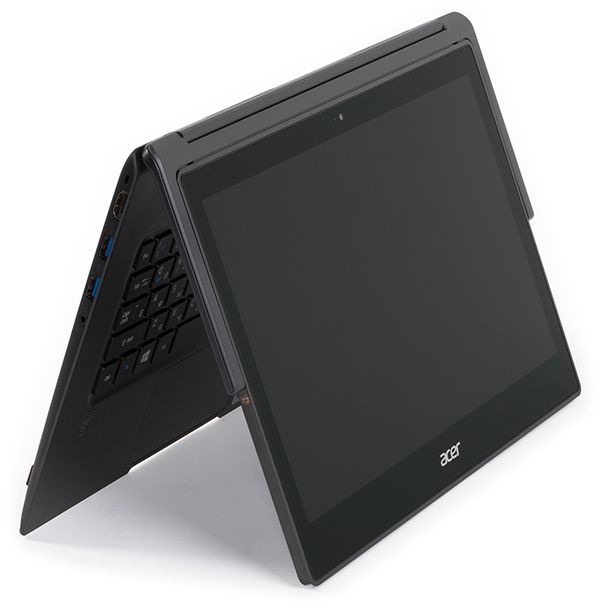 Noise measurement was carried out in a special sound-absorbing chamber and sensitive microphone is positioned relative to the laptop to mimic typical user's head position. According to our measurements, at a stressful CPU noise emitted by the laptop is only 28 dBA. This is a very low noise level, which if it can be seen only in a very quiet environment. So Acer Aspire R7-371T definitely can be classified as low-noise.
| | |
| --- | --- |
| Scenario load | Noise level |
| Idle | N / A |
| Stress CPU | 28 dBA |
Acer Aspire R 13: Battery life
Time measurement of the laptop in standalone mode we spent on our technique using a script iXBT Battery Benchmark v.1.0 . Recall that the battery life we measure with the screen brightness of 100 cd / m².
| | |
| --- | --- |
| Scenario load | Operation time |
| View the video | 6 hr. 19 min. |
| Working with text and photo viewer | 9 hr. 42 min. |
Battery life in Acer Aspire R7-371T great. In fact, the laptop can be used all day without recharging the battery.
Performance tests
To evaluate the performance of the laptop Acer Aspire R7-371T we used our new technique using benchmarks iXBT Application Benchmark 2015 and iXBT Game Benchmark 2015 .
Test results for benchmark iXBT Application Benchmark 2015 are shown in the table.
| | | |
| --- | --- | --- |
| Logical grouping tests | Reference system | Acer Aspire R7-371T |
| Videokonvertirovanie and video processing, points | 100 | 123.9 |
| MediaCoder x64 0.8.33.5680, seconds | 458.1 | 367.8 |
| SVPmark 3.0, points | 922.2 | 1136.8 |
| Creating video content, points | 100 | 122.2 |
| Adobe Premiere Pro CC 2014.1, second | 1794.4 | 1394.4 |
| Adobe After Effects CC 2014.1.1 (Test # 1), second | 2036.3 | 1649.0 |
| Adobe After Effects CC 2014.1.1 (Test # 2), second | 1116.8 | 969.6 |
| Photodex ProShow Producer 6.0.3410, seconds | 991.6 | 813.2 |
| Processing of digital photos, scores | 100 | 155.2 |
| Adobe Photoshop CC 2014.2.1, seconds | 2215.8 | 1232.7 |
| ACDSee Pro 8 seconds | 770.4 | 574.9 |
| Vector graphics, points | 100 | 122.6 |
| Adobe Illustrator CC 2014.1.1, seconds | 515.0 | 420.0 |
| Audio processing, points | 100 | 123.3 |
| Adobe Audition CC 2014.2, second | 1046.9 | 849.2 |
| OCR, points | 100 | 126.3 |
| Abbyy FineReader 12 seconds | 548.6 | 434.2 |
| Zipping and unzipping data points | 100 | 113.8 |
| WinRAR 5.11 archiving, seconds | 313.8 | 270.3 |
| WinRAR 5.11 decompression, seconds | 12.9 | 11.6 |
| The speed of installation and uninstallation of applications, points | 100 | 120.6 |
| The speed of installation and uninstallation of applications, seconds | 339.4 | 281.5 |
| File operations, points | 100 | 124.3 |
| Copying data, seconds | 89.7 | 69.9 |
| UltraISO Premium Edition 9.6.2.3059, seconds | 32.8 | 27.2 |
| Browsing speed, points | 100 | 120.6 |
| Peacekeeper (Mozilla Firefox 35), points | 3351 | 4041 |
| Integral result of performance scores | 100 | 125.4 |
The integrated performance of the laptop Acer Aspire R7-371T exceeds our reference system with a processor Intel Core i5-3317U 25%. It's not a very big advantage, and performance notebook Acer Aspire R7-371T can be categorized in the midrange.
Now look at the test results in the games. Testing was carried out at a resolution of 1920 × 1080.
Game test
Maximum quality
Minimum quality
Average FPS value
Minimum FPS
Average FPS value
Minimum FPS
Aliens vs Predator
5.4
–
17.3
–
Grid 2
14.7
12.5
55.7
42.6
World of Tanks
8.0
1.6
44.7
31.6
Metro: LL Redux
3.3
1.2
12.1
5.2
Metro: 2033 Redux
3.8
1.1
15.3
6.7
Hitman: Absolution
2.2
1.1
14.4
11.2
Thief
4.0
2.0
8.6
3.5
Tomb Raider
2.4
1.8
23.5
18.7
Sleeping Dogs
5.0
1.1
7.5
5.6
Sniper Elite V2
5.0
5.0
16.6
7.7
Actually, the fact that the laptop Acer Aspire R7-371T not allow normal play modern games, was obvious from the outset. And testing in games we had only this to demonstrate that the graphics processor Intel HD Graphics 4400 is categorically not suitable for serious gaming.
Conclusion
So, after testing the laptop Acer Aspire R7-371T can draw the following conclusions. This is a stylish, slim, lightweight and very easy to work notebook-transformer. To his undoubted advantages include good quality of the screen, good keyboard and touchpad, long battery life, very low noise level and, most importantly, the ability to transform the device in different modes. Acer Aspire R7-371T is aimed at users who need a laptop as a tool for work, and it should be a laptop that you can always carry with them. The performance of the considered model can be classified as average. Actually, if we consider the Acer Aspire R7-371T as a mobile solution that you need it to work, the greater the level of performance is not required. But for games this laptop is not good at all. With regard to the resolution of 2560 × 1440, the 13-inch screen is, in our opinion, even excessively. If there are problems with your vision, you will have to either switch to a resolution of 1920 × 1080, or scale icons and fonts. At the same time, touch input is very convenient to use a stylus.
Finally – a bit on the cost. At the time of this writing, the cost of the laptop Acer Aspire R7-371T in this configuration was about 55 thousand rubles. In our view, for this notebook is an adequate price. As the competing models can be considered a 13-inch laptop Asus Zenbook UX301LA (90NB0191-M03750), which has similar characteristics (processor worse, but more memory), but has been around 78,000 rubles. And the Asus Zenbook UX301LA – it is not convertible. There is also a 13-inch glamor model Acer Aspire S7-392-74518G25tws (NX.MBKER.009), which configuration differs little from the model Acer Aspire R7-371T. However, the Acer Aspire S7-392-74518G25tws also not classified as Transformers and costs 82 thousand rubles. In short, Acer Aspire R7-371T for 55 thousand rubles – this is a good choice.
Review 13-inch laptop-transformer Acer Aspire R 13
updated:
March 12, 2015
author: