Review Sonos Play: 1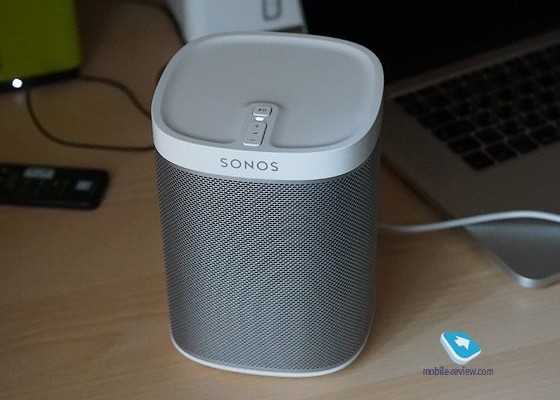 Design, construction
Appearance is traditional for Sonos, column a small but weighty, if they fall on foot, you have to call an ambulance. There are two versions, black and white, I like black, it is better to fit into the interior. Although white is also nothing. The upper part of the smooth plastic, the entire front panel is covered with a metal grill on the bottom – a massive rubber feet immediately – tiny entrance to a network cable. The power supply is located in a column. At the top – the volume control buttons, rear – socket for mounting on a wall (or stand) connector Ethernet.
As you can see, everything is on the case, nothing more. This product will serve you for a long time, and each ruble invested will pay off. For me wonder why not put Sonos in small cafes, because this column is inexpensive, very reliable, easy to use, allows you to transfer not only pre-defined collections of music from your tablet, smartphone or computer. Furthermore, two Play: 1 can be combined into a stereo pair.
Dimensions are 161.45 x 119.7 x 119.7 mm, weight – 1.85 kg. If you decide to buy two columns, prepare two sockets, each requires its. By the way, Play: 1 can operate as computer speakers, because the client Sonos exists not only for mobile devices, but also for desktop operating systems – Windows, Mac OS. Nice set for iMac – it two columns Sonos Play: 1 and corporate subwoofer. But TV is better to buy Playbar, also an interesting thing, the review will be.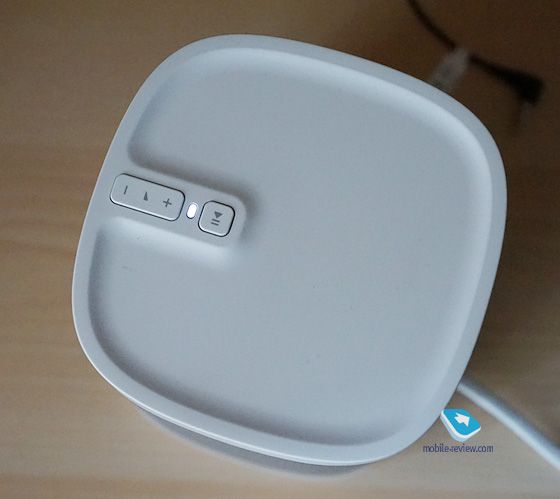 Summarizing about the design – if there is an American design school, the fruit before you. As with products from Apple, at Sonos has its own face, and this is important. And because the important stuff. Here and application looks very cool, well-chosen fonts, icons, images. Well done to the network cable connector could in fact just bring it to the back, but complicated the design, looks very neat.
In general, Sonos has Sonos. Each time you use this technique would open the box – again an analogy with Apple.
Connection
There are two ways to connect the system Sonos, one another easier. I've tried both and tell you also about both. Firstly, immediately recommend to install the program on your Sonos device with iOS or Android. Second, you can connect the speakers using the provided Ethernet cable to the access point, and follow the instructions in the program – hold down two buttons, make sure that what color flickering lamp, a piece of cake. Thirdly, it is possible to do without cable and configure the system in its Wi-Fi network, following the program. That is no longer necessary Bridge – Earlier, without it was impossible to do.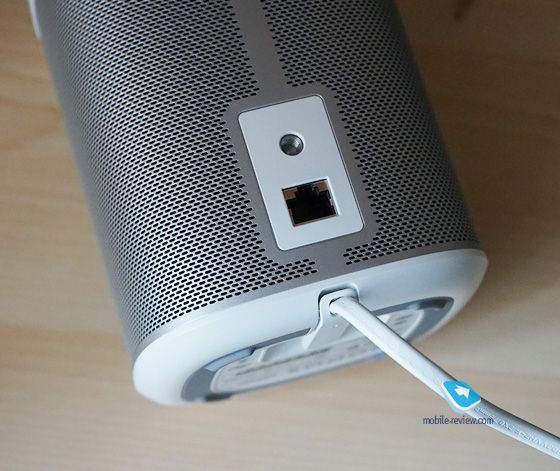 When connecting the cable without need to go to settings Wi-Fi, select the network Sonos, go back to the utility and enter the password for your home network. Then the column is connected to the network itself, and this routine ends. The whole process takes about five minutes on the force, no special knowledge is not necessary. Handle even an elderly person having the slightest experience in the use of modern gadgets.
Streaming services
The program Sonos you can choose a number of streaming services, I want to remind you that on the column, you can easily transfer music from your library and iTunes, and most of these services. That is, I do not have to switch between SoundCloud and fresh album in the player, all in one program, it is convenient. It is possible to use music Google, Deezer, already mentioned SoundCloud, other services – most of them unknown to me.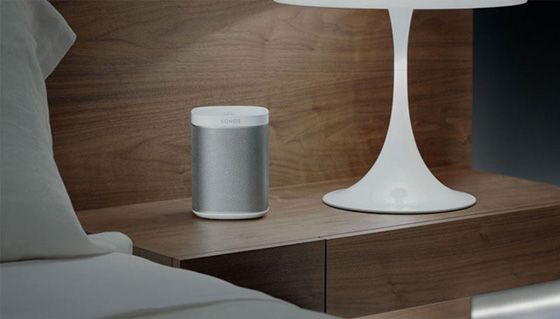 How does the reproduction of SoundCloud? Very, very simple, you go to the list of songs, you mentioned (I mean "zalaykannyh") playlists. It is a pity that there is no typical SoundCloud tape, but you can on your computer to add all the right mix to a playlist, start playing, and all. It is very good for parties, I have, for example, there is basically only techno and electronic music in the series does not break suddenly pop or light hausets. Mixes come one after the other, watch for anything not necessary. Another very cool control column Sonos with the iPad, you feel like a smart house. One column stands in the kitchen, the other in the living room, third bedroom, fourth in the office, you can use one device to switch between them, to choose music to play. Read more about the services you can read here.
The program (remember, talking about the Sonos Controller in general, not just the version for iOS) You can use playlists iTunes, Rhapsody, WinAmp, WM Player, MusicMatch. Supports playback of a wide variety of music formats, in addition to MP3, it is Apple Lossless, FLAC, AAC and so on.
Sound quality
The sound quality is excellent, all who have heard me home Play: 1, were surprised – like such a small speaker, but such a gorgeous sound. Inside the two speakers, but it is not so important – it is clear that setting devoted a lot of time. Before that, in the line of Sonos was not so small, almost portable system. I think the company tried to make a universal system for all your music, relying on ordinary people, not the audiophile. Therefore, look for nuances here or marvel at the lack of detail – a thankless task. Simple American Sonos bring home, put the kitchen in five minutes customized to include Miley Cyrus and will sing along. Okay? Very good. That's what I would advise everyone to think homegrown audiophiles, in their reviews permitting a key mistake – an unwillingness to think about the target audience of the product.
And with Sonos is a fundamental thing. Reliable and high-quality audio for non-professionals, those who want to quickly get the music at home, in all rooms, with support for your favorite streaming services, and that the daughter could run to music from your Ipad and my dad from a Windows computer could listen to Sinatra. The sound quality is excellent for a portable system – and this is the most important thing that you need to know.
Conclusion
In the retail unit costs about 16,000 rubles, in my opinion, is insignificant price for the column with such capabilities. It can be used as a standalone device, you can use two and a TV or computer, you can put in a small room in the house. For example, to put in the kitchen, in the bathroom or on the balcony. Elementary connection, the sound quality is good. If you are tired of cables and want to see how music can look in the smart home, hurry to buy. Just be careful to Sonos is easy to get hooked.
Review Sonos Play: 1
updated:
December 27, 2014
author: