Review protected laptop Dell Latitude 14 Rugged Extreme 7404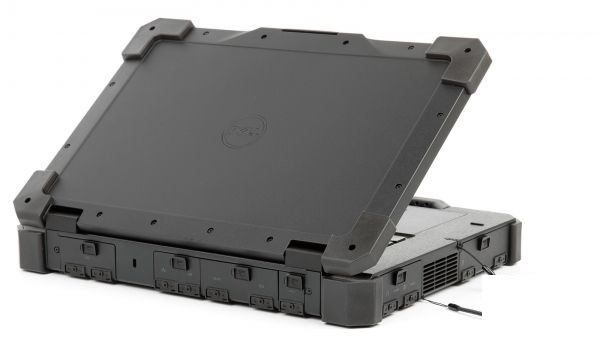 Companies producing laptops protected, very few, and new models of laptops appear on the market very often. Filling in these laptops can not be changed in a few years, which is quite normal, because their main purpose – to work in harsh field conditions, rather than winning the processor and gaming benchmarks. It is not surprising that the issue of new protected laptop is always perceived as a small but important event.
Our today's hero, Dell Latitude 14 Rugged Extreme, boasts various classes of protection. Degree of protection IP65 means that the laptop is completely impervious to sand and dust and is protected against water jets, which can get to it from any direction. Also, according to the manufacturer, the notebook has successfully passed a series of tests of the US military standard MIL-STD 810G, which allows you to determine the stability of any device to certain stressful situations. This means that the laptop is turned off must withstand a fall from a height of 1.8 meters, and complimentary laptop can safely drop from a height of 90 centimeters.
In accordance with the same standard MIL-STD 810G complimentary laptop should be resistant to vibration, shock, explosive atmospheres, solar radiation, humidity up to 95% and temperatures from -29 to +63 ° C. Thus, a set of jewels in Dell Latitude 14 Rugged Extreme turned out pretty well. Now it's time to get acquainted with our guinea closer.
Appearance
When you create a secure laptop on the sacrificial altar always is put beauty and practicality. Our guinea was no exception, so their size and appearance it resembles laptops from distant nineties.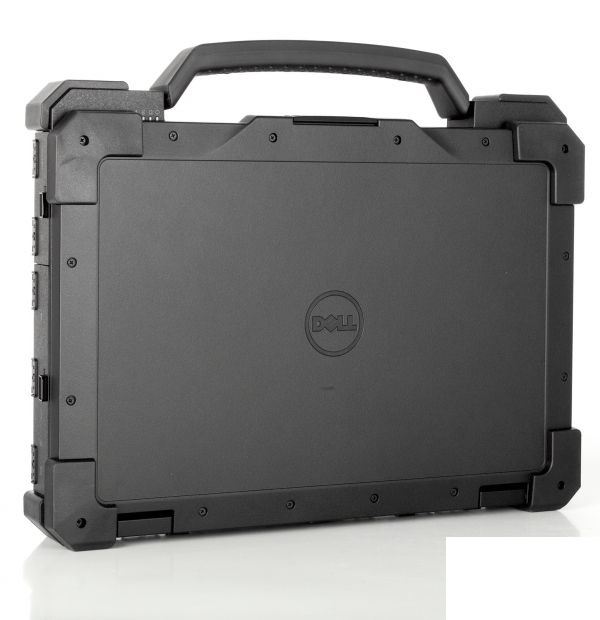 The manufacturer claims that Dell Rugged Extreme 7404 – 14-inch laptop. It's true: the screen is really our experimental 14-inch, but the diagonal lid with rubber corners much more – 16.7 inches.
Dell Rugged Extreme 7404 is not for nothing seemed to us not to the extent of plump: the thickness of its shell with rubber corners is 60 mm. If you do not consider these "elastic", the laptop just postroyneet – up to 54.4 mm.
As befits a secure laptop cover from Dell Rugged Extreme 7404 is held in the closed position by a latch. Cover and housing portable PC made of a magnesium alloy, but the plastic bezel remained, for her mounted antenna Wi-Fi, Bluetooth, 3G and GPS. Another attraction on the cover – the shutter covering the webcam. It is made, of course, is not to deal with paranoia, and to protect the camera from different contaminants.
Open the laptop even more reminiscent of their ancestors – the very thick laptops started at the turn of the XX and XXI centuries. However, our experimental is forgivable, because he – unlike most other notebooks – is IP65 and has successfully passed many tests by the US military standard MIL-STD 810G. And all this protection requires additional materials.

Keyboard with Dell Rugged Extreme 7404 was very convenient – it does not bend due to the metal substrate, and the course was in the best of the buttons long, comfortable and soft. Due to the large palm rest for a keyboard could be convenient to work if not for one unpleasant nuance. Long to print on stand on a table Dell Rugged Extreme 7404 will not work: because of high housing elbows laptop will hang in the air and not on the table, as would be the case with other modern laptops. However, our guinea was not created for a peaceful and quiet office work, and therefore, this shortcoming should not pay much attention. Well, if you put Dell Rugged Extreme 7404 to his knees, then to work for him will be very convenient thanks to the same body fat and a large workspace.
At the keyboard has LED lights four colors: white, red, blue and green; the desired color can be selected using a combination of buttons [FN + C]. Also, the backlight has four levels of brightness, which can be changed using the [Fn + F10].
Below the keyboard is a small touchpad (90 × 50 mm). Sensitivity of the touch panel is low, and support for gestures she does not have.However, the work of the panel significantly facilitates two big mechanical buttons below it.
Right of the touchpad is a label antenna NFC and biometric scanner production Broadcomm. Unfortunately, our modification Dell Rugged Extreme 7404 deprived module NFC, and the accuracy of the scanner was very low. Therefore, the Windows password is best remembered as should not rely on the "fingers".
Under the biometric scanner are all the LEDs laptop that are specially made very long. This is necessary in order to flashing diodes were visible even when the lid is closed – so you can know the status of the laptop without opening the lid.
Another distinctive feature of the Dell Latitude 14 Rugged Extreme – protected from external influences ports. Protection doors made using stubs, which are equipped with locks not to accidentally opened. To the inner side pad is bonded, which protects the connectors from potentially delicate harsh environmental conditions.
These plugs protect not only the connectors. So, on the right side of the laptop two side doors can be found in optical drive and drive, ExpressCard slot 54 mm (or PCMCIA – depending on the version), slot for smart cards, card reader (SDXC / SDHC) and two connectors USB, one of which relates to the modern, the third version.
On the left side of the plugs are: USB 3.0, HDMI, 3,5-audio jack mm headset slot for a SIM card and the door that hides the retractable battery. Over the ventilation grille hiding hole for the stylus, which is useful when working with a resistive touch screen laptop.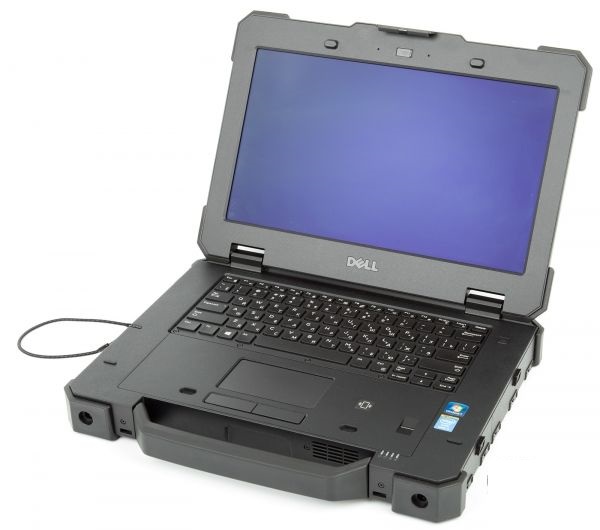 On the back of the notebook is the latest USB 2.0, a pair of Ethernet ports and RS-232, as well as video output and D-SUB connector for the charger.
At the front end of the notebook is the only speaker (pictured is closed pen) and two holes to connect the shoulder strap or other accessories that can make Dell. That's great, that's just at the time of writing this article to find similar accessories for sale we failed.
On the bottom there is a large and open connector for docking station, which, according to the company, there is a special coating that protects it from moisture, dirt and other troubles. Nevertheless, before connecting to the dock connector, this is better to wipe.
Specifications
Dell Latitude 14 Rugged Extreme 7404
Cpu
Intel Core i5-4300U;
1.9 GHz (up to 2.9 GHz mode Turbo Boost); 3 MB L3;
Two cores, four threads, TDP 15 W
Graphics Controller
NVIDIA GeForce GT 720M (2GB GDDR3);
CPU GPU Intel HD Graphics 4400;
Automatic perekolyuchenie graphics through NVIDIA Optimus
Display
14 inches;
1366×768 resolution (112 PPI), the type of matrix – TN;
Semi-matte coating, LED-lights;
Resistive touch coating;
Matrix model: Sharp LQ140K1JX01
ROM
4 GB DDR3L-1600 (two slots expansion
installed one module 4GB, provides a complete replacement of modules)
Hard disk
128GB SSD (SAMSUNG MZ-7PD128);
Form Factor 2.5 "thickness 7 mm
Interfaces
2 × USB 3.0
2 × USB 2.0;
1 × HDMI;
1 × D-SUB
2 × Ethernet;
1 × connector for headset (mini-jack 3,5 mm);
2 × RS-232;
1 × ExpressCard 54 mm;
1 × slot for smart cards;
1 × slot for SIM-card
Wi-Fi
802.11 a / b / g / n, 2 × 2, 2.4 and 5 GHz, (Intel Dual Band Wireless-N 7260 BGN 2 × 2 HMC WiFi Adapter)
Bluetooth
4.0
AC adapter
10/100/1000 Mbit / s (Intel Ethernet Connection I218-LM);
10/100/1000 Mbit / s (REALTEK USB GBE Famyli Controller, connected via bus USB 2.0);
Optical drive
CD ± RW (HL-DT-ST GU90N)
Jack flash cards
SD (SDHC / SDXC)
Sound
Two microphones, one speaker
Battery
Removable 97 Wh (8550 mAh, 11.1) 9 cells
Power supply unit
90 W (19.5 V, 4.62 A)
Size
356,1 × 60 mm × 247b5
Weight
3.9 kg
Operating system
Windows 7 Professional 64-Bit
Optional – Windows 8.1 Pro 64-Bit
Guarantee
3 years
Guide price
200,000 rubles
Notebook is equipped with a processor Intel Core i5-4300U clocked at 1.9 GHz (up to 2.9 GHz mode Turbo Boost), L3 cache 3 MB in size and teplopaketom 15W. According to the official website of Dell, Sales modifications may occur to the processor Intel Core i7-4650U, which operates at a frequency of 1.7 GHz (up to 3.3 GHz mode Turbo Boost).
RAM in our experimental set bit. Inside the laptop is just one module DDR3L-1600 volume of 4 GB. Amount of RAM can be increased at any time, because the laptop has two memory slots, which is very easy to get to. One is already in use, but the second easily take another bar to 4 GB.
Inside the notebook there was a place for the simplest discrete graphics card – NVIDIA GeForce GT 720M, which is soldered to the motherboard 2 GB video memory GDDR3. CPU GPU, Intel HD Graphics 4400, the manufacturer did not turn off the notebook.
For the work Wi-Fi and Bluetooth module meets Intel Dual Band Wireless-N 7260 2 × 2, which is able to work in the 2.4 and 5 GHz. To connect to a wired network the laptop has two Ethernet connectors and, accordingly, two network adapters: Intel Ethernet Connection I218-LM (central connector) and REALTEK USB GBE Family Controller (connector on the side). Both controllers can support speeds of up to 1 Gbit / c, but in fact turned out to be the Realtek connected using a bus USB 2.0, whose maximum capacity is 480 Mbit / s.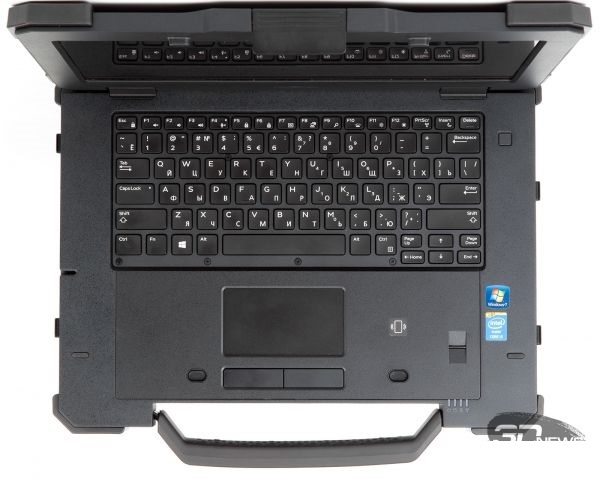 The drive of the laptop is only one – it's SSD form factor of 2.5 inches and a thickness of 7 mm. Unfortunately, the wheels with a common thickness of 9.5 mm set inside a laptop will not work – they just do not vlezut in a niche set aside for storage.
The volume of the battery in our guinea was a big 97 Wh (8550 mAh, 11.1 V), with battery consists of as much as 9 cells. Charger for laptop turned out very compact, and its power is 90 watts.
Price for the Dell Latitude 14 Rugged Extreme 7404 to match his brutality. Following the take-off of the dollar price of this laptop has jumped to about 200 000 rubles, but it may still not time to change depending on the rate of the national currency.
Internals
With all the rigors of Dell Latitude 14 7404 Rugged Extreme disassemble the laptop is fairly easy. It's enough to unscrew all the screws that hold the bottom of it – though a lot of them out there. After dismantling the last screw it becomes clear why this laptop is used so many fasteners. On the inner side of the bottom, around the perimeter of the sealing seam is – rubber gasket which is pressed against the body of the laptop and does not allow water to get inside the device. On the bottom there is a pink termolenta with which RAM, video card, as well as her memory and power phases can give its heat to the bottom of the notebook.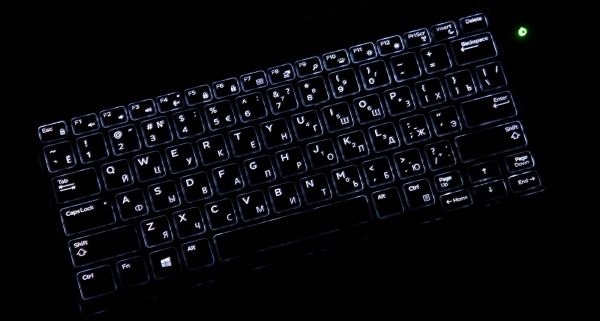 Upon closer inspection, the bottom becomes apparent that said sealing seam bypasses the turbine laptop. Worry about it not worth it – Dell engineers have thought through and this moment. Air cooling system will not be able to work in a confined space, which is why the turbine withdrawn outside. So in places where the heat pipe and turbine power cord out of the pressurized zone laid sealant, more like a wax.Simple and practical solution.
All hardware is located very compact laptop: Electronics takes a little more than a third of the internal volume and stacked in multiple layers. Thus, the bottom side of the heat pipe is a processor, and a top – the main chip card. How cool is this electronic sandwich, we will check in the "testing", and yet continue to study the cooling system.
Our modification Dell Rugged Extreme 7404 is devoid of 3G-modem, GPS module and NFC, but all the necessary preparations in the laptop there. In particular, under the frame of the screen and below the work area already installed the necessary antennas and wires removed from them to the correct connectors on the motherboard.

A few words should be said about securing the laptop keyboard. It has no holes for water drainage, and hence its connection must be sealed. Below the keyboard is a small bar where leave two loops of the keyboard. If you remove the panel, then on her laptop and you can find two rubber gaskets. With their help and made a tight connection of the keyboard.
Review protected laptop Dell Latitude 14 Rugged Extreme 7404
updated:
January 21, 2015
author: