Review of mini-PC Intel NUC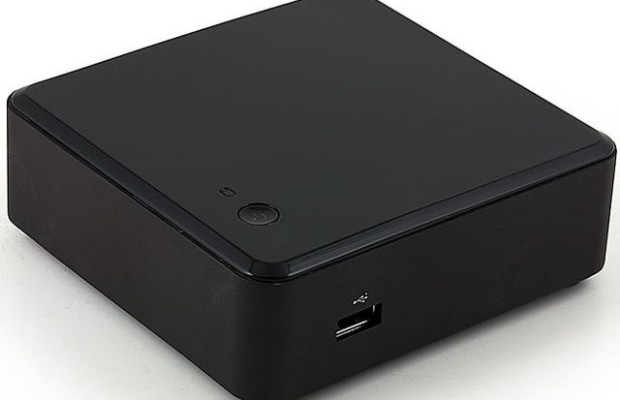 Review of mini-PC Intel NUC | Introduction
Until recently, if you wanted to get the power and versatility of a desktop PC, it was necessary to prepare a lot of free space on the floor or on a table for mounting the housing type "tower". But today, in comparison with such a mini-PC, as Intel NUC (Next Unit of Computing) even ultraportable laptops look great. These systems are fast enough to replace your main computer, and are small enough to fit anywhere. NUC5i5RYK model for $ 390 uses fifth generation Intel Core i5 processor-based architecture Broadwell, supports Wi-Fi 802.11ac standard and high-speed SSD connected via PCIe. We bought and installed its own set of RAM, storage and operating system, as a result the price of our test sample was $ 670.For this amount of new mini-PC from Intel has much to offer.
Review of mini-PC Intel NUC | Use Cases
Intel NUC fast enough to replace the main PC for students, office workers and other users.By combining Intel NUC with high-resolution monitor (or two), you'll get all the benefits of a compact monoblock, but with the ability to keep your old monitor when you upgrade hardware.
If you set the high capacity hard drive, or connect it via USB, Intel NUC will easily cope with the role of a powerful home theater. A retail outlets can use Intel NUC terminals or kiosks.
Review of mini-PC Intel NUC | Design
With dimensions of 114 x 112 x 33 mm and weight of 453 g (with drive and RAM) NUC5i5RYK size and shape reminiscent of a sandwich with peanut butter and jelly. Block rather thin and fit, even in miniature entertainment system. It can easily be placed next to the keyboard on the table or attach the back of the monitor using the included bracket VESA.

Most of the competitors in the segment of the mini-computer is much larger, including Mac Mini (36 x 197 x 197 mm, 1200 g), ThinkCentre M83 Tiny PC (178 x 183 x 34 mm, 1315 g) and HP Stream 200-010 Mini ( 146 x 145 x 53 mm, 635 g). Even the power adapter fromIntel NUC is very small – only 45 x 83 x 23 mm and weighing 184 g
Although Intel NUC can be easily placed on a shelf for display or hide, thanks to its compact size and attractive appearance, it is unlikely to spoil the design of your office or living room, if it is to stand on the table. The main body is made of aluminum in a matte silver color with shiny black plastic cover and matte black plastic bottom. On the sides and rear are ventilation holes on the top cover is located neat silver power button.
The top cover can be easily removed without tools. Intel itself does not deal with the issue of exchangeable covers, but keeps their options in the public domain, so that any company or person may make cover not only with its own design (including print it yourself on the 3D-printer), but with additional functionality. At CES 2015 the company showed several prototypes of covers, including a version with a TV tuner and NFC.
Review of mini-PC Intel NUC | Connectors
At such small sizes Intel NUC has a very broad communications capabilities. The front panel has a 3.5 mm audio jack, IR receiver port and two USB 3.0, one of which is designed to charge devices even when the system is in sleep mode. The rear panel has a power connector port Gigabit Ethernet, mini-HDMI outputs and mini-DisplayPort and two port USB 3.0. On the right is the socket lock Kensington.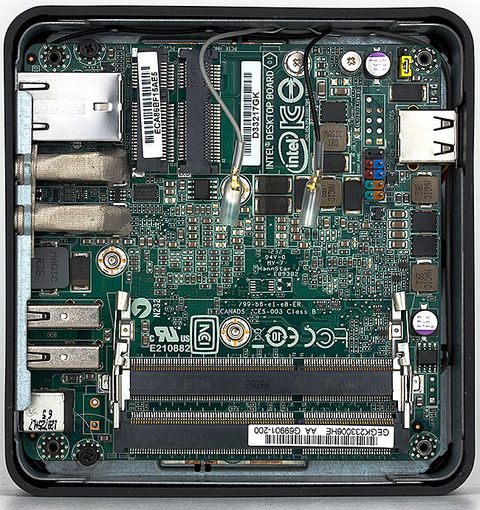 Intel NUC can display an image on the monitor resolution Full HD. Through a combination of video output, mini-PC from Intel can support up to three monitors simultaneously.DisplayPort connector supports the DisplayPort 1.2 and is able to display an image on three displays at resolutions up to 1920 x 1200 pixels through a special splitter or using a serial connection chain. However, the easiest way to connect one monitor to each connector cables in the presence of mini-HDMI and mini-DisplayPort.
Wireless connection to the Internet by using Intel 7265 card that supports standard Wi-Fi 802.11ac and Bluetooth 4.0. In addition, the card can transmit video to a set top box using standard Intel WiDi.
Review of mini-PC Intel NUC | Necessary components and their cost
Intel sells Intel NUC as a platform: without memory, storage and operating system. So be prepared to spend at least another $ 250 and some time on the selection and ordering of missing components.
The system has two slots DIMM, supporting modules SODIMM DDR3L with a voltage of 1.35 V. You can install one or two strips with a total capacity of up to 16GB. 8 GB of RAM of this type would cost about $ 55, although in order to save you can buy the bar to 4GB for $ 28.
Although some configuration Intel NUC, in addition to slot M.2 equipped bay SATA-drive 2.5-inch, our sample has only NUC5i5RYK M.2. It is compatible with SSD formats M.2 22 x 42, 22 x 60 or 22 x 80 key M or B + M. This motherboard supports SSD M.2, using the bus or SATA PCIe x1, x2 or x4. Thus, Intel NUC will work with virtually any type of SSD M.2, on the market.
Most of these drives work with bus SATA, having an upper speed limit of about 540 MB / s.Storage capacity of 250 GB can be found for $ 120. As an alternative solution available on the 120 GB at a price of $ 100.
The speed of the more expensive drives with interface PCIe x4 sometimes twice higher than SATA. For our tests, we used a Samsung XP941 256GB interface PCIe x4, which costs about $ 250, but it has a read speed of up to 1000 MB / s and write – more than 800 MB / s.
If you want to install Windows, you OEM-version will cost about $ 100. Do not forget about the various free versions of Linux, for example, Ubuntu.
Review of mini-PC Intel NUC | Prices and competitors
If you buy a standard SSD SATA M.2 256 GB, 8 GB of RAM and a copy of Windows, a complete computer from Intel NUC for $ 390 actually costs $ 670. If we restrict ourselves to 4GB of RAM, SSD 128 GB and a free operating system, the final price will drop to $ 490.However, Intel NUC has many options for specifications, and if you take something inexpensive with the processor Celeron, the price will be much lower.
In the case of Intel NUC you pay for a combination of small size and high performance, especially if you use the SSD for PCIe x4. If you want to immediately get a ready to work the mini-PC, you can find less expensive systems with a much slower processors and without SSD. For example, HP Stream 200-010 mini costs $ 179, but it is 220 grams heavier and about 2.5 cm more Intel NUC, moreover, it is equipped with a slower processor Intel Celeron, 2 GB of RAM and storage to 32GB.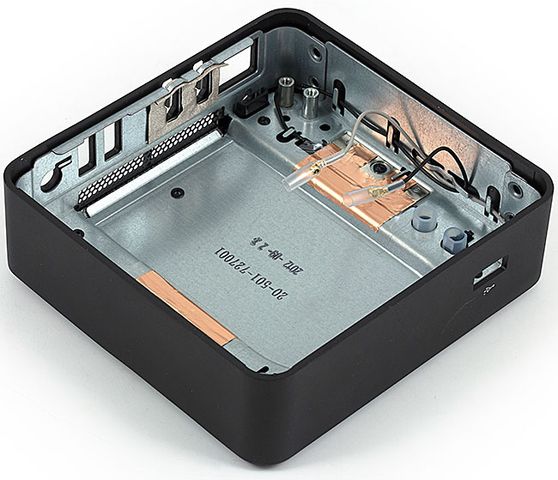 Mini PC Lenovo ThinkCentre M83 Tiny Desktop almost twice and three times heavier than Intel NUC, but comes once in a complete set for $ 483. It includes a processor Intel Core i3 and the fourth generation of hard drive capacity of 500 GB. Version with Core i5, SSD and 8GB of RAM would cost $ 1,000. MacBook Mini also looks great next to Intel NUC, and the price for a model with Core i5 and hard drive starts at $ 499. SSD version costs $ 699.
Review of mini-PC Intel NUC | Installation and configuration
To install memory and SSD need no more than five minutes. To get to the inside of the system, simply turn the Intel NUC and unscrew the bottom panel, which is attached with four standard screws with a Phillips head. It then only remains to put the RAM modules, insert the SSD into the slot M.2 and tighten the locking screw.
Installing Windows takes 10 to 20 minutes. The installer must be on the flash drive. Do not forget to download the latest drivers from the site of Intel.
Review of mini-PC Intel NUC | Performance
The base clock speed of the processor Core i5-5250U (Broadwell) is 1.6 GHz, but with the help of Turbo Boost function, it increases to 2.7 GHz. Due to the relatively powerful GPU Intel NUC5i5RYK great for serious problems, such as a spreadsheet, web surfing, viewing 4K-video or even video editing.
During testing, it took only 1 minute and 8 seconds to encode a movie trailer in 1080p length of 2 minutes 30 seconds at 720p using Windows Movie Maker, while in another window plays video format 4K. However, in the platform used dual-core mobile processor, so test scores Intel NUC more comparable to ultraportables than desktop computers that use more energy, equipped with quad-core processors running at higher clock speeds.
The presence of mobile processor gives its advantages, even in desktop systems. During testing, the Intel NUC maintained a fairly low temperature, and the fan is very quiet.
Our test sample is equipped with 8 GB of RAM and a fast SSD Samsung XP941. In the synthetic benchmark Geekbench 3, which measures overall system performance, he scored 5611 points. This is somewhat lower than the average among candy bars (7013), but above average results among ultraportables (4037). Dell XPS 13 with a processor Core i5-5200U 2,2 GHz scored 5530, almost the same result showed Apple iMac 2014 (5464) of the chip Core i5-4570R 2,7 GHz. Lenovo C560 is equipped with CPU Core i3 2.9 GHz with frequency was ahead with index 6209.
Overall performance (Geekbench 3) – test processor speed and memory (more – better)
Intel NUC chip Broadwell showed that its capacity is more than enough for serious office tasks, completing our test spreadsheet (the reduction of 20,000 names with addresses in Open Office) in just 5 minutes and 2 seconds. The result is identical to the terms of the XPS 13 and more than two times better than the average among ultraportables (10:17). Moreover, it is superior to the average among candy bars (7 minutes), but slightly behind the iMac (4:47).
The speed of the tables. Time spent on the reduction of 20,000 names with addresses in Open Office Calc (less – better)
NUC5i5RYK took only 12 seconds on a cold boot Windows 8. Due to the incredibly fast SSD PCIe x4, mini-PC has completed the test file transfer (File Transfer Test), which involves copying the files of 4.97 GB, in just 16 seconds. Ie, the rate was 308.8 MB / s – this is one of the fastest performance of all that we have seen on the PC. It is much higher than the average results for monoblocks (58 MB / s) and ultraportables (120.5 MB / s).
Test file transfer. MB / s (more – better)
Review of mini-PC Intel NUC | Graphics Performance
Power integrated graphics processor Intel HD Graphics 6000 is more than enough to see 4K-video, but in terms of games do not count on anything more than casual video games. In the synthetic benchmark 3DMark Fire Strike, which measures the overall level of graphics performance, Intel NUC scored 888 points. It's a bit more than the average ultraportable (670.31) and the Dell XPS 13 (704). Average in the category of candy bars was slightly higher – 1,053 points.
3DMark Fire Strike – a synthetic benchmark that measures graphics performance (more – better)
When we played in World Of Warcraft with automatic settings in the resolution of 1366 x 768 pixels, Intel NUC was able to maintain the frame rate of 37 FPS, but at higher resolutions up to 1080p figure fell to 26 frames per second. As a result, it is about on par with the ultraportable laptop, shows the average result of 33.7 and 31.5 frames per second, as well as close to the Dell XPS 13, which is issued at 1080p 33 frames per second. But when we put quality graphics, mini-PCs from Intel was able to just slide show with a frame rate of 16 FPS and 17 on the two above-mentioned resolutions.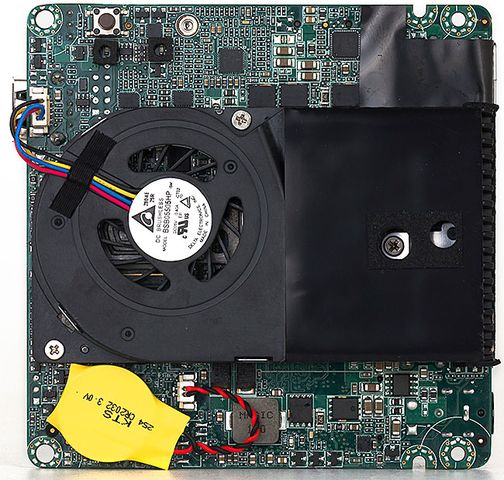 Review of mini-PC Intel NUC | Options and Configuration
In the model number 2015 Intel has several versions of Intel NUC, characterized by different components. The basic model costs $ 295 and is equipped with a processor Core i3-5010U 2,1 GHz. Version, which has a storage compartment for 2.5 inches, only 15 mm and above $ 5 more. Our system with the Core i5 processor found in the retail price of $ 391, but there is also a version with a 2.5-inch drive bay, it is called NUC5i5RYH and costs $ 383.
Intel NUC with a processor Core i7 (NUC5i7RYH) will be this year, but the price is still unknown. Also, each configuration is presented in a version for business, characterized by the presence of Intel vPro technology management and two mini-DisplayPort connectors instead of the mini-HDMI + mini-DisplayPort.
We strongly recommend buying Intel NUC compartment for 2.5-inch drives, because it allows the use of two drives: a capacious mechanical hard drive for file storage and fast SSD M.2 for systems and applications.
Review of mini-PC Intel NUC | Summing up
Intel NUC – this is a high performance in a small attractive package. For those who do not want to mess with installing RAM, storage and OS have a larger and more expensive mini-PCs, such as the MacBook Mini or ThinkCentre M83. Advanced gamers tend to prefer desktops or laptops with discrete graphics cards. But if you do not mind to work you need a screwdriver and a small desktop system as the main PC or home theater system, Intel NUC chips Broadwell is the best option.
The Advantages:
Attractive compact design.
High performance.
Support for fast SSD M.2.
Removable cover with additional features.
Output image 4K or 3 monitor.
Disadvantages:
comes with no RAM, OS and storage.
Review of mini-PC Intel NUC
updated:
April 12, 2015
author: