Review Minix Neo X8-H Plus : 4K Android media player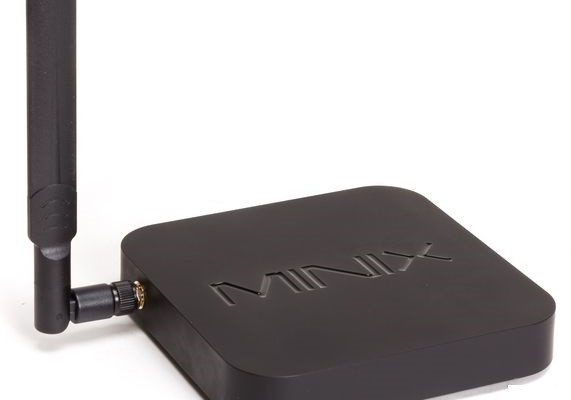 Last year, we already have a round-up published on Android sticks for the television. Really excited we could not be there. The potential of these devices did and we'll see, but there were still a bit too many snags in our opinion. The Neo-X8 H Plus Minix has some interesting additions, including support for 4K playback and the ability to transfer files in the new H.265 codec (HEVC) to play. We started working with this Android-computer.
Minix let there be no misunderstanding: you must see the Neo-X8 H Plus as an alternative to an HTPC. At least, that is what we are reduced from what we see on the device box. We are dealing here with a device that Kodi (formerly known as XBMC) preinstalled state and is referred to as a media hub. Mind you, it is not the latest version (version 14) Kodi but version 13. This is because that version is more stable with it, especially when it comes to playing 4K content. Meanwhile a stable release of version 14, so there is a chance that it can be used just now.
Of course, we were curious about, in particular, the claims of Minix that the Neo-X8 H Plus is able to play content and also supports 4K HEVC. Before we do that, we look at the appearance and specifications of the device.
The Neo-X8 H Plus we discuss here is available by Media24Store, formerly the MinixStore. It costs as 178.50.
Whole equipment
The Minix Neo X8-H Plus is certainly not large, but still contains quite a lot of connections. Two of the four sides of the square box are filled with it. The box is powered by a "real" power connector. Many other Android-based sticks and boxes are fed via Micro USB. We see further Gigabit network interface, three times USB 2.0, Micro USB (OTG), an optical digital audio jack, a full-size HDMI connection (micro) SD card slot (up to 128 GB) and two 3.5mm jacks for headphones and microphone. The only button that sits on the Neo-X8 H Plus, you put the device on and off.
Minix has an HDMI 1.4 connector mounted on these Neo, no copy of the 2.0 type. That is unfortunate in itself, for 4K has HDMI 2.0 enabled to transmit images at 60 fps. Now this is limited to 30 fps. For movies that are rendered with 24 fps in general, that's no problem, but for television are 50 or 60 frames per second common. Even gaming in 4K course is now limited to 30 fps. If that's a problem on an Android device like this, remains to be seen.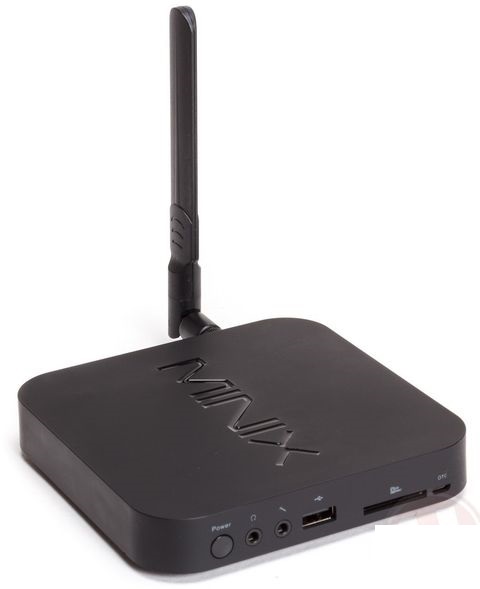 One of the most notable cases the appearance of the Neo-X8 H Plus is the relatively high antenna. You can also connect because this device wirelessly to your router. A media player to connect wirelessly to your network is not necessarily something we would recommend you. But if it works well, or it eliminates pulling a rope, so it's certainly convenient that it is done. You do not use, you can remove the antenna also the wireless capabilities. It is a dual-band antenna and the adapter is suitable for 802.11ac. It is of course only one, so the theoretical maximum transfer rate is 433 Mbps and 150 Mbps on 802.11n 802.11ac. With the latter you should keep good account if you do not have 802.11ac router. Do you have a 802.11n router, this Neo-X8 H Plus so actually slower than a 5 GHz model with 802.11n via two antennas. In Bluetooth is also provided, version 4.0. The unit also has 2 GB of RAM and a storage capacity of 16 GB.
We have tested the device, in particular, as a media player, because it is also put in this way in the market. However, bear in mind that it runs on Android 4.4, including access to the Play Store. With this device you also unlock services like Netflix and HBO Go, if you subscribe to it naturally. Browsing on your TV is also possible, and there are still more things to think that you can do with Android on your TV. Keep in mind that Netflix currently only 4K streams through the apps that are on 4K TVs. There so you can not use it here.
Internal
AMLogic generally makes products that focus on the audio and video world. As chips from this manufacturer are used in TVs and set-top boxes. However, it also develops SoC for use in tablets. Which can of course also be used in Android devices such as the Minix Neo X8-H Plus we discuss here.
Binenin stopped Minix the S812, the most powerful SoC AMLogic who performs at this time for this kind of devices. It is a chip where we already more than a year ago for the first time have written about. He is not really new, and at first sight not really that interesting. The CPU consists of 4 Cortex-A9-cores which are clocked at 1.99 GHz. In that area so nothing shocking. The GPU is the octacore ARM Mali-450. That sounds pretty powerful, but he is not really. According GFXBench we have here, moreover, does not meet with a octacore, but with a hexacore; not eight but six cores so as that benchmark. GFXBench gave no scores in fps, but the number of rendered frames. On that basis, this GPU not a runner anyway. He continues stabbing at the T-Rex-test on a third of the number of frames that the Shield Portable Tablet manages to render to that benchmark. Even when we do not see 3DMark scores speaking to the imagination.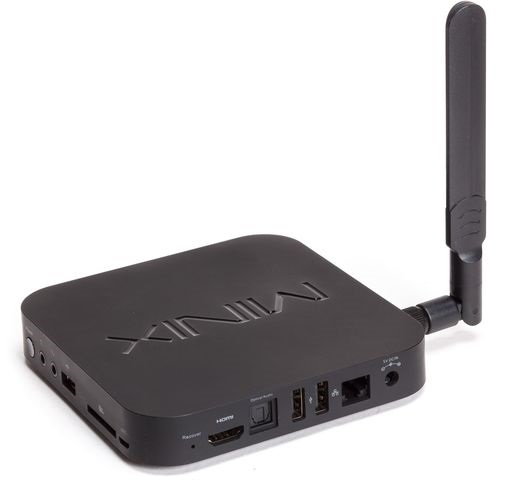 The somewhat conservative power of the Neo-X8 H Plus what we are witnessing is not a drawback. The device is indeed intended as a media player. To play media files, you do not quite need a lot of processing power. Now we do, however, come in our opinion most interesting part of this unit and that is the built-in video decoder. Namely that can render images in 4K and supports HEVC. We have a year ago even examine this new video codec and therefore refer you to our extensive backstory.
As we have experienced in a slightly more recent article, there is virtually no hardware decoding possible HEVC files. This means that the CPU load especially in Ultra HD files is very high. 4K content that uses this codec even allows for a Core i7 4770K for almost 50% CPU load. The AMLogic S812 Neo X8-H Plus here so no problems, because a dedicated decoder is present that does this.
HEVC and 4K on the Minix Neo X8-H Plus
We have the Minix Neo X8-H Plus tested as a media player, which we of course have particular regard to the playback of 4K and / or HEVC content. Before we went down to work, we have the device also served as a part of our test files for media players, which of course we have used the pre-installed version of XBMC.
As an all-round media player is the Neo-X8 H Plus suitable in itself. He plays in any case, all common video files that we have in our collection. The network speed is excellent. A heavy file with an average bitrate is played without a hitch, even wirelessly. This last is of course dependent on how far you are away from your access point. For optimal stability and performance, you would still recommend to connect wired to a media player. In terms of audio supports AMLogic chip Dolby Digital and DTS. The 'hires' variants thereof (TrueHD and MA) are unfortunate enough not possible. This is undoubtedly a matter of law, because the chip would be as far as we know it should be.
To test the 4K and HEVC playback capabilities, we downloaded HEVC multiple files in different resolutions, of course, also in 4K. First, of course, the famous Big Buck Bunny and Tears of Steel. There also now roams in a H.265 encoded 'version of Skyfall around in less legal circuit that' x264fall 'hot. That we have used for this test. To check whether this was also shown in real 4K, we have joined the Neo-X8 H Plus on a 4K monitor from Dell, P2815Q.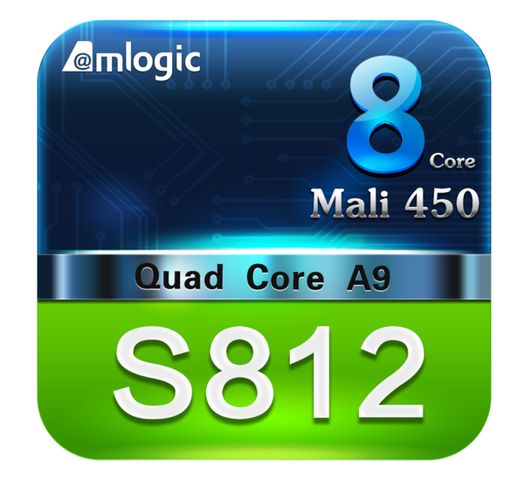 The Neo-X8 H Plus plays all files smoothly off. Note that for HEVC-playback in XBMC you should not, at least not in the version that was installed on our test model. Try that content or to play with XBMC, you only get to hear the audio. Through the native video player plays the X8-H Plus everything will just wondering. No need for 4K playback also not necessarily using XBMC. There is also a 4K Movie Player app on the device. There you are as far as we have seen, however, limited to playback content stored locally on the player itself or on media connected via USB. Stream over the network does not belong to the possibilities.
Where you just need to look for files in 4K will play is that you set the output from the HDMI connector on the correct resolution. By default, namely that at 1080p. The resolutions are not really logically arranged otherwise. You would expect 4K top and that the resolution is lower downward. That is not done here. The fourth comes after the first, so the top is 1080p and 4K comes underneath, 720p before being displayed.
One of our main criticisms of Android sticks and boxes as Minix Neo X8-H Plus in our round-up of last year was that the operation to be desired properly. In the Neo-X8 H Plus comes standard with a remote control. Which incidentally works without you even a dongle or something in the box should prick. You're not a USB port lost if you use this. However, it is a 'normal' remote control, though with some shortcuts on (Back, Home, Menu, Settings, and volume), which you must navigate using arrow keys. That is far from ideal for Android. For example if you're on a webpage, you must use the arrow keys along all 'clickable' links on the page until you find the correct one. To navigate through this remote XBMC itself fine. Want more, then saves the frustration quite rapidly.

In the Neo-X8 H Plus we were sent by Media24Store was also a Neo M1 gyroscopic mouse supplied (which must be fitted a dongle). This makes it possible to operate Android by moving the remote controller. This works a lot better than Android navigated using arrow keys, let that be clear. Really nice but this does not work in our opinion. We managed at least not to really smooth with operate it and we went reasonably often wrong as we wanted somewhere to 'click'. Entering text is also not a pleasant pastime.
If we were to use an Android box like the Minix Neo X8-H Plus, we would in any case as soon as possible to connect a keyboard and mouse. This is possible via Bluetooth (if your keyboard supports this course), but there are plenty of USB ports available for one or even two small receivers to lose to.
Conclusion
The Minix Neo X8-H Plus is one of the most interesting Android sticks / boxes at the moment. He has a lot of connections and also provides support for 802.11ac. The most interesting aspect of this player, we find the ability to 4K content with it off and play decode HEVC-ge-encoded video files hardware. That works in practice also excellent. We have no problems can discover during our test anyway. Other media files are also played smoothly, although it is unfortunate that DTS-MA and Dolby TrueHD are not supported.
The operation remains the Achilles heel of devices like this. With the included remote lets you control XBMC on reasonably well, but the rest of Android really. A gyroscopic mouse gives you a little more flexibility in the operation, but also what remains our view still make do. We would at least recommend a keyboard and mouse (or keyboard with trackpad like the Logitech K830 or TK820) to connect. Then of course there is still an additional expense in addition to the initial purchase price and you can count on a total price that is well above 200 euros. You then have a full box Android with a very good file support that you can operate properly.
Review Minix Neo X8-H Plus : 4K Android media player
updated:
January 13, 2015
author: