Review of Media Player Huawei Media Q (M310)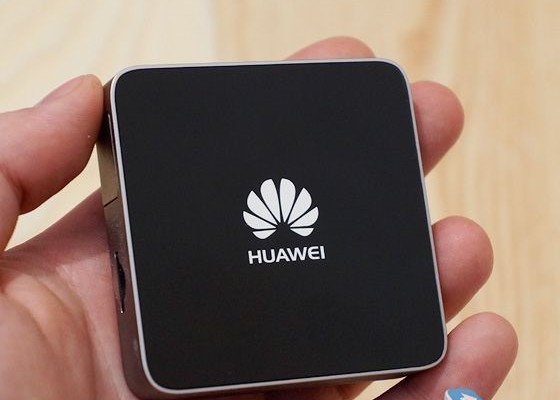 Huawei Media Q: Introduction
Despite the emergence of modern TVs clever media centers, video players, different kinds of video and audio player, people continue to buy special media players, which are separately connected to the LCD-panel or plasma. This is because the software TV often does not understand some of the formats of video and audio, you want more functionality comparable to Android-device, which is now possible not only to watch movies and listen to music, but also play games, install applications, connect additional accessories and so on.
Technical characteristics
Chipset: Hisilicon K3V2 4 cores
Memory: 1GB RAM + 4GB Flash
Interfaces: STB In x HDMI Out x SPDIF / 3.5mm stereo jack / Mic mono (three in one) x USB 2.0 x microSD x micro USB
Dimensions: 65x65x14 mm
Power: Micro USB (DC 5V 2A)
Wi-Fi 802.11 b / g / n 2.4G / 5G 2x2MIMO
Bluetooth 4.0
Scope of delivery
Media Player
AC adapter
USB-cable
HDMI-cable
Remote Control
A simple example. Before the New Year, I bought a modern TV model on WebOS enabled SmartTV. However, it turned out that these things are implemented, roughly speaking, the ugly, and the system itself is sometimes "thoughtful." In this case, I had two options: to use what we have, or buy a multimedia console. I chose the last option – a simple, convenient and intuitive.
Today we will talk about a similar machine from the company Huawei, Media Q – compact, cute and relatively functional devices on the operating system Android.
Huawei Media Q: Appearance
The device is a small flat square-shaped box with the dimensions of 65x65x14 mm. On the official website does not say how much weight this device, but it seems to me that it does not matter (I think less than 100 grams).
The entire device is made of plastic. The upper part of a dark color, glossy, marked the company's logo and name. Not quite the right move, because the surface quickly covered with fingerprints, moreover, constantly collecting dust.
Sides are painted silver, all the symbols are indicated in gray. Lower plane porous, apparently, is done to ensure that the device can be positioned slightly more stable on any horizontal surface. From experience I can say that the Media Q is likely you will have to hang in the air and held on the cables.
Body strong, well assembled, no unwinding or no removable parts.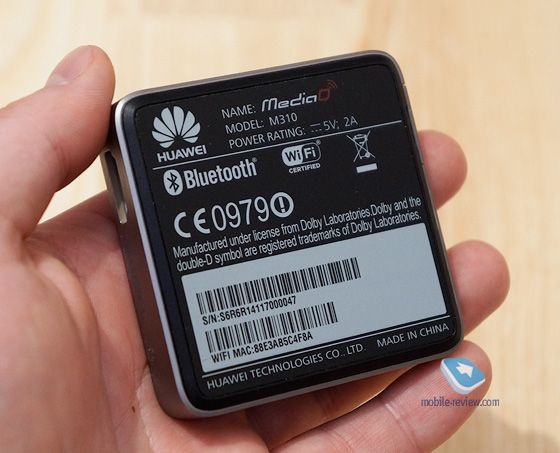 On the right side of the box there are two jacks: microSD-slot and a plastic plug (it is not fixed to the body) – HDMI (Set Top Box) input for connecting, for example, Blu-ray player. In the "sleep" is automatically used by STB.
Right – HDMI output to TV.
At the top are the basic elements: micro-USB (5 V supply, 2A, can be connected to the terminal a TV or AC adapter), power LED, 3.5 mm jack (in the instructions it is specified as a multi-port) to input sound (multi-channel) to an external amplifier to output sound to the active speaker and microphone connection. Next – a standard USB-connector.
Included you will find a black matte plastic remote control that operates on two AAA batteries. With the media player it binds via Bluetooth. Dimensions control – 145h35h20 mm. He is thin, small and quite easy to use.
Above is the glossy plastic power button. Below – 6 rubberised buttons and a joystick with "OK" in the center.
If we consider the ergonomics design of the remote control, then everything is fine, but from a functional point of view, there is criticism.Control the player banal uncomfortable: it is necessary to click many times on different keys to get to your destination. It was necessary to implement this feature or by using the trackball or copy technology, for example, TVs LG – Magic Motion.
Alternatively, you can use the wireless mouse or keyboard. Theoretically, it is easy to connect a smartphone, but the program for a connection set-top box and the phone not working for me (off with an error).
Huawei Media Q: Hardware and software platforms
Your media player Huawei Media Q chipset used self-made, ie Huawei's division HiSilicon Technologies. Chip family K3V2 (Hi3620) – the second generation processor has 4 cores Cortex-A9, the frequency of each can be from 1200 to 1500 MHz, process technology – 40 nm architecture ARMv7. As a graphics system – Vivante GC4000 (two eight-chip, a total of 16).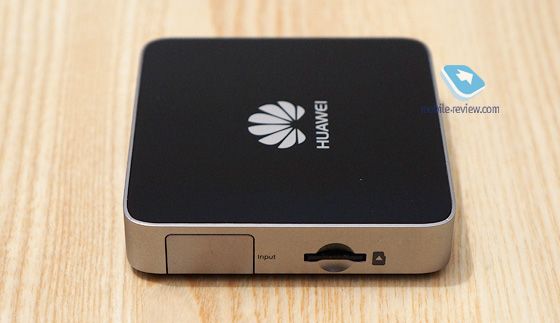 Relatively old platform, released three years ago.
If we talk about performance, for most purposes it is enough. Another question – the smoothness of the interface. And here it is not up to par, unfortunately: menus sometimes podlagivaet, long time to load. In general, it is felt weak optimization of the system.
Sad also the fact that the device does not support many applications and games.
The operating system used by Google Android version 4.1.2. Updates do not and probably will not.
As the shell – a proprietary add-on. Even two. First – MediaKit, second – MediaQ. When you install a memory card, the machine automatically scans it for any application, then prompts you to install them.
Shell MediaKit
Displayed at the top right weather and date. Bottom left – voice search Google, displaying connected devices and operating the network.Right – the most important programs, including the entrance to the menu.
Important note! To be able to enter characters, switch to a standard keyboard on branded Huawei! Otherwise, you can not specify corny password from Wi-Fi network, or use the search programs on Google Play. Or have "Connect" wireless mouse / keyboard.
Shell a little more fun, but not as nimble as we would like.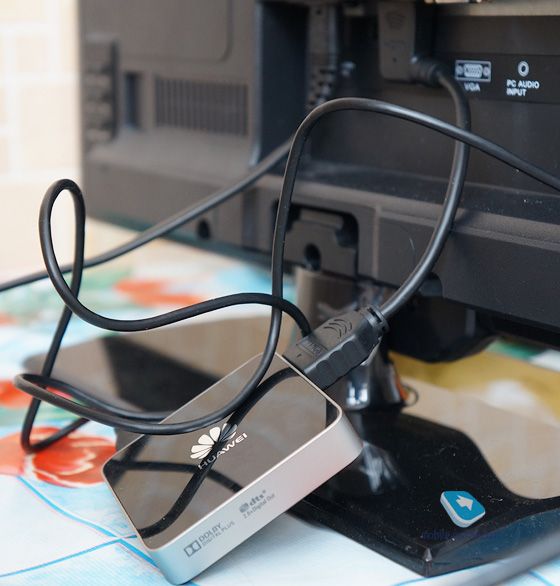 Left – the weather and connected devices. Right – the main sections: videos, photos, music and applications.
The strange thing is that the standard video player so simple that it does not even select subtitles and audio tracks. To test the media player I put the most common program Antutu Video Tester. Below – the results. Gadget "pulls» 2K and 4K videos, does not understand the sound DTS, Flac, codec HEVC.
Well, that use an operating system, you can even install MX Video Player.
I think that describe in detail the video capabilities of the device does not make sense, they all boil down to the description of the possible applications such as MX Video Player.
Huawei Media Q: Conclusion
Frankly, I expected from Huawei Media Q greater functionality and performance over the original shell and a simple control system. In fact, unfortunately, turned out, I think, it is not the final version of the device, ie the Media Q clearly needs to be updated interface, better optimization of the operating system, and so on. Perhaps the only plus of this device – it looks and compact dimensions.
Multimedia part is no different from any Android-devaysa, and I would like to Media Q was steeper because before us is not an ordinary device with "google" component, and a special media player.
Review of Media Player Huawei Media Q (M310)
updated:
February 10, 2015
author: