Review Headset Sony PS Headset 2.0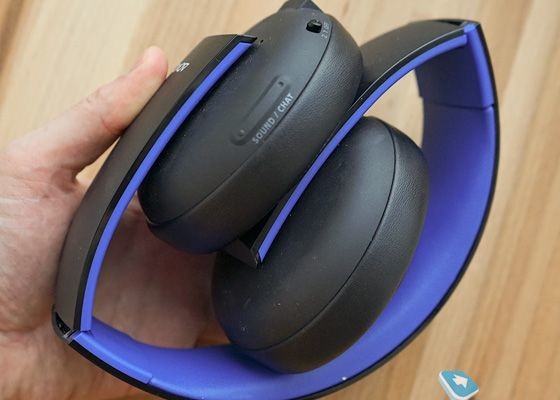 Headset for owners of PS3 / PS4 – an interesting software and hardware. Good sound quality, easy connection to the console or computer, with a special application profiles in the PSN …
Design, construction
Designed in the style of headset-top boxes, on plates – familiar to all owners of PS symbols, colors, of course, also in the style of the system – black and blue. Panel with the outer part can be removed and put others on sale only I did not see them anywhere, ever.Headband decorated inside kozhzamom, as can be seen, with frequent use could damage under the blue opens something white. The cups can be folded. Assembling a good, no squeaks and not loose, cups go up and down along the guide rails inside the headband. It will be convenient to wear any head size, large cups, completely cover the ears, passive noise isolation at a good level. The weight is small, after use for several hours there was no discomfort.
On the left cup contains all the controls, it is the power button, toggle sound on general chat, adjustment and mute, switch VSS (surround sound). When working with PS4 seen headset battery level when you click on some buttons to enable or disable certain functions also have visual confirmation. To charge, use the connector microUSB, next to him – 3.5mm audio cable for connection.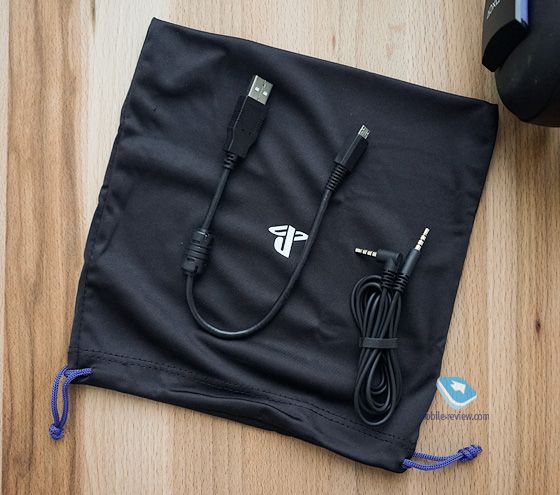 Opportunities headset
The headset can be used with the PS3 / PS4, with a laptop or computer, the connection there is no difficulty. To be inserted into the USB adapter turn on your headset pairing wait – that's all. There is another option when you connect a device with an audio cable, it is complete. You can connect to the PS Vita, joystick PS4 and any other devices. Finally, you can try to connect the device to a smartphone or other gadget with Bluetooth – however, I have failed. Consider importantly, this accessory is primarily designed for use with attachments, buy PS headset for your smartphone is not quite correct.
Application for PS4
The program is expected to headset called "helper application headset PS» (or something like that) to find, you need to log in PSN, select Search and enter the first letters of the Armed Forces. In the settings you can choose ready-made profiles for some games, for example, is The last of us. There are user profiles and equalizer presets. Note that the use of profiles is worth, the sound changes, and changes seriously. It can be seen in the Sony headset used for this quality components, because even the work of the marketing function "Surround Sound" felt.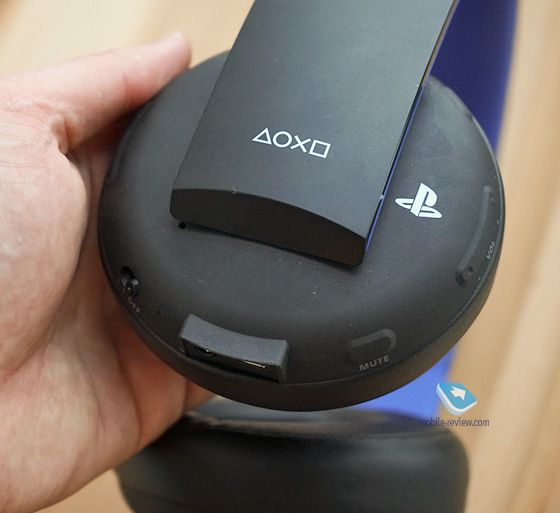 Operation time
Claimed battery life of about 8 hours, by modern standards, it is not too much. Actually, even less, about 6.5 hours. For example, I often connect to the joystick PS4 headphones Bose QC25, they are working on AAA batteries for more than 35 hours. Well, the headset will have all the time to charge, good and it works with the cable connected microUSB – recommend finding a long cable. I bought the original set of cables for the PS4, double long microUSB and HDMI cable with movable connectors. A good thing for the player, do not twitch because of the fact that the joystick is discharged, connect and play on.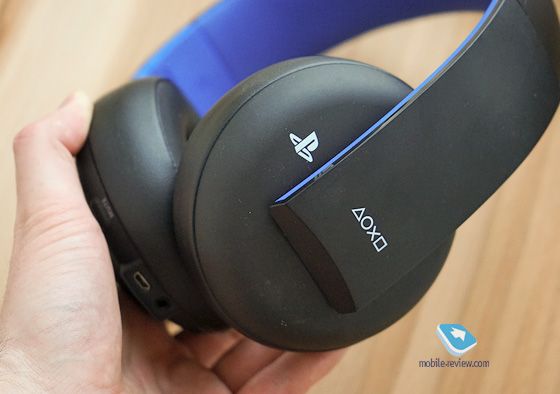 Sound
By the way, if you move the slider switch buttons to position two, then you activate the bass boost mode, the unit – Normal mode.Recommend the use of the second mode. As I said, the work of VSS noticeable, well, I try 7.1 failed. In addition, if you load a preset sound headset, the second position will activate it.
I played mostly in FarCry 4, the sound quality is excellent – it is best not to compare with headphones for music and TV. After all, why need a headset? That night did not interfere with his girlfriend, boyfriend, wife, children, mother – depending on with whom you live. Therefore, if there "plays like a TV," then that's good. Microphone headset since the time of the first generation also become better in BF4 I could hear well, and I've heard of people.
As for the bass – they are sufficient.
Conclusion
Retail accessories cost about 6000 rubles, you can find cheaper and more expensive. Only bother me time, even if playing on a couple of hours a day, it will be charged twice a week. This is not good. Everything else is good. And for the money – doubly good.
What do you want from a third version? Working time about a day long microUSB cable included more advanced application with a five-band equalizer, more convenient buttons, here they sometimes fail to find the first time. I would like more flexibility to be easily connected not only to the console, but also to any other gadget. Perhaps, that's all.
Owning a PS3 / PS4 advise to buy, intelligent accessory.
Review Headset Sony PS Headset 2.0
updated:
January 18, 2015
author: