RAIDON Thunderbolt2 ST4-TB: 20-Gbit / s external storage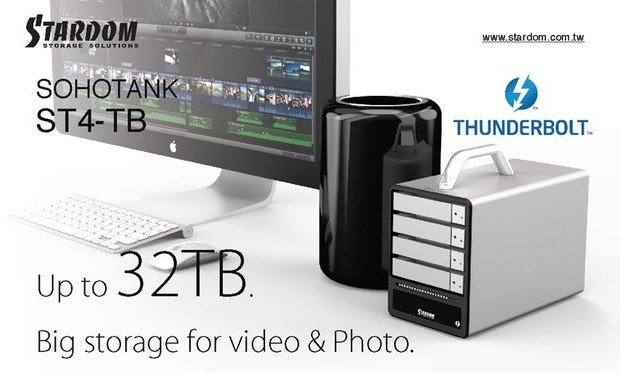 Company RAIDON Technology has announced an external data store Thunderbolt2 ST4-TB, which, as the name implies, uses to connect to the computer interface Thunderbolt 2.
The device is designed for the installation of four drives: it can be a traditional hard drives or solid-state modules. The maximum total capacity of 32 terabytes.
Storage is equipped with two Thunderbolt-port with a capacity of up to 20 Gbit / s. Each of the chain connectors can be connected to up to six devices.
Storage can operate in two modes – RAID 0 and Independent. In the first case, a disk array of high performance interleave without fault tolerance: the declared data transfer rate when reading reaches 724 MB / s. In the Independent installed in each of the storage drives appears as a separate volume.
Storage ST4-TB is equipped with a handle. It is suitable for use in systems with high intensity of the read / write data. This can be powerful workstations, computers for installation of high definition video, and so on. N. The price is not reported.
RAIDON Thunderbolt2 ST4-TB: 20-Gbit / s external storage
updated:
January 12, 2015
author: