Overview player Sony Walkman NWZ-M504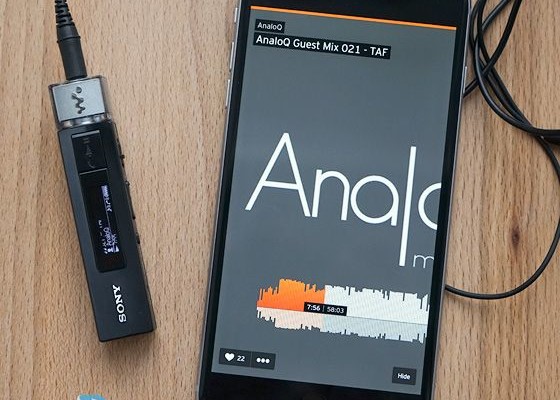 Very interesting thing for those who like unusual gadgets. Sony player can work as a Bluetooth-headset, equipped with active noise cancellation, complete good headphones. And everything else here is no less interesting …
Sony Walkman NWZ-M504: Design
We can say that this is a classic design for Sony – sharp edges, nothing more. Top of the player whether plastic, or from some cunning alloy inclined to think that this metal. The whole body is strewn with buttons that surely will appeal to fans of classical solutions, at the end – plug, under it – the connector microUSB. Given that there is no protection from water, it was possible to do without it. Player weighs just 40 grams. On the front panel – a small OLED display with a resolution of 128 x 36 pixels, the information perfectly readable even in the sun, even in the moonlight. Dimensions are 85.5 x 19.9 x 21.3 mm, the housing area is NFC to connect to gadgets based on Android, with the Sony Xperia Z3 no problems.
Included is a clip for attaching to clothing, done well.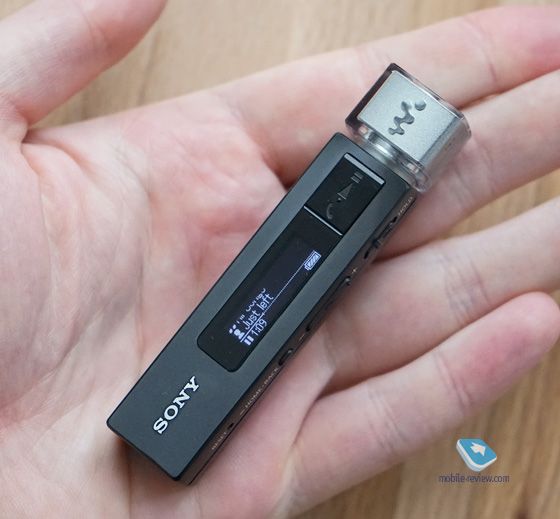 Sony Walkman NWZ-M504: Bluetooth and noise reduction
The player can be connected to a smartphone or tablet over Bluetooth, then the device works as a conventional headset. What it looks like and what is the charm? Let's say you often fly and stopping you from surrounding noise. Bose headphones 20 000 rubles to buy no desire. And then come to the aid of this model can, in real life you're listening to music on the Sony Walkman NWZ-M504 and answer calls received on a smartphone, directly from "volkmena." Voice quality is good, only a microphone (ie, the entire player) will need to bring closer to your mouth. To listen to music from your smartphone, you need to select the menu Bluetooth, I tried to do it with the iPhone 6 Plus, the screen displays the name of the player tracks – and playback program goes through SoundCloud. Operates regular and fast. In the Bluetooth settings you can select the playback quality, this menu item is first encountered. When an incoming call is displayed on the screen of the player number or name (must be written in the Latin alphabet), you can answer or reject a call.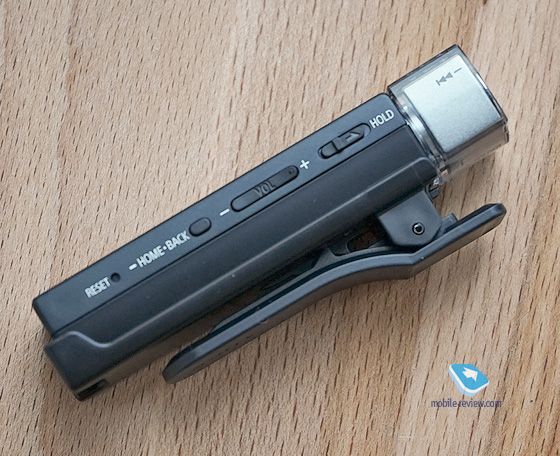 I wonder whether the function? I think it's at least an interesting experiment Sony, which took place at sunset players as a class. The company tried to create an interesting tool based Walkman and attached to this mass forces. Indeed, except for Bluetooth, in Sony Walkman NWZ-M504, there is also an active noise reduction. It works only with the earphones, the same model comes with Sony Xperia Z2. In the settings you can select the ANC where you are (office, plane, bus), set the level of noise reduction. On the street do not hear anything, the office can not hear cars outside the window, and if you turn off the "squelch" sounds erupt – that is not the case in the design of headphones. And so they provide good insulation against noise.
In addition to Bluetooth, noise reduction and player, there is still the good old radio.
Sony Walkman NWZ-M504: Management
Management implemented highly unusual, as if Sony remembered that for a long time were created dozens of innovative ways of interaction between man and machine. It's not enough just JogDial, well, everything else is. On the side is a silver button, silver transparent plastic covers. Button, you can rotate left and right to control the playback, rewind it and fast. If you pull it up a little, you can interact with folders. I think this way of listening to music will delight lovers of antiquity.
With the help of this strange and very convenient joystick can be conveniently navigate through menus, Play / Pause key acts as OK, at the end there is a reset button on the back or item in the main menu. Next – the volume rocker, the Hold button prevents the control. Yes, much here as in the good old Walkman.
Note that the Play / Pause key is also responsible for the reception and hang up calls when the device is operating in headset mode.
With the management, there is one not very pleasant moment: to play music on your player, you have to go to the application of the player and press Play. But this is nitpicking. In principle, from any menu item to the Home, you can skip by pressing and holding the Back.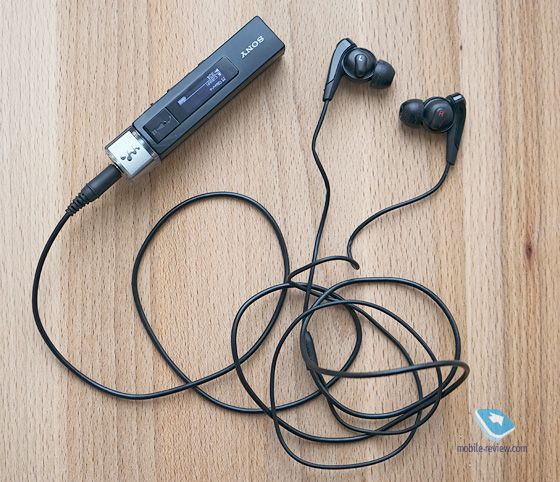 Sony Walkman NWZ-M504: Memory
Installed 8 GB of memory, alas, a slot for memory cards available. Given that this model does not support FLAC, volume more or less normal.
Sony Walkman NWZ-M504: Setting
Decided to say a few words about the menu, it is organized typical Walkman format pleydrayva this music sections, Bluetooth, radio and settings. In the past is all music management. You can turn on the Shuffle, select a preset EQ, including dynamic normalizer, activate the Clear Phase. I did not set the equalizer, but including the last function, it seems to me, the sound quality was better, though, and so it's all right. The player uses a digital amplifier S-Master MX, it is designed to remove artifacts from the record – how to deal with it, it's hard to say. And I think that this is another "uluchshayzer", otherwise perceived bass. I recall that last year was marked by a Sony Hi-Res for audio player released under this program. By the way, I listened to it in a pair of headphones MDR-1A, excellent sound quality – the latter announced not too long ago and just under the said concept. High resolution! If not for the display, then the sound. You can laugh, but it's good that Sony in the past year have paid attention to the sound, there was a lot of interesting products for music lovers. And the noise reduction in smartphones – also a good idea.
Sony Walkman NWZ-M504: Operation time
Claimed battery life is about 15 hours of audio playback when connected via Bluetooth player works about as much – that is a very long time. To charge need only two hours or less, then the usual jack, microUSB. The battery indicator is displayed on any screen where the music is played, the main menu is not visible.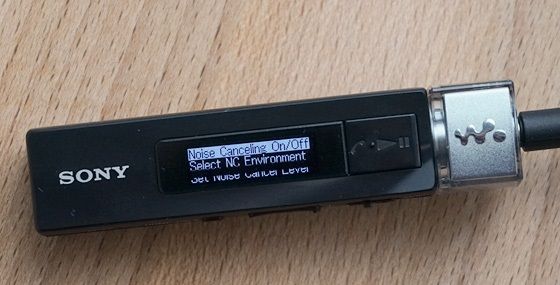 Sony Walkman NWZ-M504: Sound
Excellent sound quality – that's what I want to say after two weeks with this player. Naturally, I have not listened to every day – so before bedtime to connect to the phone and see what's new in SoundCloud posted or MixCloud. Lay out a lot of interesting, so do not just once or twice I fell asleep with headphones directly. Noise reduction system works fine, I recommend to try all used here to improve the sound system, you can achieve interesting effects. Oh, and another player is quite compatible with advanced headphones, for example, already mentioned MDR-1A.
Sony Walkman NWZ-M504: Conclusion
Very interesting toy for 110 Dollars – player and headset in one bottle, and no losses, ie it is not a mediocre player and not mediocre headset. Management nostalgic, sound quality is excellent talk by Bluetooth-headset is quite comfortable. If you like Sony and have a great smartphone, you is fine such an unusual companion.
Overview player Sony Walkman NWZ-M504
updated:
January 26, 2015
author: