Review NAS QNAP TS-251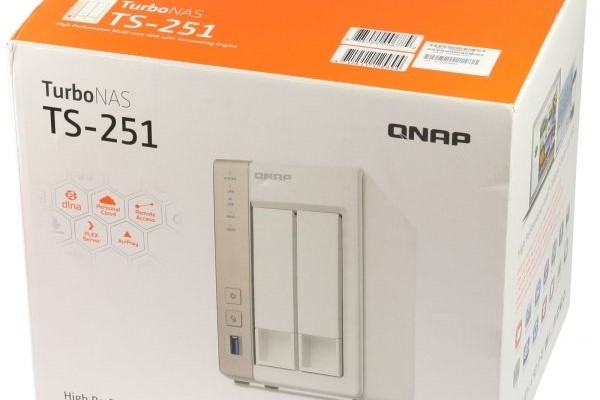 Despite the fact that the NAS QNAP TS-251 has only two of its own drive bays, its performance can be the envy of many four disk model, positioned not only for home use, but also for work in the office. The thing is a new hardware platform, which formed the basis of this network drive
Among the network drives QNAP many drive models. In general, these devices do not have high performance and are initial NAS level software capabilities although they usually do not yield a business model segment. The new two-disc NAS QNAP TS-251 is no exception.It is based on probably the most productive at the moment among the solutions of this class platform from Intel. We are talking about a universal platform Bay Trail, designed for the classic desktop, and for a wide range of devices, including smartphones and tablets.Ethernet storage exception to this list is not, but because today, almost two years after the official announcement of the platform on the market there are the first NAS based on it.
NAS QNAP TS-251: Specifications
HDD
2 × 3,5 "/ 2 × 2,5" HDD / SSD SATA I / II / III
The file system
internal hard drives: EXT3, EXT4
external media: EXT3, EXT4, FAT32, NTFS, HFS +
RAID Level
Single disc that, JBOD, RAID 0/1
Cpu
Intel Celeron Dual Core 2,41 GHz
ROM
1GB DDR3L (expandable to 8 GB)
Network Interfaces
2 × Gigabit Ethernet RJ-45
Additional interfaces
2 × USB Host 2.0
2 × USB Host 3.0
1 × HDMI
Display
None
Protocols
FTP, FTPS, SFTP, TFTP, CIFS / SMB, AFP, NFS, HTTP / HTTPS, Telnet, SSH, iSCSI, SNMP, SMTP, SMSC
Clients
Microsoft Windows XP, Vista, Windows 7 (32/64), Windows 8 (32/64), Windows Server 2003/2008 R2 / 2012
Apple Mac OS X, Linux, Unix
Cooling system
Fan 1 × 70 × 70 mm
Power consumption, W
Work: 20 (with two HDD to 1TB each)
Sleep: 11
Dimensions, mm
169 × 102 × 225
Weight, kg
1.3 (without HDD)
As the basis for QNAP TS-251 is the platform Bay Trail, you might guess that is the heart of this NAS SoC architecture Silvermont, have relatively high performance with low power consumption. TDP level installed on the motherboard QNAP TS-251 dual-core Celeron J1800 is only 10 W at an operating clock rate of 2.41 GHz. There is nothing surprising in the fact that the processor has a passive cooling system in the form of a small aluminum radiator. The CPU itself refers to a series of inexpensive desktop solutions Bay Trail-D.
Platform Bay Trail is a dual-channel 128-bit controller RAM DDR3 1333MHz. As for the NAS, its motherboard has two slots SO-DIMM, in which can be installed memory modules with a total capacity of up to 8 GB. The official table of specifications indicate that the model QNAP TS-251 comes with 1 GB of RAM, but in our test sample was installed two modules ADATA ADDS1600C2G11-BMIK capacity of 2 GB each. Thus, the total amount of installed RAM up to 4GB, you can use a maximum of 8 GB. The modules are designed to operate at a frequency of 1600 MHz, but this value is limited by the system logic.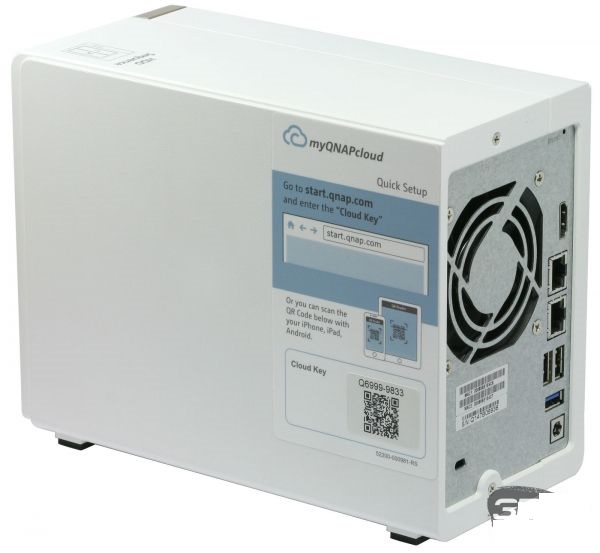 The graphics core in embedded platform Bay Trail. Used Classic HD Graphics with a frequency of 688 MHz. Of the features, we should mention a built-in decoder works with all popular today formats, including H.264, MPEG2, VC1, and others, as well as hardware-based encoding H.264. In the list of features, NAS manufacturer especially emphasizes transcoding Full HD-video on the fly and in the background. Well, video playback can be performed not only on the network – NAS also allows you to output 1080p-video with 7.1 channel surround sound through an on-board HDMI-out standard 1.4a. The latter's work provides ASM1442 controller manufactured byASMedia Technology.
Also on the motherboard QNAP TS-251 can be found flash memory module based on the chip Apacer TOSHIBA TC58NVG2S0FTA00 storage service files 512 MB capacity. Next to one of the memories modules is another major chip – Fintek F71869AD, designed for monitoring and diagnostic system.
Overall grade hardware base is quite impressive. To complete the picture is not enough unless the eSATA port for connecting external drives, but this is not a problem. To the device via USB-port, you can connect one or two expansion modules from QNAP, thereby increasing the total capacity of disk space up to 144 terabytes (16 in the device itself and 64 in each of two 8-disk module, if you use an 8-terabyte drives ). For this purpose will have to purchase additional eight disk extension QNAP UX-800P or eight disk QNAP UX-500P.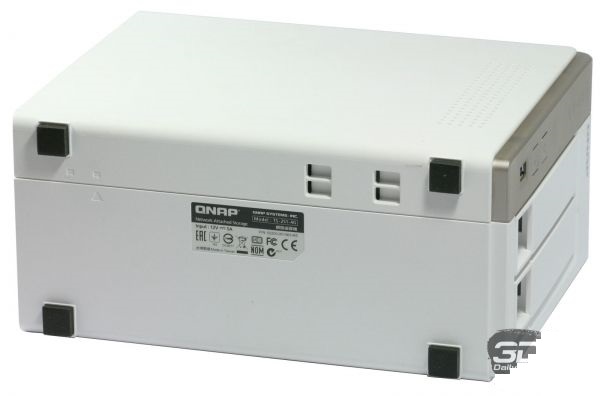 NAS QNAP TS-251: Options
The novelty comes in large enough for a two-disk NAS box, and even the extravagant for network drives QNAP colors: silver is used instead of the usual bright orange. Inside, in addition to the device itself, we found a classic set of accessories:
power adapter with detachable power cable;
two Ethernet-cable;
set of fixing the disc;
Brief guide to getting started.
Full user guide is offered to download from the manufacturer's website. Will there find the latest version of the control program QTS, you want to establish yourself.
NAS QNAP TS-251: External view and ergonomics
Drive Enclosure is built on the classic for many drive models principles. It is based on a power metal frame, covered on the outside with two plastic panels that form the shell halves. They also take some of the loads from the inside and have a solid reinforcement ribs and below them glued four rubber feet. White plastic has a rough surface, but because fingerprints are not afraid of him. Patent Box is only present on the front panel, and even then very small.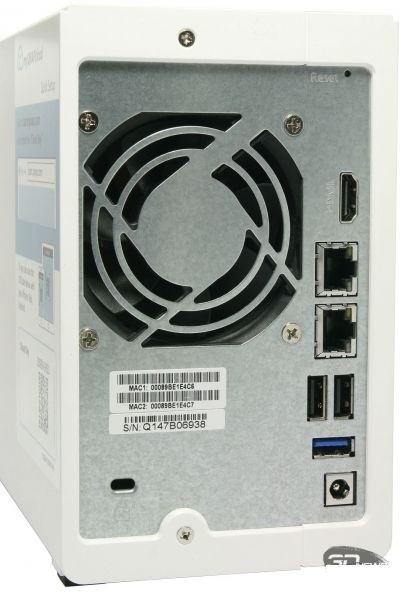 Unlike many low-cost double-disc NAS, which is required for the installation disks to disassemble the cabinet, the model QNAP TS-251 is equipped with a removable drive bays skids, which are accessed from the front panel of the case, as the vast majority of network drives, designed for four-wheel disc . Also on the front panel handed down one of the two USB 3.0 ports with a button initiate copying the infrared signal receiver ports, power management button and power LED indicators that inform the user about the status of the device, the work of the network interface and USB, functioning hard drives.
On the back of the metal plate near the ventilation grille, a connector HDMI, a pair of USB 2.0 ports and one USB 3.0, two network interface RJ-45 jack to connect the power adapter, recessed deep into the body reset button and a hole for attaching a security lock, like Kensington . In general appearance of the product can not be called revolutionary or even just new, but all the elements of design, controls and interfaces are located conveniently and workmanship of all components of the body has been brought almost to perfection.
NAS QNAP TS-251: Installing hard drives and internal structure
Installing the drive in the case of QNAP TS-251 will not take much time. For this it is necessary to remove from the housing without belay lock slide and secured to them by four screws each disk. Sami slide made entirely of plastic, as most home NAS models from QNAP.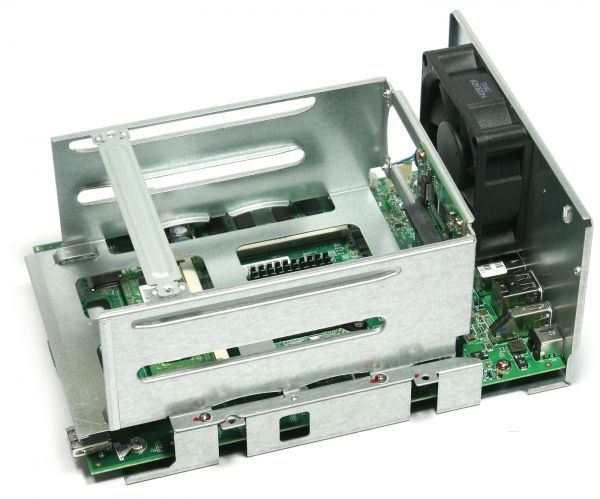 To replace the memory modules are more capacious, the body will have to disassemble the NAS. And not only need to remove the plastic cover, but also completely disassemble the power frame. Other way to get to the SO-DIMM slots does not exist. Motherboard itself is located along one side of the housing, but it is not attached to the plastic housing, and the metal wall. Inside the case is enough space for the normal functioning of the ventilation system, so that the temperature regime installed inside the hard drive is hardly much to worry about.
It only remains to add that the device is not only almost no noise, but not too hot. This allows you to place it at home somewhere in the far corner of the video pane, and not think about it cools.
Review NAS QNAP TS-251
updated:
March 16, 2015
author: