Mini desktop Cirrus7 Nimbini placed in a metal housing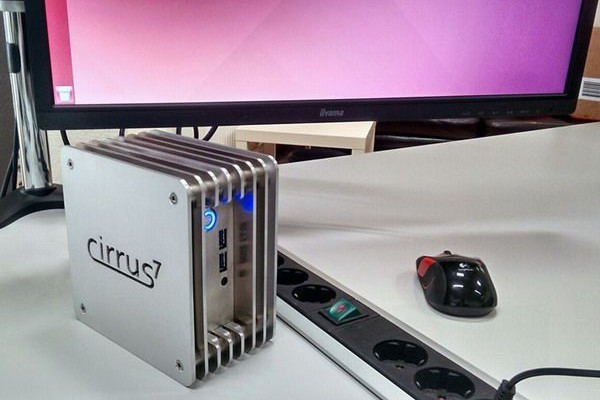 Solid smartphones, laptops and tablets have become something ordinary and do not cause much interest, but the all-metal desktop – this is something new. Today was the announcement of a compact desktop PC, whose body is made of solid metal bar.
Cirrus7 Nimbini belongs to a class nettops and is characterized by a completely silent operation. Inside it is no cooler, no hard drive, so that there is simply nothing to rustle. The housing in this instance is a radiator which is very efficiently removes heat from the processor. And the word of the CPU – it uses Intel Core i5 processor or even i7 depending on the configuration, and it is a fifth generation, known as Broadwell.
Further, Cirrus7 Nimbini installed RAM from 4GB drive and format M.2, plus if you wish, you can install a hard drive or SSD into the appropriate slot on the 2.5-inch. Computer measuring just millimeters 150h150h87 includes four ports USB 3.0, HDMI and even two miniDisplayPort. Default nettop comes with the operating system Ubuntu 14.04 LTS or Ubuntu 15.04. Option from Windows is not provided, but it can be set independently. Cirrus7 Nimbini go on sale in May, as yet unknown price. It is reported that he will be sold in assembled form and in the form of separate components for those who like to assemble your own PC.
Mini desktop Cirrus7 Nimbini placed in a metal housing
updated:
April 21, 2015
author: