Market leader in smartwatch at the end of 2014 was the company Samsung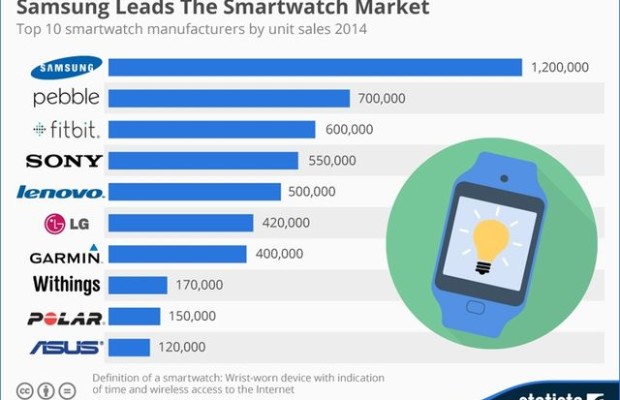 Statista estimates that over the past year all over the world were sold 6.8 million smartwatch. The average cost of these devices was 189 US dollars.
Under the smartwatch, Statista understands "worn on the hand device to display the time and Wi-Fi." That is, it may be some models fitness bracelets.
The undisputed market leader is Samsung: the company for 12 months has sold about 1.2 million smart hours, taking thus approximately 17.6% of the industry.
In second place in the popularity of cell phones are wrist Pebble: the sale of these devices at the end of last year amounted to approximately 700 thousand. Pieces, which corresponds to a share of 10.3%. Well, closes the top three with Fitbit 600 thousand. Realized gadgets and 8.8% of the market.
It is obvious that this year the balance of power in the segment of smartwatch will change dramatically. April 24 will start selling Apple Watch, and the demand for this device is going to be very high. The first smart watch "apple" of the company will be available in versions Apple Watch Sport, Apple Watch and Apple Watch Edition in the case of a specially designed 18-carat rose or yellow gold. Price – $ 350.
Most likely, Apple will be able to fairly quickly become a leader in the market of smartwatch. In this case, it is safe to say that, as in the smartphone segment, the main competitor of the company will be Samsung.
Source: statista
Market leader in smartwatch at the end of 2014 was the company Samsung
updated:
March 11, 2015
author: