HGTS Ultrastar SN100 and SN150 – High NVMe PCI-E SSD-drives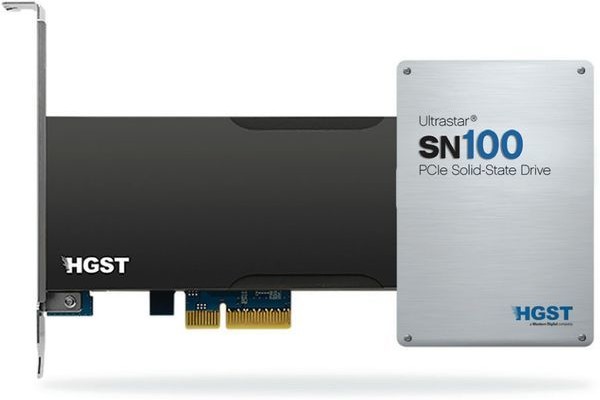 It seems that Intel did not get to realize their drives 750 series in splendid isolation: a few hours ago, Western Digital has distributed a press release, the notification that her division HGST launches into a series of solid state drives SSD-series Ultrastar SN100 and Ultrastar SN150.
Technically, they are similar to the creation of Intel: just as there will be variations in two form factors – HHHL AIC (Half Height Half Length Add-in Card) interface PCI-Express 3.0 x4 and 2.5 "Interface SATA Express (aka SFF-8639). In the first embodiment, called Ultrastar SN150, there will be volumes 1600 and 3200 GB, while the second embodiment (Ultrastar SN100) will be present and 800GB. Also stated above and performance characteristics: up to 3000 MB / s to 1600 and reading MB / s on the record. However, the level of performance on random access with 4KB blocks at the same time is different: up to 160,000 IOPS for write operations and up to 743 million IOPS on read operations.
New focus for corporate use but does not rule out the possibility of their occurrence and retail. By the way, the supply Ultrastar SN150 has already begun, and the emergence of Ultrastar SN100 is expected in May.
HGTS Ultrastar SN100 and SN150 – High NVMe PCI-E SSD-drives
updated:
April 14, 2015
author: