Fractal Design release Define S with great potential for cooling components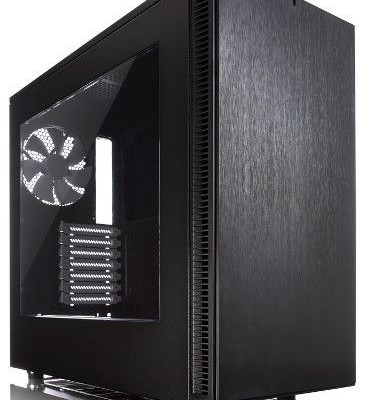 Experts of the company Fractal Design added on its official website data on the new computer's case under the marketing name Define S. Presented novelty designed in such a way as to ensure the most efficient cooling powerful gaming computer system.
Despite the simple design, perfectly matched materials had led to the manufacturer stylish case. Inside and outside the chassis with dimensions 233 × 520 × 451 mm and a weight of 9.1 kg is completely painted in black.
Model Fractal Design Define S will install inside motherboards size ATX, micro-ATX, Mini-ITX, sold seven expansion slots PCI, as well as three seats under the wheels 2.5 / 3.5-inch and two – under the wheels only 2, 5 inches.
Note that the manufacturer refused to standard arrangement baskets and drives not included in the case study 5.25-inch drive bay. Instead, this space is designed to accommodate the tank water cooling system.
According to official data, Fractal Design Define S CPU coolers compatible with the height of 180 mm maximum length specified video can be up to 450 mm; total number of installed can reach nine fan units. Note that in the scope of supply includes two 140-mm model Fractal Design Dynamic GP14 (front and rear).
The cost of housing is about $ 80. Sales also offers a version with a large acrylic window for the price of almost $ 90.
Fractal Design release Define S with great potential for cooling components
updated:
April 21, 2015
author: