Review and testing motherboard ASUS Z97-Pro Gamer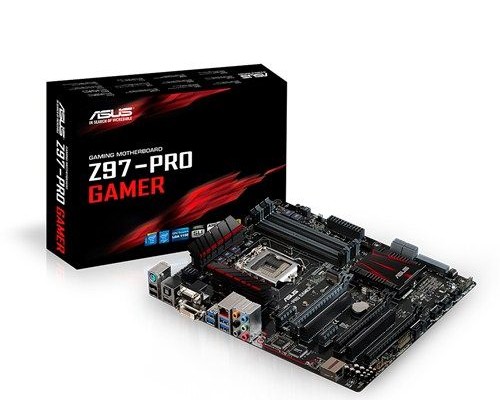 We have already seen a lot of motherboards based on chipset Intel Z97, which is designed for LGA 1150 platform. It offers advanced functionality, including acceleration, so it is possible to find a huge variety of models from any manufacturer. At the same time, there are not only expensive modifications with a bunch of additional controllers and various functions, but devices with a basic set of interfaces provided by the chipset itself. In addition, now in vogue issue of solutions designed for gamers. You can find the most usual fee with a modest set of features, but with a prefix or Gaming Gamer. And this raises questions positioning.
It is clear that the chipset can provide the ability to install two graphics cards and combining them in the SLI or CrossFire. Audio codec widely implemented by the controller Realtek, and it does not mean that all boards are immediately gaming. But the network uses a different chip. As a rule, Qualcomm Atheros Killer, Intel or Realtek. Which one is better for gaming? To tell the truth, for games much better suited dedicated channel width of about 10 Mbit / s. Traffic prioritization? I personally just like many others, I try not to download torrents during online games, although there is a client can configure restrictions on sessions and channel loading.Therefore, it becomes quite clear what this game in these models.
If you are using a processor with a locked multiplier, which in the case of LGA 1150 platform common option, can and do manage solution based on Intel H97. We have already discussed a similar model of ASUS.
She has not even full, but the analog chipset Intel Z97, respectively, which is called – ASUS Z97-Pro Gamer. Initially, you might think (and this is logical) that the manufacturer has established different chipsets, and everything else the same. In fact, there are more differences.
ASUS Z97-Pro Gamer: Packaging equipment
Box ASUS Z97-Pro Gamer their appearance is slightly different from the rest of the company's products ASUS.
Dimensions of packing medium. The decor is dominated by black and creative minimalism.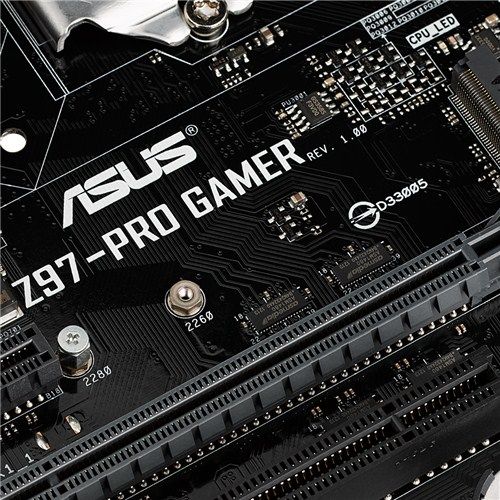 On the front side in the upper left corner is the logo of the manufacturer. There you can find the company's slogan: In Search of Incredible.
Almost in the center indicated by the model name, and right at the bottom is home to several logos.
Most of the information about a product located on the back side of the box.
Here again, the designation device and its photos with captions to the connectors and components. Even lower is the full specification of the motherboard.
The right of a column housed several inserts the key features of the board. We are told of a connector newfangled drives with interface M.2. The following is another new interface which is called SATA Express. Incidentally, both of the standard data rates up to 10 Gbit / s.
Below mention proprietary sound system Supreme FX. Until recently, it is equipped only with product series Republic Of Gamers.Nearby you can see the description of technology of Game First II. It is also used in the product line and ROG is a utility for network traffic prioritization. At the bottom provides information about the mechanisms of protection and ensure the reliability of the model.
It's time to look inside.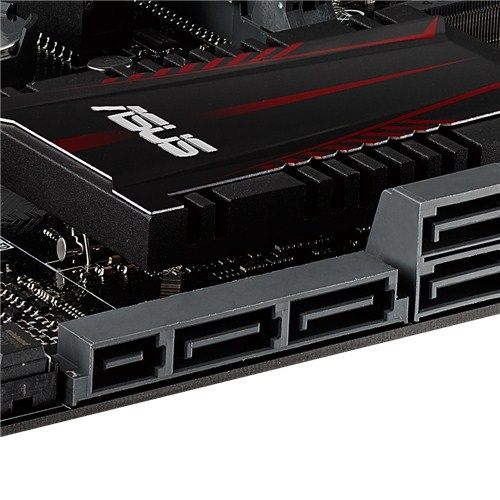 Top in a special black cardboard tray and antistatic package is the motherboard itself. Outside packaging looks more expensive than it actually is, and in this respect, some companies can learn from.
Hiding under the tray supplied which can not be called a very rich.
Among the information carriers can be found as follows:
User Guide (Manual);
DVD disk with drivers and software for different operating systems;
The sticker on the body with the logo ASUS.
These are the accessories are supplied.
Four cable SATA 6Gb / s;
A flexible bridge SLI;
The plug on the rear panel.
Set very modest, but everything you need in place.
ASUS Z97-Pro Gamer: The design and features of this board
First of all, it should be noted that this is a full-size board standard ATX. Its dimensions are 305 x 244 mm.
The motherboard looks flashy and even a bit rustic. Traced some parallels in the design of the new series of video cards ASUS Strix.Optionally together form a unit such harmonious collection.
Making copies is not solving a series of ROG. Here a completely different color palette of connectors, and less red, as it is found only on the radiators.
At first glance, it is clear that quality workmanship at a high level. All the elements are wired smoothly and gently, printed circuit board does not bend. It may seem that it is black, but really dark brown.
On the reverse side, there is no element. Is seen only a handful of LED strips in the area of demarcation audio codec.
Power is supplied to the motherboard through the primary and secondary connectors ATX scheme 24 + 8.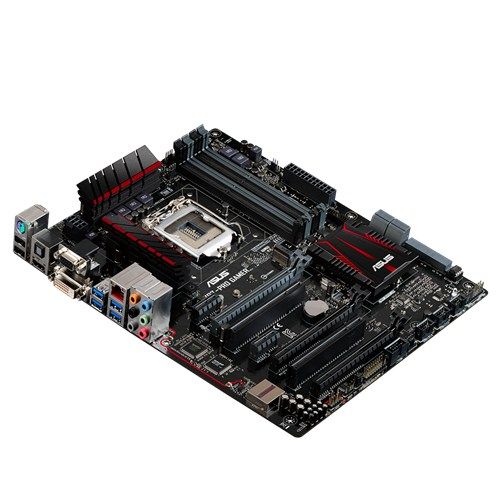 To install DDR3 memory modules has four connectors black and gray colors.
The manufacturer declares support modes DDR3 1066/1333/1600 / (1866/2133/2400/2600/2666/2800/2933/3000/3100/3200/3300 (overclocking)) MHz with a nominal voltage of 1.5 V, which can be increased. According to the specification maximum amount of memory can be up to 32 GB.
As the main PWM controller chip is used here labeled DIGI + EPU ASP1252.
Solid capacitors, inductors in ferrite housings and type transistors Low Rds (on).
The last two are covered with radiators. Both are made of aluminum alloy and painted black. On both sides of them, apply a small red stripes.
Each of them is fastened with two spring-loaded screws. As the thermal interface applied gray about 1 mm thick.
Another heat spreader is on the chipset. He also made of aluminum alloy and painted black.
Top attached small decorative plate with the logo of the manufacturer. Fixing is effected from the back side by means of two spring-loaded screws. Contrary to expectations, as the thermal interface used pink about 1 mm thick.
Hiding under the radiator chipset Intel Z97.
The board offers a newfangled interface M.2. It is not implemented in the simplest way for that line PCI-e not much.
Despite this, M.2 provides a theoretical capacity of about 10 Gb / s. The same velocity may be obtained using the interface SATA Express, which is also present here. He combined with conventional SATA 6Gb / s and is implemented using the built-in controller chipset.
In the neighborhood you can find four SATA 6 Gb / s.
In the lower right corner is a connector for buttons and indicators of the housing.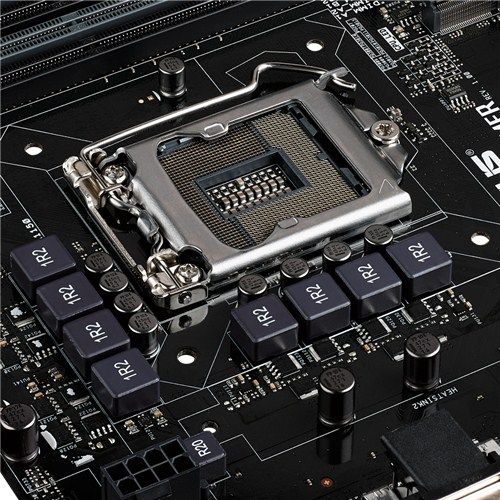 Nearby, LED power indicator, three blocks to connect six USB 2.0 devices and chip BIOS.
On the rear panel you can find two connectors USB 2.0, and the rest are more modern and belong to the third generation. Still on the board placed one block USB 3.0, located near the power connector.
The board has seven expansion slots, two PCI-e x1, three PCI-e x16 and two regular PCI.
Of multi-graphics technology supports both SLI, and CrossFire. Upper and middle slot PCI-e x16 bisect sixteen lines PCI-e of the third generation, which enables the processor. Lower gets only four lines of type Gen2 chipset, which has allocated for PCI-e x1.
In the lower left corner is the audio codec. Despite the pathetic name SupremeFX, he presented chip Realtek ALC1150 and closed decorative cover.
Near wired special audio capacitors, which should improve the sound quality. According to tradition newfangled audio codec imposed separately on the PCB. Its boundaries are marked strip without metallization layers thickness of about 1 mm. On the reverse side in its entirety placed LED backlight, a difference in the operating device.
Next to the audio codec wired controller bridge PCI-e – PCI, which is represented by a chip ASMedia ASM1083.
Is slightly above the I / O controller and system monitoring Nuvoton NCT6791D.
Almost behind the rear panel soldered chip Gigabit Ethernet Controller Intel I218V.
At the bottom of the center to the left edge of the left front audio panel connectors, connect the module TPM, COM port, and a jumper to reset the BIOS.
The rear panel has the following interfaces.
One connector PS / 2 keyboard or mouse;
Two connectors USB 2.0;
Four connectors USB 3.0;
One video output HDMI;
One video output DVI-D;
One video output D-Sub;
One Gigabit Ethernet RJ-45 connector;
Six audio jacks type minijack;
One optical connector S / PDIF Out.
The motherboard has received several simple but functional. This is a great symbiosis in order not to overpay for unnecessary features.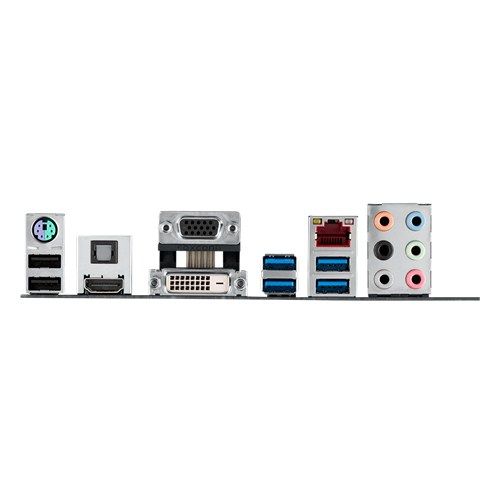 ASUS Z97-Pro Gamer: Built-in sound
Audio codec chip presented Realtek ALC1150. Listening accomplished with the aid of headphones Sennheiser HD201, Zalman ZM-RS6F and acoustics Microlab PRO 1.
Compared to other motherboards sound does not manifest itself as something special, except for the amplifier. He does provide a high volume of the headphones, while maintaining crystal clear sound even at maximum. As for surround sound applications, there still has to mark his failure.
ASUS Z97-Pro Gamer: Conclusion
Perhaps, we have another good motherboard in a subset of optimal solutions in terms of price / quality. And there is not nothing wedged prefix «Pro», in fact, such a model may be appropriate for professional use in entry-level workstations. Here everything is decided interfaces. It turns out that the old live well with the modern. And in the case of ASUS Z97-Pro Gamer user has a good variety: COM, TPM, M.2., SATA Express, PCI, PCI-e x16 Gen3, USB 3.0 and 2.0. Therefore, the result was a very versatile solution.
Added to this is not a very high price, good overclocking and good workmanship. Personally, I liked the location of the expansion slots as possible to install two discrete video card and PCI-e x1. And the network controller from Intel can also be called an optimal solution. For the rest, no frills on the board no.
But what about the disadvantages? To some it may seem that the above board costs unreasonably expensive. In fact, everything is relative, and depends on the comparison. The nearest, most budget model series ROG will cost more. This is not to say that ASUS Z97-Pro Gamer significantly worse. Of course, there are similar offers from competitors, but here everything is reduced to the banal argument about what to choose: Mercedes or BMW.

Review and testing motherboard ASUS Z97-Pro Gamer
updated:
April 21, 2015
author: