Review and testing of serial processor LSS DeepCool Maelstrom 240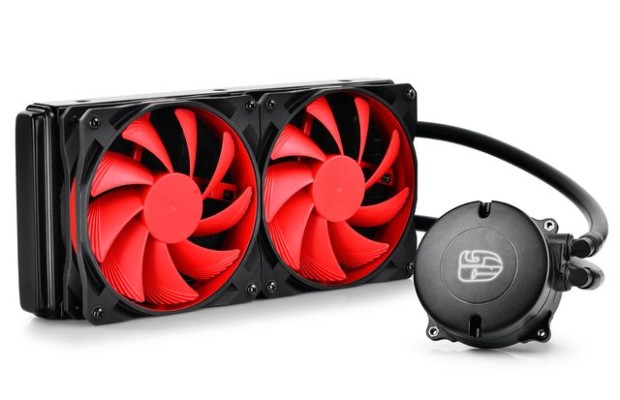 Stagnation in the segment of cooling systems, to put it mildly depressing. Want to see something new, and it is desirable that the new lay in the inner contents, not the wrapper. I would like to praise the efforts of the engineers and not for marketing attempts.The latter impressed me was cooling system Duplex "Tower» Thermalright SilverArrow IB-E, which to this day remains one of the best super-cooler.
But then it will not air cooling. In our lab got unattended LSS released by DeepCool – Maelstrom 240, it's the will be the focus.
Specifications DeepCool Maelstrom 240
Parameters / Model
DeepCool Maelstrom 240
Dimensions radiator mm
274 x 120 x 27
Weight, g
1120
The thickness of the body of the radiator, mm
16
Hose length, mm
310
The diameter of the hose, mm
10
Dissipation area, cm 2
–
Fan sizes, mm
120
The maximum number of fans pcs.
4
Type of construction
Closed LSS
Number of sections, pcs.
2 (120 mm)
Ribs
Aluminum
Heatsink
Consists of 14 flat channels sized between
The distance between the ribs, mm
1
Fin thickness, mm
–
Base
Copper
Pump rotational speed, rev / min
6300
Surface / color
Black
Compatibility with processors
Intel LGA 775, LGA 1155, LGA 1156,
LGA 1366, LGA 2011;
AMD Socket AM2, AM2 +, AM3
Fans bundled items.
2
The average cost, rub.
~ 5000-7000
DeepCool Maelstrom 240: Packaging equipment
Cooling System DeepCool comes in a small black and red box. Hiding inside a cardboard box that holds all components.
All are absolutely identical to the majority decisions Asetek, and from my point of view hurt like packaging Corsair H100 / 110. I think this makes no sense to quibble.
On all sides of the carton has a lot of information about the product. This is clearly shown in the photo below.
I'll be honest – this "dropsy" I was able to buy one friend, who used it for a week. However, during this time he managed to "sow" part of a kit, so I have to put a photo of accessories from the manufacturer.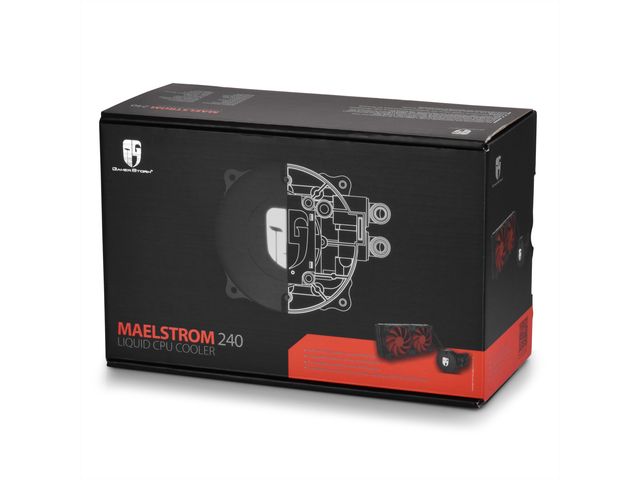 By the way, supplied DeepCool Maelstrom 240 in addition to the instructions of the LSS and includes:
Set screws and plastic inserts;
Mounting Kit for CPU connectors Intel;
Mounting Kit for processor sockets AMD;
Thumbscrews for LGA 2011;
Two fans Deepcool GF120;
Eight long screws to secure the fan;
Nuts to secure the water block;
Corporate splitter four 4pin fan;
Aluminum nameplate Gamer Storm.
Such a kit other than the advanced or rich difficult to call. There is everything you need to install and use, and in the case of the retail copy of the base of the water block has a layer of thermal paste.
DeepCool Maelstrom 240: The appearance and structure
It's simple – the radiator, steam hoses and water block with built-in pump. Of the same components and is DeepCool Maelstrom 240.
Let's start with the radiator. It is a model of size 240 mm, which can be installed four 120 mm fans (couple included). Heat spreader itself is made of aluminum, which is a pity, I was hoping to see here copper. So, at this stage, to find something new in the cooling system DeepCool failed.
Aluminum radiator size 274 x 120 x 27 mm consists of fourteen channels between them soldered gofrolenta. Again, nothing new, but darkens the thickness of the body – only 17 mm.
The design involved a pair of hose length 310 mm, which connect the water block and the radiator. To protect against the excesses they are equipped with a wire braid.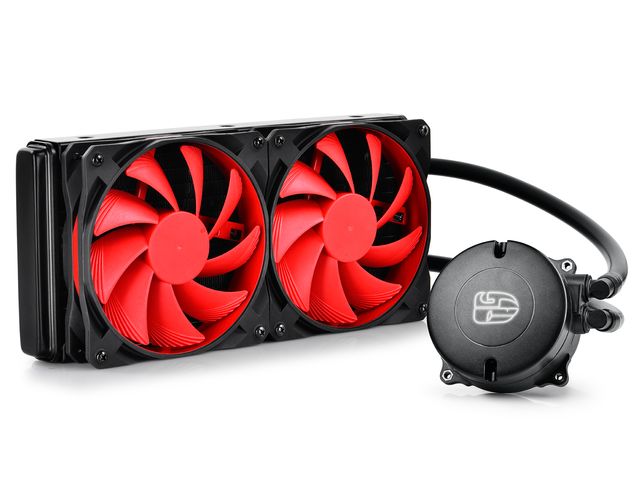 We were pleased with the average stiffness of the hose, which, coupled with a standard length will facilitate easy installation inside a PC (but only on the back or top of the unit).
In the present radiator pair of outputs of the "Tree" with an outer diameter of 8 mm. They are molded hoses; if you look closely, the right hose stretched on a "Christmas tree" is not until the end.
The length of the radiator, as stated by the manufacturer, is 273 mm (~ 270 mm).
Its thickness, according to my measurements, is 30 mm. This 3 mm larger than indicated in the specifications.
External examination did not reveal anything interesting, except not worn until the end of the hose, which may indicate the low quality of the assembly.
DeepCool Maelstrom 240: Water block and base
Water block with integrated pump is what distinguishes DeepCool Maelstrom 240 from Asetek-like vodyanok it visually thinner.Although in principle identical constructions.
The very water-block is made in the form of a washer, the dimensions of which 86 x 70 x 32 mm. At the top of the plastic cover has a white backlit logo Gamer Storm.
If you look at the picture below, it is clear that the model Maelstrom uses a slightly different impeller. As a rule, derivatives Asetek used a small screw with three blades. The same can be seen if you go to page article, "Nothing lasts forever: whether to serve the" maintenance-free "NWO".
In the case of Maelstrom is set impeller, similar to those found in normal Pompeii, only smaller. The service life of its ceramic bearings – 120,000 hours.
Looking ahead, I will say a few words about how it works. For my sample a turnover of 6300 rev / min, it is an impressive value. But the manufacturer claims 2,800 r / min, and some colleagues from other sites mentioned quiet device. Perhaps the blame marriage test specimen, although it later.
Let's go back to the noise produced by the pump in my case. Imagine a mosquito the size of 4-5 cm, now imagine what sound he may issue, when its wings. It is the creation of a "stuffed" into the water block. No wonder that when measuring the noise level tool used from a distance of 15 cm showed 42 dB and vibration can not speak.
At the same time there is no motor PWM controller for speed control will have to use reobas or connect the power directly from the power supply. At 5 V can be obtained about ~ 3300 r / min, the vibration disappears. But mosquito buzzing remain, although it will be a little quieter. At 7 in the speed drops to ~ 4400 r / min, and the noise coming from the pump working, not much will be different from that at the maximum speed, except that the vibration level will be less.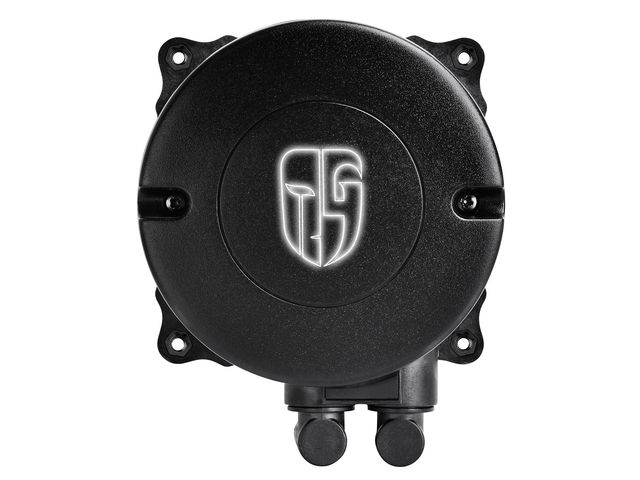 Faced with this situation, I decided to try to figure out what was wrong. My first thought was that not enough fluid in the circuit LSS.But it was not so, because when her big shortage of the system simply does not have chased away by the refrigerant circuit. And with a little shortage could hear gurgling alone when scrolling system in the hands, or the presence of air in motion.
Perhaps the reason for the whole factory marriage? Well, I went to the store where you were in the presence of "dropsy» DeepCool, and, to my happiness, there were 240 Maelstrom and Captain 240. After explaining sales consultants situation we have been in the SO and both checked. What is the first that the second was obtained at the same squeak 6240-6300 rev / min, with only one difference – at 240 Captain absent vibration. Well, this discrepancy reality and declared TX baffled. And okay, it was a marriage, but three different sample LSS?
Let us return to a visual overview of the water block. It swivel fittings installed on pipes which are pressed.
Of the pump casing goes wire to connect the power, at its end located 3pin connector. A side there is a sticker warning that curiosity can void your warranty.
The base copper water block, with a smooth surface and middle-quality polishing. Mirroring it does not see.
"Sole" featuring irregular elongated shape, its dimensions are 52 x 68 mm. Fixed it for ten hex screws.
On the inner side of the copper base microchannels are 2 mm tall. Distance between edges of 0.2 mm.
Test with a ruler passed with flying colors.
Imprint confirms that the base flat. Any humps or depressions here.
DeepCool Maelstrom 240: Fans
To purge 240mm radiator complete, there are two brand black and red fan Deepcool GF120. This model with a red propeller, which housed nine aggressively curved blades at the ends of each blade there is a raised ledge.
Red impeller is enclosed in a black frame. Pasted on the rotor black and green sticker with the logo and the name of the model.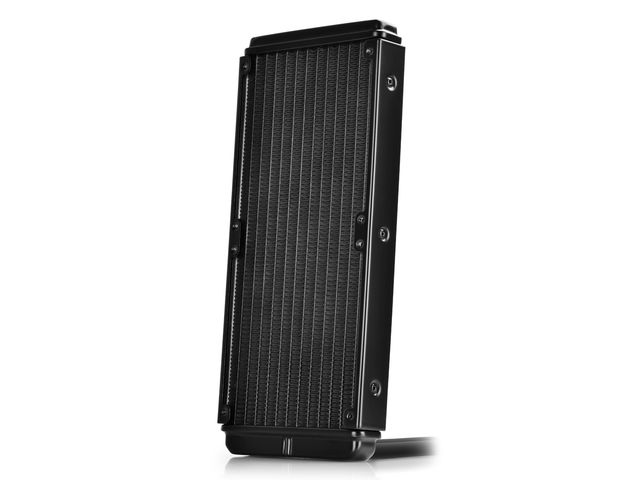 The service life models with PWM control – 100,000 hours, pending a low noise level and speed in the range of 600-2200 rev / min.
Specifications Deepcool GF120
| | |
| --- | --- |
| Characteristic | Value |
| Marking | Deepcool GF120 |
| Diameter, mm | 120 |
| Thickness | 26 |
| Rotor diameter, mm | 40 |
| Impeller diameter, mm | 111 |
| Length, mm | 300 |
| Connector Type | 4pin |
| Rotational speed, rev / min | 600-2200 ± 10% |
| Airflow, CFM | ~ 91 |
| Noise level dB | 17.6 ~ 39.3 |
| Static pressure, mm H 2 O | 3.71 |
| Current, A | 0.26 |
| Bearing | FDB |
| Service life, hours | 100000 |
| Weight, g | 170 |
| The minimum voltage at which the turns, in | 7 |
| The minimum rotation speed, rev / min | 500 |
| Recommended price, rub. | – |
At the turntables have the opportunity to remove the impeller. Due to this, their operation during cleaning should be no problems.
As with the pump I ran forward, it would be logical to do the same thing with the fans. They really are very quiet, no spurious sounds when the engine is not.
For a visual comparison test was conducted separate noise couples Deepcool GF120, mounted on the radiator, pump while disconnected. The results can be found in the "Noise".
Add close-up shot, which are clearly visible relief notches.
Each fan is mounted as standard – on the four screws to the radiator.
With the end of the housing there is a red line of propellers.
DeepCool Maelstrom 240: Installation and Compatibility
Included with the LSS is a very clear statement that demonstrates how to install DeepCool Maelstrom 240 different platforms.
The whole procedure is simple. However, when compared with the "standard of the genre" – systems Asetek, it will be a little more complicated.
To get started is attached to the water-block we need fixing, Intel or AMD.
Next, install it on the processor and fix the four nuts.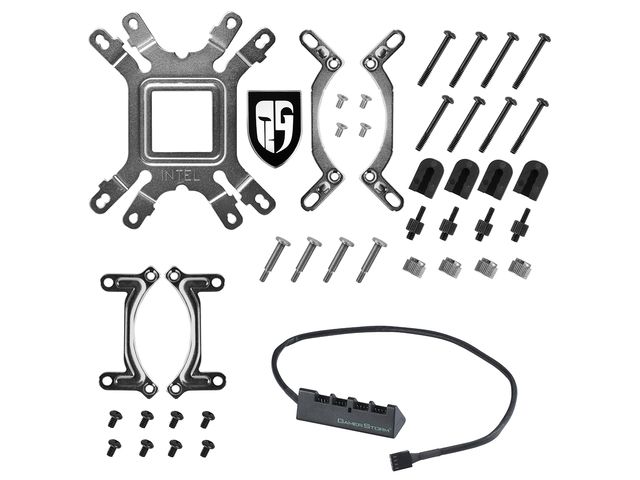 That's all.
Test configuration, testing methodology and software
To test the cooling system uses an open stand Lian Li PC-T60B. By testing in the body, I had to abandon because of the inconvenience and fix access to the components.
In the study of the test results should be remembered that in a closed system unit temperature will be higher. Much will depend on the internal volume of the housing, the location of components and installed fans. On the other hand, in case the noise level should be lower (as is true for qualitative housings with thick walls).
Configuration:
Motherboard: ASUS Rampage IV Gene, LGA 2011, X79, mATX, BIOS 4903;
Processor: Intel Core i7-4960X, 6/12 4.0 GHz, 1.17; 1.24-1.25 GHz @ 4.3 V;
CPU Cooling System:

DeepCool Maelstrom 240;
Corsair H110;

Thermal interface: Arctic Cooling MX-4;
RAM: Kingston KHX24C11T3K2 / 16X, 4 x 8 GB 2400 MHz, 11-13-14-32 t1;
Video card: ASUS GeForce GTX 780 DirectCU II 3GB;
Drive SSD: OCZ Vertex 3 60GB;
Power supply: Corsair AX760, 760 watt, 80Plus Platinum (temperature-controlled fan);
Reobas:

Lamptron FC5 V3;
Zalman ZM-MFC3 (PWM control fans, monitoring of energy consumption);

Housing: open stand Lian Li PC-T60B (modernized).
As part of the testbed used Corsair AX760 power supply capacity of 760 watts with a quality certificate 80Plus Platinum. It is characterized by high efficiency and very high reliability. PSU is responsible for cooling a temperature-controlled fan, which is dormant until such time as the load does not exceed 450 watts. During testing, the fan Corsair AX760 remained absolutely silent, without affecting the performance of sound pressure level.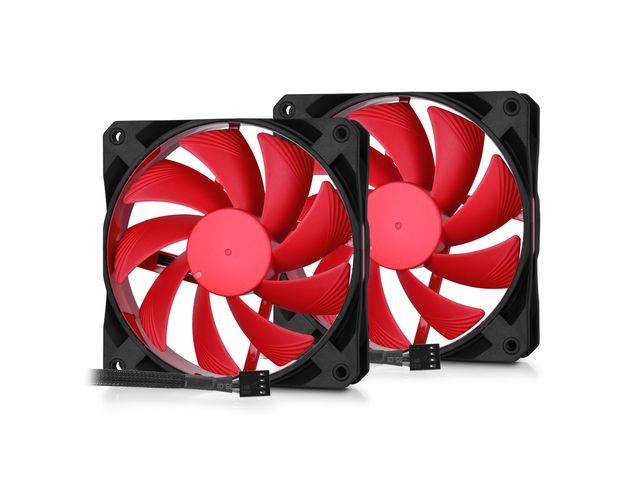 Methods of testing and software:
CPU temperature is done by the program LinX 0.6.5 problem with the volume 16 330 MB for 10 minutes for each mode. For the correctness of data between each mode of testing was made a five-minute pause, during which the cooling system reached the initial temperature (standstill).
For the monitoring system responds:
RealTemp GT 3.70;
CPU-Z v1.71.0;
CPUID HWMonitor 1.25.
For clarity, used programs are combined in the table:
| | |
| --- | --- |
| Heating CPU | LinX 0.6.5 |
| Monitoring CPU temperature | RealTemp GT 3.70 |
| Additional monitoring of the CPU and system, voltage control and frequency of CPU | CPUID HWMonitor 1.25;CPU-Z v1.71.0 |
Study cooling capacity held at an average temperature in the room of 28 degrees Celsius, its minimum value is 27, the maximum – 29. When excess (more than 29 and less than 27) of marks not tested because at room temperature 30 ° C results of different 3-5 degrees to the next higher (compared to 28 ° C).
Most of the time the test temperature was at around 28 degrees without any hesitation. The humidity in the room at the time of measurement – ~ 55%.
Noise measurement was conducted digital sound level meter Benetech GM1358 (measuring range 30-130 dB) at a distance of 20 cm. The noise level in the room – 35-36 dB. Testing was done at night, when the presence of extraneous sounds minimal.Performance of a given cooling systems will be tailored to fit the specific noise standards, which will be tested.
35-36 dB – absolutely silent operation mode.
39-40 dB – mode low noise level acceptable for comfortable operation. The housing with good sound insulation, or simply in the normal body of work with will not be heard.
42-44 dB – the normal noise level acceptable for the job.
48-49 dB – mode high noise level, there is little suitable for comfortable operation.
50 dB or higher – mode is very high noise level and peak performance. Suitable when you need a result, despite the dB level.
To control the fan speed controller and pumps used Lamptron FC5 V3, level adjustment on the current channel from 0-12, limiting power per channel 30 Watts. For controlling fans with PWM function and monitoring of energy consumption was taken reobas Zalman ZM-MFC3.
Conclusion
That ended our acquaintance with LSS DeepCool Maelstrom 240. Among its advantages – good quality materials, smooth base, advanced package, lights and good performance of the cooling system as a whole. At first glance, all is well, but …
Established pump tested sample is quite noisy, and published it sound like the squeak of a huge mosquito. Even if Maelstrom 240 set into the body with good noise insulation characteristics, its noise at work at maximum speed will be noticeably stand out. The situation is slightly corrects the possibility of reducing the speed of rotation of the pump by 50%, but why in this case to create a noisy LSS?
Another thing – fans Deepcool GF120. They leave a good impression thanks to its performance, low noise and good workmanship. If competing solutions typically used weak but relatively quiet pump with noisy turntables, then DeepCool Maelstrom 240 all the way around, noisy pump and good fans. However, you can always change the past, but with great pomp to do this as simply will not work.
What is the result? Much will depend on the market price of the product Deepcool and noise characteristics of the retail versions of LSS. Perhaps you are lucky and the pump will be less noisy – in this case 240 Maelstrom definitely deserves attention.
Pros DeepCool Maelstrom 240:
Quality fans;
Interesting appearance;
Good performance;
Simple installation process;
A rich set of delivery;
The presence of the backlight.
Cons cooler:
Noisy pump (possibly feature test specimen).
Source: Deepcool 
Review and testing of serial processor LSS DeepCool Maelstrom 240
updated:
April 14, 2015
author: