Review and testing of the motherboard ASRock Z97 OC Formula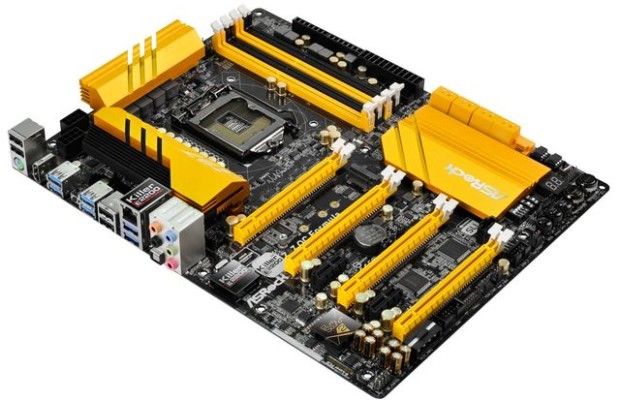 Intel Z97 chipset still retains its popularity among users, being focused on the mid-price segment. Top ball ruled Intel X99, but there are quite a different socket, the other memory, and other prices. If the budget solution to look at Haswell, you can pay attention to the Intel H81. But it was on the Intel Z97 there greatest choice of motherboards. However, their price tags vary greatly due to the fact that manufacturers are a lot of models, trying to please everyone.
As a rule, budget solutions offer the basic features that are implemented by the chipset itself and integrated into a controller.However, even they allow to successfully disperse processors, because all the process often depends on the CPU and not on the motherboard or memory. Of course, there is also a special version designed exclusively for overclocking and not just some of the air out there, and extreme. Why are only one prefix in the names: Extreme, XPower, MPower, FTW (For The Win), SOC and OC Formula.
Obviously, companies compete with each other to see who is better able to overclock the system and demonstrate good results in different test disciplines. And at various championships competitors demonstrate to flex its muscles and makes a certain application.Partly formed and reputation of a particular brand. Himself several times noticed that sales consultants suggest seemingly as an afterthought – "A board of this manufacturer was able to set a new world record." As a result, the user takes a toll on Intel H81 and goes, calm and confident in the correct choice.
But the main money makers earn on mass products. Such models are exclusive status and are designed for a narrow audience of buyers. Nevertheless, the company ASRock, which had previously been famous for a democratic approach to pricing, still offers interesting solutions in the segment of low-end models. Even the latest generation of its production was transferred to a new level, which is directly reflected in the price tag.
Moreover, ASRock continues to develop its range of products, designed for enthusiasts and known as OC Formula. Now, these models show good results in all disciplines on HWBOT, need only look at test stands leaders. One of them turned out to be our guest, and we will try to explore it in more detail. So, get acquainted, ASRock Z97 OC Formula.
ASRock Z97 OC FormulaЖ Packaging equipment
Packing quite large sizes equipped with the optional plastic handle for easy transport.
In many ways, these dimensions are explained by the size of the motherboard. It should be borne in mind that you must still place a delivery.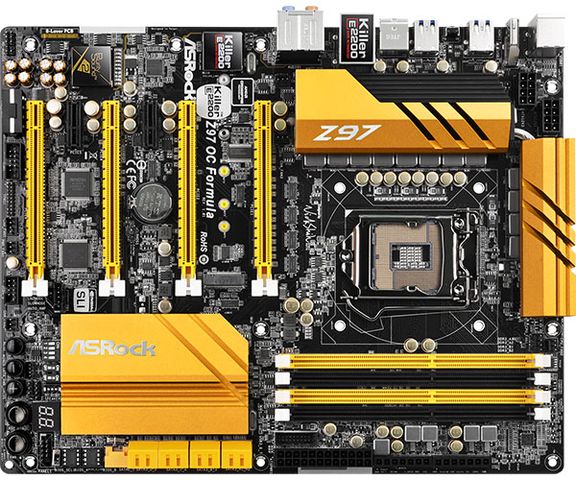 Making the packaging looks very simple. Surprisingly, there is no cover under which through the transparent plastic window you can see the product itself.
Sign OC, with an underlying sign Formula, manufacturer emphasizes that the model is primarily intended for overclockers.
On the other side, we will have a familiar picture.
All is full of different inserts. It is mostly used technologies are described and other features. An explanation of each of them can take a lot of time and place, so we will not dwell on this. Besides all of this can be found on the manufacturer's website, where each function or technical solution is painted in detail.
Look inside the box.
There is a white cardboard tray, which is normally hidden the package. In this case, it is not. Beneath it is the motherboard in an antistatic bag.
Despite the fact that the testing fee came without supplied, I will try to recreate it. Let's start with the information carriers.
Quick Installation Guide (Manual);
Software Setup Guide (instructions for installing the software);
DVD disk with drivers and software for different operating systems;
The sticker on the body with the logo ASRock OC Formula.
And that's such accessories will be supplied.
Four cable SATA 6Gb / s;
A flexible bridge SLI;
Connection cable HDD Saver;
Screw fastening M.2 drives;
The plug on the rear panel.
Since the fee can not be attributed to the budget, it is expected always something more. In this case, it would be quite a sophisticated packaging design.
ASRock Z97 OC Formula: The design and features of this board
The motherboard is rather large and massive. It consists of eight layers of metallization, and its dimensions are 305 x 244 mm, which corresponds to the standard ATX.
In appearance, ASRock Z97 OC Formula resembles another model series OC Formula. This is reflected in the use of dark PCB, as well as a combination of black and yellow and golden slot radiators.
The first thing that catches your eye – four slots PCI-e x16 graphics cards to be installed. It seems that there is activated some additional switch lines PCI-e, because the processor allocates a total of sixteen.
On the reverse side can be seen a thick lacquer layer which covers the surface of the PCB and provides additional protection against external influences.
Therefore, such a pattern is not surprising.
Power is supplied to the motherboard through the main and additional connectors ATX power scheme 24 + 8 + 8.
This combination is not common and it seems that in this case scheduled a serious bid for the leadership. Theoretically, this combination should provide a good overclocking potential, but do not forget about quality power supply for at least 600 watts.
To support DDR3 memory has four slots yellow, and black. In this case, the catches are arranged on both sides.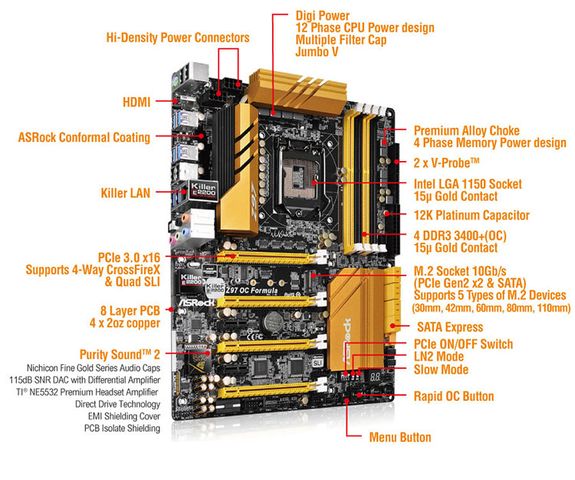 The manufacturer declares support modes DDR3 1066/1333/1600 / (1866/2133/2400/2600/2666/2800/2933/3000/3100/3200/3300 (overclocking)) MHz with a nominal voltage of 1.5 V, which can be increased. According to the specification, maximum amount of memory can be up to 32 GB. Technology is supported XMP 1.3.
Food processor performed on the scheme. It openly declares himself a manufacturer, but in practice they are obtained by doubling.
Doublers chips are on the front and also filled with a thick layer of varnish. This Intersil ISL6611.
As the main PWM controller, chip is used herein Intersil ISL6379.
For each of the twelve phases have two transistor type Ultra Dual-N (UDM), part of which soldered on the reverse side.
Solid capacitors are packed in a gold-plated body. It uses super ferrite inductor.
To remove heat from the transistors is provided a cooling system consisting of two radiators connected heat pipe.
In this case it is glued in specially provided grooves extending through each radiator. They are both made of aluminum alloy and gold colored paint. On the top side glued decorative inscription with the designation chipset Z97.
The shape of the radiator is quite complicated, but the edges are not so much, but the heat exchange surface is still decent. Mounted on each of them by means of two spring-loaded bolts from the back side. As the thermal interface used black thickness of about 1 mm.
Another cooling system is located on the chipset.
This heat sink is also made of aluminum alloy and is colored in a golden color. Mounted using spring-loaded screws on the back side, and as a thermal interface can be seen again about 1 mm thick.
Located under the radiator chipset Intel Z97.
As can be seen, it is also partially filled with varnish.
To support drives provides eight ports SATA 6 Gb / s. Six of them are implemented by the chipset, and two presented a separate controller ASMedia ASM1061.
In addition, the board can detect connector M.2 (to support storage of the relevant standard). It corresponds to a data rate of 10 Gb / s. It is located between the first and second slot PCI-e x16.
Compatible drives of different lengths, and for mounting a special sleeve and screw included.
Another chipset supports up to six USB 3.0 ports and eight USB 2.0.
Here again, its functionality has been expanded with an additional controller. For this chip soldered on the motherboard ASMedia ASM1074.
ASRock Z97 OC Formula: Conclusion
No exaggeration to say that the motherboard ASRock Z97 OC Formula is a good tool for overclocking. It provides excellent functionality and tools for monitoring. In addition, the surface of the printed circuit board is covered with a thick layer of varnish which provides additional protection against external influences. General workmanship at altitude.
So, we have a model designed for extreme overclocking and endowed with the appropriate capabilities. Here nor subtract or add. On this you can finish a song of praise and move on to the shortcomings.
From my point of view, a top-class product and designed to be suitable. Take the box to compare any MSI XPower or ASUS ROG and immediately understand what the company missed ASRock. Here, one could argue, say, on this saved our money. However, in practice, the price tag is not so small, and sometimes even surpasses the cost of competing solutions.
And another point. All slots are PCI-e x16 highlighted in one color and can create the feeling that they are evenly distributed sixteen lines PCI-e, allocated CPU. In fact, it is not, there are no additional lines of the switch PCI-e type PLX PEX8747. It turns out that the top three slots are divided sixteen lines CPU according to the formula x8 + x4 + x4 (and Gen3), and the lowest receives four lines from the chipset, but Gen2. One would last in a different color, so as not to confuse users. But, apparently, the manufacturer did not do it on purpose, but to improve the appearance.
Review and testing of the motherboard ASRock Z97 OC Formula
updated:
April 14, 2015
author: