Cypress Semiconductor introduced a single-chip controller USB Type-C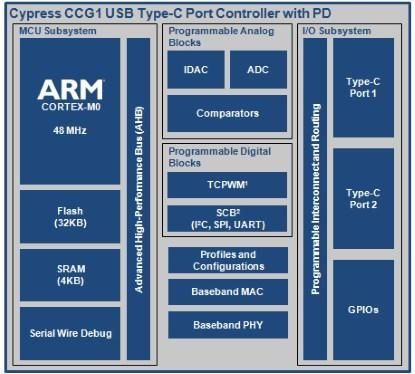 Company Cypress Semiconductor has announced a family of single-chip dual-port solutions that easily empower any system supporting the new standard USB Type-C (USB 3.1) It is expected that the new standard will ensure unity of infrastructure cables and connectors, the more that option Type-C connectors are nonpolar.
In addition, the standard USB 3.1 provides for the connection of devices with a serious level of energy consumption, which can reach up to 100 watts, and new modes of data transfer will be able to operate at speeds up to 20 gigabits per second. However, the real figures are around 10 Gb / s, but still it is two times faster than USB 3.0. As you can see, there is more than a serious competitor for the Thunderbolt.
Controllers Cypress CCG1 are complex "system on a chip" and include your own kernel ARM Cortex-M0 +, 32 Kbytes of flash memory, SRAM and 4 kilobytes whole lot of different interfaces. PD in the title means Power Delivery. The new chips are available in the different versions, including 40-pin QFN (36 sq. Mm), a 28-pin SSOP (75 sq. Mm) and 35-pin WLCSP (6,9 sq. Mm). For more information about updates can be found on the website of the manufacturer.
Cypress Semiconductor introduced a single-chip controller USB Type-C
updated:
February 11, 2015
author: