CES 2015: Samsung showed the latest chips TLC 3D V-NAND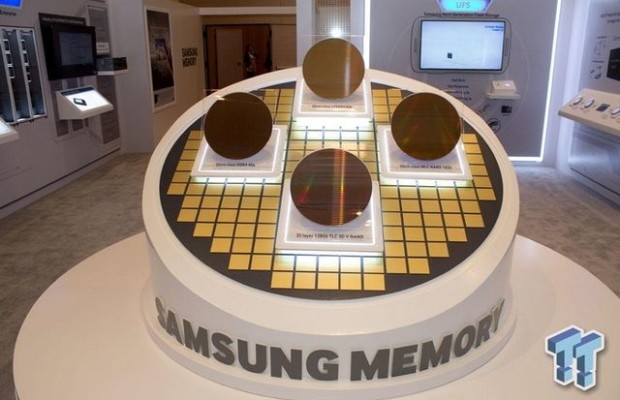 The multi-layer memory Samsung TLC 3D V-NAND is good in all respects: by the use of relatively coarse process technology, it is reliable, even though architecture, and thanks to multi-layer – has a much higher capacity than the traditional single-layer MLC. At CES 2015 the company demonstrated a silicon wafer containing the latest chips NAND.
Shows were like 16 Gigabit crystals classic flash memory MLC, the produced using the new 10-nanometer process technology, and 32-layer crystals TLC 3D V-NAND capacity of 128 gigabytes. As already mentioned, the three-dimensional memory type TLC significantly more reliable conventional planar of the same type, so it is not surprising that Samsung plans to massively supply new chips to the corporate sector of the market, in which great demands on both the reliability and capacity to SSDs.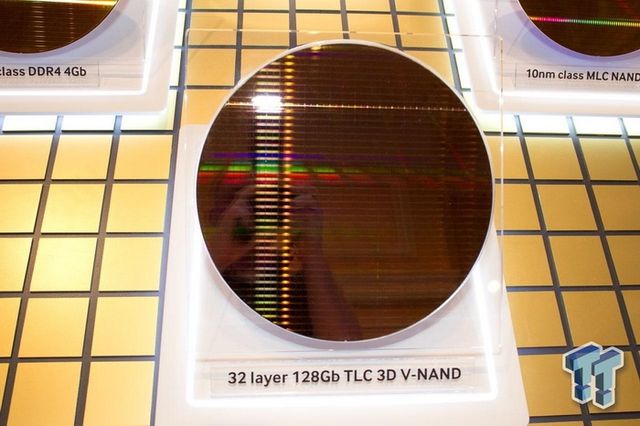 While 128 gigabits is the maximum for a single 32-layer crystal 3D V-NAND, although Intel and declares that moves directly to the creation of the crystals twice capacity, 256 gigabits. Working on their creation and Samsung, but unfortunately, parts development company does not disclose. It is expected that by 2017 the capacity of the multi-layer flash to reach one terabit on the crystal. It seems that very soon in this market real war breaks out, because the Samsung and Intel intends to join and Toshiba.
CES 2015: Samsung showed the latest chips TLC 3D V-NAND
updated:
January 10, 2015
author: