CES 2015: CoolChip and Cooler Master showed a working model of the kinetic cooler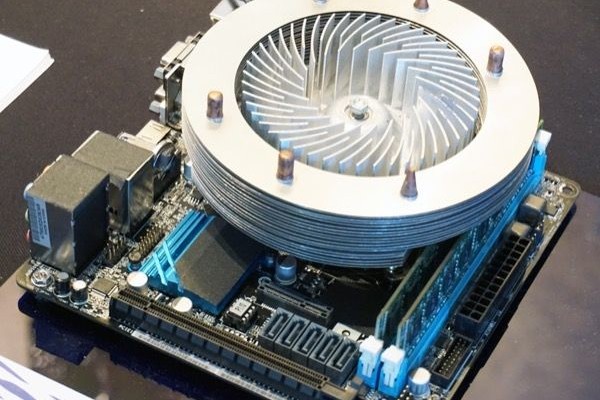 Companies CoolChip Technologies has been devoted to one of our notes, which stated its intention Developer revolutionize the field of air cooling systems. The prototype with a rotating heat sink and heat transfer through the thin air layer looked very modestly, albeit successfully cooled the processor socket LGA 2011. At CES 2015 CoolChip together with Cooler Master introduced a full cooler working on new principles.
The new version looks much larger, and the movable radiator is now surrounded by a ring of aluminum ribs, which are connected by heat pipes to the base – for this part of the design is clearly responsible Cooler Master, because similar radiators met in its arsenal before. The technology is called «dynamic cooling» (dynamic cooling) or, as it is also called developers, Kinetic Cooling. Interestingly, the base and the bottom of the impeller are special channels that appear to be necessary to increase the efficiency of heat dissipation. According to the source, then the gap between the fixed and movable part "kinetic cooler" is only 25 microns.
Well, the ring of the fixed edges is an additional link in cooling, because the air flow generated by rotating the radiator, passes through them. At the same time cools the processor connector zone, in particular, is the area where the power transistors a voltage regulator. The entire structure is quite compact, but still covers part connectors DIMM, so an external heatsink has a special cutout for memory modules. We hope that the product will be brought up to the stage of mass production and will try to test it as soon as the sample gets in our laboratory.
CES 2015: CoolChip and Cooler Master showed a working model of the kinetic cooler
updated:
January 11, 2015
author: