Biostar has created its own video card based on the GeForce GTX 960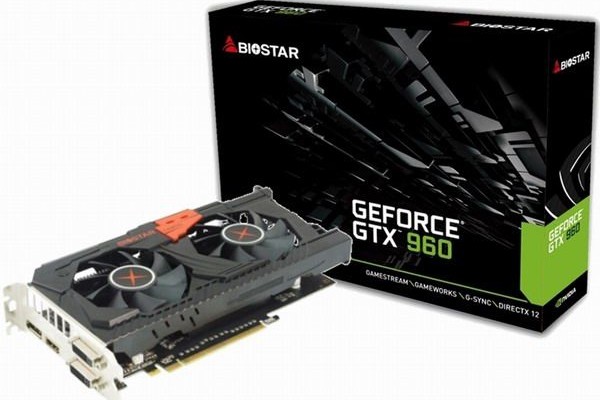 Biostar company has announced a new graphics accelerator based on proprietary reference model GeForce GTX 960 is powered by NVIDIA. However, from the reference there was one name only, and everything else, including the power system was heavily modified.
Video card Biostar GeForce GTX 960 has a unique design and takes in the system unit, two expansion slots – one is taken away under a massive cooling system with two fans, a powerful radiator and heat pipes inside. What is nice, the card allows you to connect to itself is not the most modern monitors, since it contains just two DVI connector with adapters for VGA. Next to them are placed HDMI 2.0 and DP 1.2 in case the monitor you very modern. Map Biostar GeForce GTX 960 comes with 2 GB of memory GDDR5, which is equal to the frequency of 7012 MHz, and the tire has a width of 128 bits. The processor operates at a frequency of 1127 MHz to 1187 and carries the 1024 stream processors, 32 blocks rasterization and 64 texture units. In other words, we model GM206 GPU architecture Maxwell.
Cooling system Biostar GeForce GTX 960 is very smart – she knows how to turn off the fans when they have no sense of, that is, if you're just traveling on the Internet, then the card will run completely silently. Another thing, if you decide to play in a fresh action – in this case the coolers will be spinning rapidly for effective heat dissipation.
Video card Biostar GeForce GTX 960 is estimated at exactly $ 200. Its sales will begin before the end of spring.
Biostar has created its own video card based on the GeForce GTX 960
updated:
April 11, 2015
author: