Asus TUF Trooper B85: another protected motherboard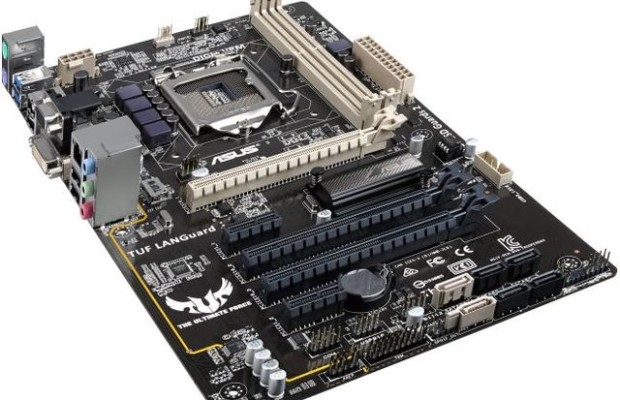 The desire to save on electronics manufacturers components for mass products has led to the emergence of a separate class of motherboards and graphics cards, the creation of which is used particularly durable electronic components. As a rule, manufacturers emphasize that particular product created using components "defense class" that are resistant to both the marginal modes of operation, as well as to the effects of time.
The company Asustek Computer recently introduced a motherboard Asus TUF Trooper B85, which is based on chipset Intel B85, and in that situation would not be interested enthusiasts, if not special attention to the resiliency of the product. Ports on the rear panel are protected from the effects of static electricity, and network ports are endowed with increased resiliency. The board is resistant to high temperatures and humidity, as well as during the test, it is subjected to prolonged exposure to the salt solution which is sprayed for 96 hours.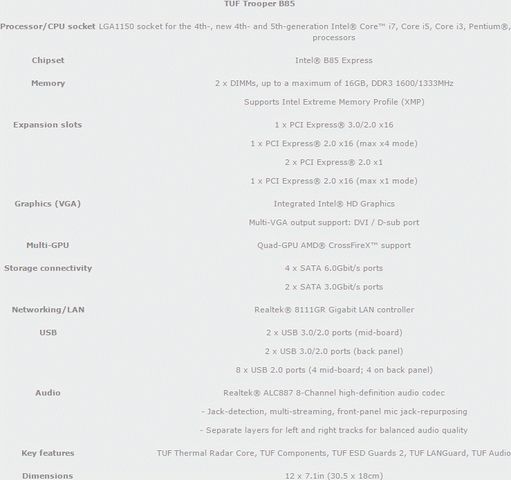 Motherboard USB Ports are protected from power surges. The system fan control Thermal Radar Core allows you to find the optimal balance between silence and cooling efficiency components. Built-in high-quality audio solution is protected from interference from other components of the board. Asus TUF Trooper B85 is equipped with a five-year manufacturer's warranty, with the characteristics of the board can be found in the table.
Asus TUF Trooper B85: another protected motherboard
updated:
April 16, 2015
author: