Asus ROG GR6: Broadwell and GeForce GTX 960M in a compact system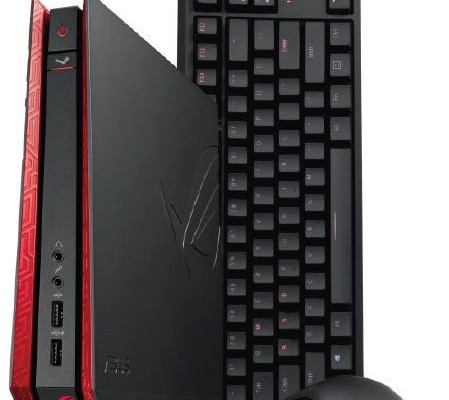 Processors Broadwell, which are already present on the market can be used not only for creating and convertible laptops mobile devices, but also compact desktop systems. Asustek Computer Company in the series ROG has introduced a new compact gaming system GR6, which uses already known for GR8 stylish body with dimensions 238 x 245 x 60 mm and an inner volume of 2.5 liters.
This limited extent huddle processor generation Core i5-5200U Broadwell (TDP = 15 W) and a graphics card GeForce GTX 960M GPU based GM107 with 2 GB of memory type GDDR5. On the rear panel provides outputs HDMI and DisplayPort. Two SO-DIMM connector initially have 8 GB of memory type DDR3L-1600, but the total amount of RAM can be expanded to 16 GB. Two compartments for storage size 2.5″ can be provided as a SSD, and hard drives up to 1 TB, inclusive. Network interfaces are presented Wi-Fi 802.11 a / b / g / n / ac and a Gigabit Ethernet port on the rear panel. The front panel two ports USB 2.0, on the back – a four-port USB 3.0. There are optical output S / PDIF, Kensington lock slot and an external power supply 19 V.
Asus claims that the noise from the cooling system GR6 does not exceed 20-28 dBA. If necessary, install the operating system Steam OS and connect gamepad Steam Controller. Price gaming system Asus ROG GR6 not specified, but ROG GR8 configured with hard drive 1 TB is $ 920.
Source: Asustek Computer
Asus ROG GR6: Broadwell and GeForce GTX 960M in a compact system
updated:
April 16, 2015
author: