ASUS: «Do you want to buy Apple Watch? And do not you gone mad? "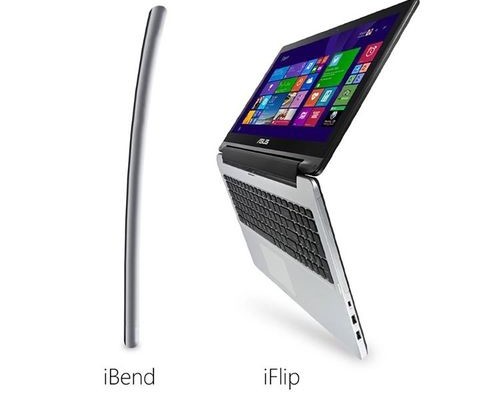 ASUS, which has already repeatedly noted original jokes to the corporation Apple, continued the glorious tradition of banter over a competitor "in the shop" from Cupertino. And if for the first time became the subject of ridicule flexible smartphone iPhone 6, then this time ASUS decided to appeal to potential buyers of portable devices Apple Watch. The gadget should appear on the shelves only 24 April, but now the web there is a lot of debate about the appropriateness of its acquisition, given the short battery life of electronics due to weak battery and some functional limitations.
ASUS, in turn, invites all who wish to acquire more affordable, but no less technically advanced alternative brainchild of engineers Apple – branded "smart" clock ASUS ZenWatch. And finally to dot the «i», on the page of the Taiwanese manufacturer in the Twitter microblog appeared original manual, which can be called a kind of appeal to the common sense and attempt to save (save) up to $ 17 thousand. You're blood that you are willing to spend on gold Apple Watch Edition.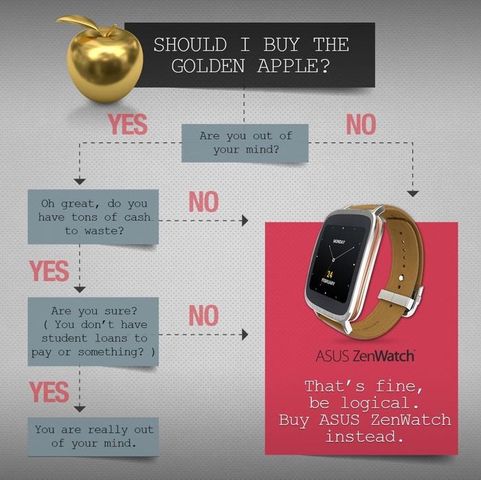 On a poster titled "Should I buy the" golden apple "?" Presented three comic security questions that are meant to convince you to become the owner of Apple Watch. In addition, each "yes" in which "the balance" leaning in favor of Apple Watch, meets tough criticism:
Have you gone mad?
Do you want to throw thousands of dollars down the drain?
You did not need to give money for tuition or repay other loans?
At the same time the answer is "no" implies a choice of ASUS ZenWatch, it seems, according to developers, quite logical and very rational decision costing only $ 199 on the background of the 350-dollar Apple Watch Sport and 549-dollar version of Apple Watch. Especially because ZenWatch parameters include:
1.63-inch Super AMOLED display with a resolution of 320 × 320 pixels;
quad-core Qualcomm Snapdragon processor 400 with a clock speed of 1.2 GHz;
512 MB of RAM;
4 GB built-in memory;
48 hours of battery life, which is at least 2.5 times higher than in products with the logo "apple".
Source: phonearena.com
ASUS: «Do you want to buy Apple Watch? And do not you gone mad? "
updated:
March 12, 2015
author: