Review and testing of the motherboard ASRock Fatal1ty 970 Performance: forever young AMD Socket AM3 +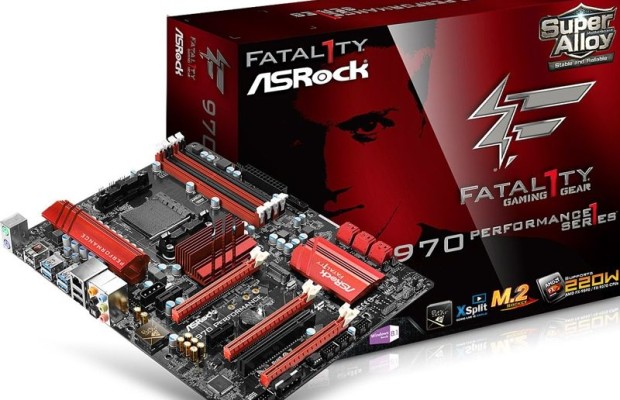 A year has passed since the review of the motherboard CPU AMD in the performance of Socket AM3 +, then it was a matter for the Gigabyte GA-970A-UD3P. Came in April 2015. That offer users? Yes, all the same unchanging Socket AM3 +. Even under the new processors it did not work. Only motherboards periodically upgraded, get new features and the assurances of manufacturers, the possibilities. Therefore, it is logical to return periodically to the AM3 +, to see what is so new appeared. By the way, an interesting tradition: Up to GA-970A-UD3P tests AM3 + motherboards also had a break in a year – once in April 2013, has been tested MSI 760GA-P43 (FX).
I'll be honest: ASRock motherboards for processors AMD Socket AM3 (+) a few years ago was a disappointment for me. And it was a good reason – in the course of the experiments under the writing reviews perevidat had many things: and floating clock speeds, and overheating of the CPU power converters, and whistles and other noise from the same place, and program monitoring unreliable. The latter was a separate topic: Income before special software that ASRock does not show the current voltage, and simply reads the value of the settings in the BIOS. Of course, all this occurs in other manufacturers (except monitoring), but the impression that the products ASRock has focused a whole bunch of different chips.
However, it is worth noting that the requirements I have also not the most modest: first used six-core Phenom II X6 1055T, and processors with core Thuban E0 imposes very stringent requirements and to power, and the RAM, and other flaws of design engineers. Attempts to save on hardware components, or give up the slack in something more easily identified. In this respect the decisions of ASRock had very tight: a cheap price on the MSI board based on AMD 760G virtually easily overclocked bus to 340-370 MHz and model for fashion ASRock 990FX and 890GX could not go as far as 290-300 MHz.
But last fall, the company announced several ASRock motherboards on different chipset. And modest hope: Yet over time the quality of even a cheap element base is improved and it can be expected that the power of a CPU's power converter to grow, and heat – to decline.
Thanks to our partner – company Regard , the object of attention (and the subject of my personal hopes) will be one of these new products the motherboard ASRock Fatal1ty 970 Performance.
Colorful, with a great name and slogans. But what that implies?
Fatal1ty 970 Performance: Packaging equipment
ASRock motherboard comes in a large box, made in red and black colors, denoting affiliation to advanced product family Fatal1ty. On the packaging there is an image of Jonathan Wendell, known in the professional environment of computer players under the nickname «Fatal1ty».
On the reverse side of the box there is a description of proprietary technologies and features ASRock, found application in this model.
Options fairly modest and laid on top of the cardboard divider above the motherboard, packed in an antistatic bag.
Supplied ASRock Fatal1ty 970 Performance includes:
Two-instruction booklet;
DVD-ROM with software;
Two SATA cables with latches and screw to secure the SSD-drive slot M.2;
Planck-cap to the rear panel of the computer chassis;
Card License key program XSplit Broadcaster (app is designed for streaming through the game).
The hero review not only packed in anti-static bag, but additionally laid in a special form of soft polyethylene foam, being locked in her special ties.
Visual inspection and cooling system
On this board are three radiator: both chips chipset and CPU power subsystem.
All heat spreader made of aluminum alloy coated in red, fixed – only via spring-loaded screws with plastic insulating washers.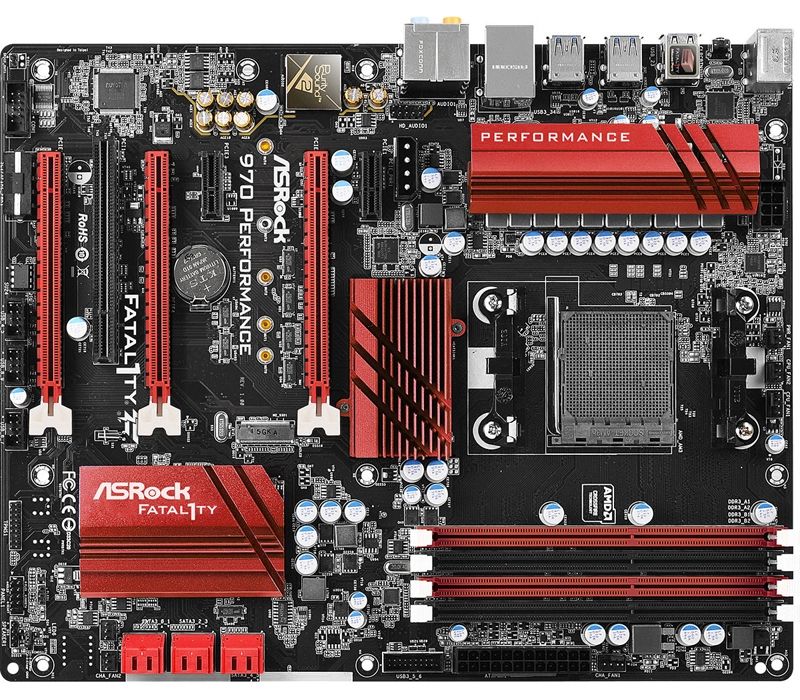 PCB is present as many as six fan headers – a rich set. Moreover, as it turned out later, it is quite good possibilities: on three three-pin connectors are controlled model. However, a drawback, in my opinion, is that they are all placed heap and not dispersed evenly board.
Over the processor socket is a group of three connectors.
PWR_FAN1 – uncontrollable, CPU_FAN2 – both types of fans (three- and four-terminal), CPU_FAN1 – only four-terminal (PWM) turntables.
Single detached connector is located between the right edge of the board and RAM slots:
CHA_FAN1 – managed and three- and four-terminal fans.
The remaining two slots are located in the lower right corner of the board, under the SATA 6 Gb / s:
On CHA_FAN2 CHA_FAN3 and adjustment of turns of works for both types of fans.
Radiators Northbridge chipset and CPU power subsystem is quite large, but, nevertheless, around the processor socket is enough space.
However, if the first mentioned radiator and large, massive and at the same time, then what about the second (power system), so to put it mildly, do not say:
He would rather sweeping than the massive – in fact it's just a bent plate with decorative molding. Yet some degree of heat it gives.At least, looking ahead, it can hardly be called cold.
Power subsystem processor and RAM
Here, all traditionally and consistently even longer than there himself Socket AM3 – similar scheme was used for another of his predecessor Socket AM2 +: two power converter, the one responsible for the formation of voltage CPU Core (actually, computing cores), the second – CPU NB Core (memory controller Cache L3, bus controller Hyper Transport).
With respect to its consideration of the motherboard manufacturer, the company ASRock, states that "the design of the power used by the scheme 8 + 2 phase" (literal translation).
Unsuccessful shot, but it clearly shows the quality of varnishing – in some places charge literally "spotted".
At first glance, it seems, but you just look at the hardware components used to realize this is not quite true. With head engineers ASRock outputs PWM controller used Richtek RT8871A, which supports the circuit to the 4 + 1 and 2 + 8 is not. A look at the reverse side of the board clarifies the picture completely.
Conclusions chokes simply soldered pairs. Therefore, the actual CPU power scheme – a four-phase CPU Core and Single-phase CPU NB Core (4 + 1). All anything (in terms of load, two separate phases, or simply double set of elements with pairwise soldering, the difference is not too large), but there is another subtlety. Namely – the element base.
As the power components used low rds (on) transistors production Renesas Electronics K03J3 and K03J2, they also deserve special attention. Unfortunately, no information about these mosfetah could not be found (except for posts on a forum, citing a letter Renesas, they are outdated and no longer in production), so that their performance can be judged only indirectly. In particular, the combination of two and one K03J3 K03J5 used on some MSI motherboards on the chipset Z87. An example would be considered in the laboratory Overclockers.ru model MSI Z87I, where four of these phases provide a food processor with a maximum TDP of 84 watts. With the temperature test MSI Z87I failed due to overheating VRM. Here we used a larger number of total (10 + 10 + 8 vs. 4), but K03J3 and seems weaker than K03J5, K03J2.
With this in mind there are some doubts as to the motherboard ASRock Fatal1ty 970 Performance can really fully stable and adequate work with processors FX-9590 and FX-9370, having TDP of 220 watts, which is to support publicly announced. By "stable and adequate" means work at full speed under continuous load without overheating and scram instead of "Windows desktop shows and movies cool."
The power subsystem memory and controlled single-phase PWM controller ANPEC APW8720B.
Not without innovations: compact transistors are used Texas Instruments CSD87588N, which even expensive solutions are less common. However, memory is not very efficient, so there is no questions arise. The reason for the use of CSD87588N lies rather in the need to save a little space.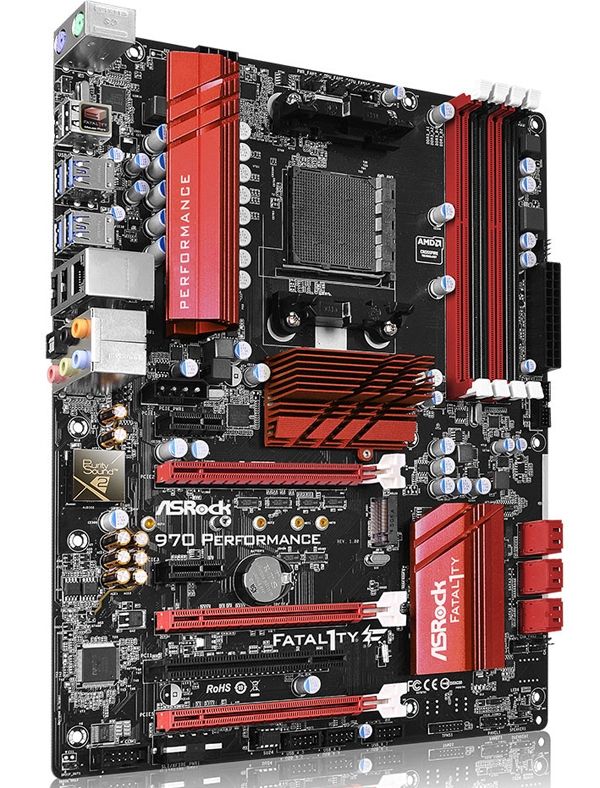 Fatal1ty 970 Performance: Design, electronic components and other features
Slots for memory modules on the motherboard four.
You can install RAM DDR3, and in the BIOS settings available factors for effective frequencies of 800, 1066, 1333, 1600, 1866, 2133 and 2400 MHz. Interestingly, the only officially guaranteed to operate at frequencies from 80 to 1333 MHz, everyone else on ASRock website labeled as «(OC)», which means overclocking mode («overclocking»), and their stability is not guaranteed. Ironically, given the full-time support up to DDR3-1866 by the processors AMD FX.
Below, almost under the RAM slot, located block for connection of two ports USB 3.0 / 2.0 / 1.1. And since the southbridge chipset AMD SB950 third version of USB is not supported, then the ASRock engineers near the shoe you are connected to the same line of PCI-Express bus controller ASMedia ASM1042A (right in the center of the frame).
More below on the right edge of the board are six SATA 6 Gb / s, implemented forces of the south bridge SB950.
However, next to the top two on-board soldered chip switch Texas Instruments HD3SS341.
She is responsible for the construction of another functional storage subsystems: storage under the seat M.2, located in the center of the motherboard:
When installing the SSD-drive in this slot is turned off one of the six ports SATA. But what kind of – a very interesting question.
According to page 26 of the motherboard manual, disconnected SATA3_0, but the chip switch and all related piping element located at SATA3_4 and SATA3_5, yes, and that in itself is illogical – as a rule, do not cut off the first and the last numbering port SATA. So maybe there is an error in the manual. Unfortunately, practical way to learn the answer to this question was not possible: it M.2 SATA SSD I do not have (M.2 PCI-E, like Plextor M6e, to test is not suitable due to the fact that such a SATA interface drive simply does not use).
Along the lower edge of the board are located pads dynamics of the system, the front of the chassis of the system unit, the encryption module TPM, three blocks to connect six connectors USB 2.0 / 1.1, power connector Molex (we'll talk about it later) and block connection of audio jacks on the front panel of the system case .
Along the left edge of the board are the controller input-output (I / O) NCT6776D, responsible for internal monitoring, fan, work PS / 2 and so on, as well as the audio section.
Last not without various kinds of decorations:-in audio chip itself (this is an eight Realtek ALC1150) closes the decorative cover in concomitant use heat piping tube condensers with liquid electrolyte.
Along the way, the audio section is partially separated from the rest of the printed circuit board PCB without empty areas of conductive layers. However, the special effect of this is not, and specifically here because of the size of the areas of presence "technology" and does more than nominal.
Network controller "hide" behind the back-panel interface, it also partially covers the radiator of the power subsystem processor, so find it not so easy.
Gigabit Realtek RTL8111GR connected by a single line PCI-E to the north bridge chipset AMD 970.
Fatal1ty 970 Performance : Rear Panel Interface
Here we find a fairly rich set of connectors:
Two connectors PS / 2 mouse and keyboard;
Button reset the BIOS settings to their default values;
Two USB 2.0 / 1.1;
Four USB 3.0 / 2.0 / 1.1;
One LAN RJ-45 port and two USB 3.0 / 2.0 / 1.1;
Audio jacks.
Once again, I will pay attention: chipset AMD 970 + AMD SB950 does not support interface USB 3.0, so hiding behind the rear panel is an additional controller.
Note: although Etron EJ188H and provides four USB 3.0, he is connected to the chipset via a single line PCI-Express 2.0 (this can be seen, meet official specifications).
I hope the reader aware of the fact that the capacity of a single line PCI-Express 2.0 is 500 MB / s (based on service flow) that exactly the same capabilities of USB 3.0?
Therefore, both at full speed all four ports can not work physically. And we must be prepared for the fact that two external hard drives (about each of them is known and proven in practice that they can transmit data at speeds of 250-300 MB / s) when connected to these ports and attempts to transfer data between them will work at a rate not greater than 150-200 Mb / s.
Expansion slots PCI-Express, PCI and M.2 (NGFF)
ASRock established just three slots PEG (PCI-Express Graphics – Connectors for the installation of video cards). All of them are connected to the Northbridge chipset AMD 970 and slots are PCI-Express 2.0. The third version of this interface is not natively supported AMD 970, so any graphics card and other devices will operate in 2.0.
As we know, AMD 970 under the GPU slots allocated only sixteen lines, that their engineers are involved and ASRock. They are distributed as follows:
Full-slot PCI-Express x16 is the top – marked PCIE2;
The second slot (labeled PCIE4) is a PCI-Express x8, when harnessing the top slot PCIE2 also switches to x8;
The third slot (labeled PCIE5) is a PCI-Express x4, when harnessing PCIE2 switches to x8, and PCIE4 – x4.
For the work of this scheme meet the six-chip switches Texas Instruments HD3SS341.
In addition, ASRock engineers have installed two additional power connector Molex, which should be employed when two or more powerful video cards. These things it seems to me doubtful: first, it may not be enough bandwidth PCI-E 2.0 x8 (x4 not talking about), and secondly, in some cases, may not be sufficient level itself performance of modern processors from AMD.
Interestingly, the lower Molex, rotated parallel to the board, labeled as SLI ***. As far as I remember, Nvidia driver automatically blocked the inclusion of SLI slot PCI-E, where there are only four lines. While I will not argue: I have only one video card Nvidia and tested in practice such a limitation can not.
In addition, there are two PCI-E x1 slot and one old bus PCI. And in the center of the board is placed M.2 (NGFF), which is designed to be installed as SATA M.2 SSD, and PCI-e M.2 SSD, for which the latter two lines are utilized PCI-E 2.0 on AMD 970 Northbridge .
Fatal1ty 970 Performance: The hardware component BIOS
Presented a removable flash memory chip installed in a special seat on the lower edge of the board. On top of a sticker indicating the factory firmware, which peel without damaging the label itself was not possible, so we can only say it – 64 Gbps.
The battery is placed in the center of the board and will definitely be closed graphics card with more or less massive cooling system.
However, it is, in principle, and not tragic, the blessing on the rear panel of the interface motherboard has a special button:
Traditional jumper settings also will not go away and is present in the lower right corner of the board:
By the way, if you look closely, you will notice that the supposed presence of power and reset buttons, as well as POST-encoder.
They did not unsolder, but the marking on the PCB pads themselves remain. By the way, with high probability, their newer party dress will not be clean, but by themselves they should be working, which in turn opens the door for craftsmen.
Only now the economy is certainly strange: a set of two buttons and POST-coder would cost ASRock from strength to the dollar, which is only 1% of the current retail price of ASRock Fatal1ty 970 Performance. It seems that the motives of "cuts" were more political than financial.
Fatal1ty 970 Performance: Conclusion
So, the latest ASRock motherboard could not oppose anything tested a year ago Gigabyte GA-970A-UD3P, based on the same chipset AMD 970. And ASRock model costs an average of 5,200 rubles, and the board Gigabyte – 4200 rubles. For a surcharge of 20% of the value we get virtually useless third slot PCI-Express 2.0 x4 (except SSD like Plextor M6e Black Edition place – its design just in a suitable style), two additional USB 3.0 to four from Gigabyte (but why? ), assessment of the sound section "good" instead of "very good" and much worse acceleration.
A reference to the official website of «Supports 220W AMD FX-9590 & FX-9370 CPUs» is not nothing but a smile. No work, it will be – it all depends on what the meaning of the word "work" we have seen, it corresponds to reality statement «Digi Power, 8 + 2 Power Phase Design». In practice, the most that can be expected in terms of serious overclocking with this motherboard – AMD FX-6300 and those close to him. And then – depending on how you are lucky with the voltage required for specific instances. The only thing that can be noted positively – it overclock the RAM to the effective frequency of 2133 MHz. That, however, in contrast to the same Trinity and Kaveri (Socket FM2 / FM2 +), tied to the integrated graphics core for Vishera Bulldozer and special not profit.
Source: ASRock
Review and testing of the motherboard ASRock Fatal1ty 970 Performance: forever young AMD Socket AM3 +
updated:
April 25, 2015
author: