Review of smartwatches Apple Watch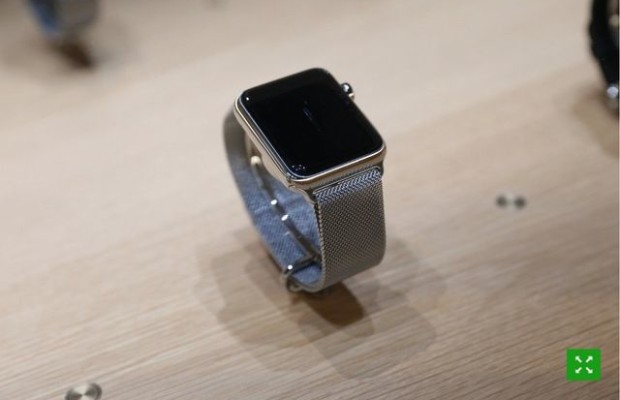 Watches from Apple – is the first product, the development of which began without Steve Jobs, he had nothing to do with their idea and implementation, is the brainchild of Tim Cook and team. Looking ahead, we want to say that Steve Jobs for watches is clearly not enough, because it determines how the products have to work, pay attention to detail and made them redo repeatedly until you sought to have the result that it satisfies. In recent years, Apple has proven repeatedly that the absence of Steve Jobs is to the detriment of the company, the number of small and large problems in the software became visible to everyone without exception. Nevertheless, the inertia of the Apple brand is so strong that it has reached a height ensures a significant interest in any new product, people do not pay attention to what they are selling. This is a huge plus for Apple, their hours will be required regardless of the quality and utility, usefulness.We have already discussed the possibility of sales for these hours "Diwali analytics," it will be the most massive smart watches on the market, there is no doubt.
But the volume of sales and purchase of such individual accessory like a watch – it's still a different plane of existence. For whom fit smart watch from Apple? In the company orient them only for iPhone users since version 5, connect the watches to other devices can not, and is not only Android, but also the iPad. These watches are an optional accessory that can not be used in isolation from the iPhone, as such, they are useless. Potential watches revealed only in conjunction with the iPhone, and Apple believe that the main feature of hours in a variety of applications that the user can install.
The buyers of this watch will definitely not be the ones who already have a good Swiss watch (some people yes, but not in large quantities). This may be the first luxury watches for the youth, and it is quite universal gift – so you can not buy yourself, and get nice. Also large enough layer is those who buy the device from Apple has always, simply because it is device Apple. Other notable audiences at Apple Watch no.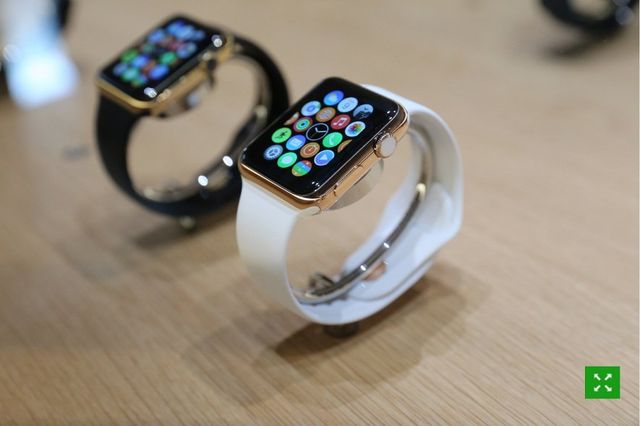 Design options for watches and Apple Watch
In total there are 38 different variations of Apple Watch, which is able to confuse anyone. Trying to find intelligible explanation proved futile, so try to find out together. So there are three watch collection.
The basic version and most inexpensive – it Watch Sport, in turn, differ size watches – 38 or 42 mm. In Apple believe that just a big watches with a slightly larger screen, that's all the difference to an end, should cost $ 50 more expensive. That is the most inexpensive watches Watch Sport will cost $ 349 without taxes. Silicone strap. They're in the 42 mm – 399 dollars. Total in this series of 10 different variants while watches . They have aluminum housing. Also, unlike older models, the screen covers not sapphire, and ordinary glass that is much easier to scratch.
In a series of 20 models Watch, also in two sizes (38 and 42 mm). Price – respectively 549 and 599 dollars. The housing has a stainless steel, depending on the price of the strap can reach up to 1099 dollars.
And finally, the third series Watch Edition. Total 8 models, the body of gold, the price – from 10 to 17 thousand dollars.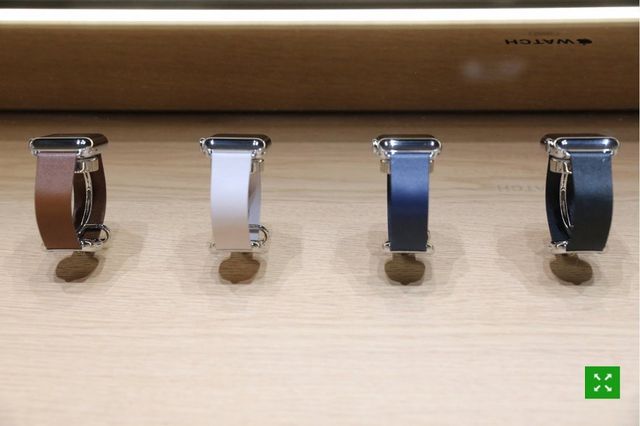 Even if we reject the model of the gold, the choice of 30 models of watches is not so simple, and make it extremely difficult in absentia. Watches – personal thing, they should try, try and choose for themselves. I doubt that even the most-most Apple fans will buy the watch without first fitting, focusing only on pictures.
Once I tried to watch, I had mixed feelings. Absentia liked metal strap with braided, but he was in life is not very nice. Another point is that the strap magnet which fixes the watches. Metal clasp, polished and very quickly covered with scratches, it is no wonder, clasp located exactly at the point where the watches to touch the objects – tables, computer typing and so on. Noticeable scratches, in fact one day at my watch clasp turned into trash. Using Apple Watch with MacBook contraindicated. If something like this happened to any Swiss watch, it would be a global problem, and free replacement straps.
I can not judge how to behave in the life of a second type of metal bracelet, but there is concern that it will also deteriorate. And to do so ugly, there is a metal very similar to the haze to the one on this clasp. Of the benefits – the ability to remove unnecessary links, adjust the strap on the size of your hands.
Even before I started to use the watches and tried them in the store. There seemed to buckle can fade under sharp movements, clock slip on the hand. Already using clock, I can say that it is not, they are firmly fixed on the hand and there are no problems.
The second metal bracelet interesting, but here you can see the lack of attention to detail. Opening the latch, you see a metal that does not look properly treated. Any swiss watches is much better executed, there is gloss, and if they are dull, the surface looks different. Especially emphasize that this is in any more or less normal watches the same price range. The fact that Apple does not take into account the experience of watchmakers, somehow surprising.
Silicone strap altogether simple, does not look very interesting.
Oddly enough, I liked the leather strap, it looks great on hand and in harmony with the watches.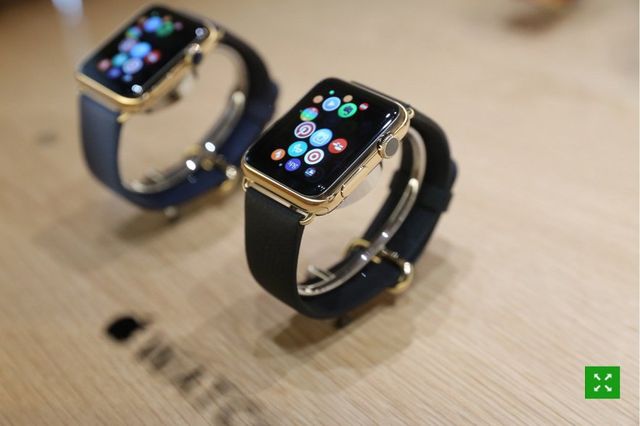 The straps can be purchased separately, they are not cheap, but the replacement is easy enough to pull the strap side after pressing a button on the inside. Fixation is good, hardly clamps or weaken over time will fly.
The best thing – is to look at the watches at the  shop, try them. Other way to see it, which model is right for you and how they look, no. Will focus on a few small things that will always irritate perfectionists. Regardless of which version you watch, black bezel around the screen is wide enough, when they work. The shell itself is massive and tight to the hand, on the inner side has a pulse sensor, this green LEDs, translucent skin.
To the measurement of the pulse function correctly, the watchesshould fit snugly to the hand. But alas, that the hand will sweat under them. In most intelligent watches with such sensors are rendered as a separate ground, it protrudes slightly. And its area is small, unlike Apple Watch. In a word, and then ignoring the decisions of other companies that have already released several generations of their devices. For example, look at how this is done on the FitBit Surge.
Protected against water at Apple as too clever by half. Thus, formally declared water protection level IPX7. That provides for watches under water for about 30 minutes at a depth of one meter, is evidenced by the standard. But in all documents indicated that the watches can not be lowered into the water sellers separately emphasize it. Obviously, that some parts are not designed for immersion, as a result, may be damaged, and it will not be covered by warranty. It is possible that in key markets first, and the first customers will make a replacement drowned, for Apple it is standard practice. But assume that the watches will survive in the water, you can not, at Apple claim otherwise. Therefore, the maximum – is to wash your hands in the Apple Watch.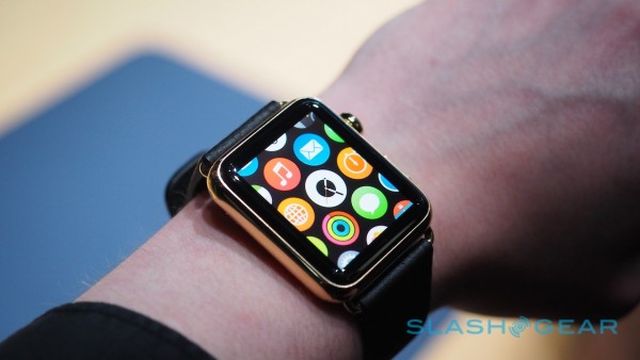 Another drawback – is that the watch is quite plump, they are small in size, but the plump. When you look at them on the forehead, then it is not visible. On the hand sometimes you look at an angle, and then pay attention. Strange feeling, especially in light of the fact that the vast majority of watches of this size thin, and if they do massive, then dial more.
Display
Depending on the version of the watches, and different screen – in the case of 42 mm screen larger as diagonally and resolution (312h390 points 302 ppi against 272h340 points 290 ppi in the case of 38 mm). The screen is AMOLED, it has good viewing angles. I like the picture on the watches, it is bright, contrast. But there is one serious drawback – the screen only works when an event occurs. The default is a black screen, which can not see any DIG.
You can adjust the screen so that it is lit when receiving notifications, but you will just be wasting battery power when it is not worth the hassle. You do not look at your watch all the time? Council to include the activation screen when vskidyvaniem hands, he will respond to the gesture, which is good.
The screen remains readable, although the picture fades, it is not so clearly visible.
One of the interesting things for me was how easy to get the icons that are on display, it was too small they are. It turned out that this is no difficulty. Even thumbs can be the first time to select the desired icon, zoom is also supported, although it is not very comfortable, and not necessary in most cases. All head to the right to increase or decrease the standard icons in the menu, if you ever need it, is also a zoom pictures.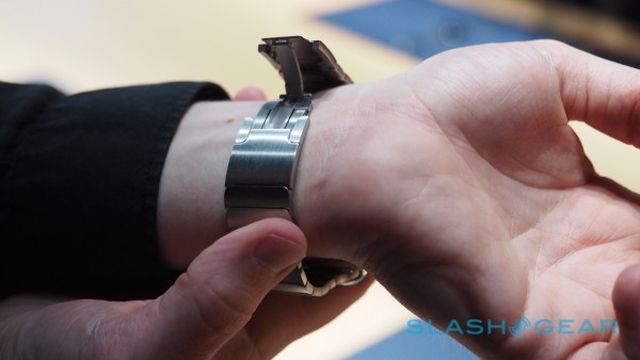 Glass screen in older models sapphire, no scratches on it should not appear. In junior is not so rosy ("glass" ION-X), so there will crack over time, this is another reason not to take the option Sport.
In some menus, you can see that the screen resolution is not enough, icons or buttons look a bit out of place, their geometry does not match the watch case, they are much larger than they should be. This creates a strange impression at times, as if the interface does not have time to get into shape.
Battery operating time
Apple has announced that the watches will run in mixed mode about 18 watches , that is daylight. This applies to work in different modes, but, as you may recall, the screen most of the time off. If you constantly refer to the display, while the work fell sharply, it also depends on the brightness of the backlight.
Battery built, its capacity – 205 mAh. Even the most inveterate optimists that they will not use a watches to the fullest, they see that the watches is on the strength of the daylight watches . With a very active use them enough, at best, until the evening. Charging time watches – about 2.5 hours, which is typical for such products. In this charger simply applied to the housing, a wireless charging. Up to 80 percent of the charge is 1.5 hours, the remaining 20 percent – even for an hour. It is best to leave it on charge overnight.
In the first year battery warranty is Apple, and its replacement will not be worth anything. Then the replacement cost will be $ 79. The company claims that the battery is up to 1000 times, after which the battery capacity drops to 80 percent. It turns out that under ideal conditions, when you discharge a watches to zero and then fully charged battery will last about 2.5 years. I think in reality it will be 1.5-2 years, for particularly unfortunate – for about a year.
As you can see in the photo iFixIt, battery replacement is easy. I am sure many have mastered this procedure at home.
Claimed battery life in standby mode – up to 72 hours (!), That is, it's just a connection to the phone. In training mode, or play music – up to 6.5 hours (we worked hours in pulse mode and distance is only 4.5 hours). Talk time watches can run for up to 3 hours.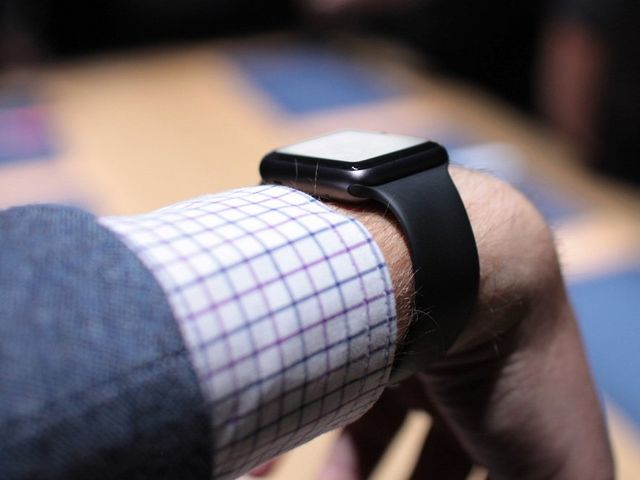 Given that the screen does not run continuously, and the market many of the same watches that work for two days or more on a single charge, then Apple Watch cleaned loses. In this case, the screen itself is far from the best available, which is average.
Watches, which must be recharged every day, to put it mildly, not very convenient watches . And it's one of the downsides of fatty Apple Watch, which can not be avoided. Synchronization with the watchesadversely affects the operation time iPhone, at a mass notification, it is reduced by about 10 percent. It should be understood that the clock shift the main burden on the phone companion, to ensure a longer life.
Platform memory performance
In wearable electronics to the fore not the processors, and a compromise between speed and time. Small batteries do not allow too much carousing, it is necessary to operate the unit as long as possible. In Apple Watch company has supplied the processor, the design of which has developed its own, it is called S1. And significantly limited its performance, especially when scrolling between applications or screens can be seen that the watches slows down sometimes.Suddenly, Apple, and Steve Jobs is hit on the head with their developers, in his absence, this does not happen, which is sad. No person who carried out the acceptance of the product by your own taste.
In the third-party applications and braking at all the norm, as they do not get the same access to the system, as provided by Apple for native applications. And it is even more amazing. I can not say that everything slows down, but with the iPhone data load slowly, all the while spinning loading icon.
8 GB of internal memory, but it is distributed very strange. Thus, the watches can be used to take pictures with your phone, a kind of remote viewfinder. And the photo immediately to save them. Memory allocated for photos as much as 75 MB! Not clear. Music for watches allocated 2 GB of memory. All the rest of the space is reserved for applications. If we remember that the watches runs only with the iPhone, a memory allocation is not surprising. The same memory for music is not necessary, it is stored on your phone. Rather, it is the additional volume.
The first watches settings, applications, work with the interface
You need Apple Watch app on the iPhone, with you and manage your watches . The first time you connect, you can make the iPhone screen to watch, they are automatically paired (recognized by the picture on the screen watches ), but you can do it manually.
As you know, the watches can not live without a phone, they are doomed to co-existence. You can choose to password security (Digital – default 4-digit), which must be entered on the watches, if you peace of their hands.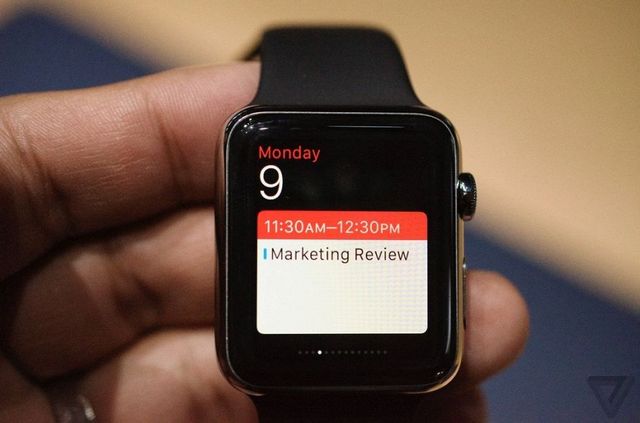 In my opinion, more interesting second option, when watches are enabled when working with the iPhone, that is used by the phone system security, including this can be TouchID. However, then you have to unlock the phone or even permanently disable security. As a result, I stopped at the first option, and then take off the watches, already wearing them, a small dial on the length of the password.
By default, all the programs that are on your iPhone, will be transferred to the watches, but if they have the appropriate mode. When you first set watches , this process can take anywhere from ten minutes to half an watches , everything depends on the number of applications that need to update them. I want to draw your attention that the application Apple Watch has a section with software that runs on the watches .
You select a program, see how it is set up and running. Selected for watches as the application is installed on the iPhone, separate installation applications, such as on Gear S, impossible. That is an ideological difference, which should be borne in mind – to Apple Watch all applications for hours not independent, they are secondary to the fact that they are on the phone. And as a result, you are wasting space in the memory watches, and in the phone's memory to install them.Logical? In my opinion, not really – but it's an ideology hours companion, which dictates the rules of the game. It also follows that the application for the watches is always secondary to him on the phone the same, that is often a remote screen showing some information, often truncated and incomplete.
For each application, the default is the style of behavior as on the iPhone, that is, all the settings are copied from there. But you can choose your settings and specify how the application will behave on the watches.
In System Preferences, I note the possibility to change the spelling font (Bold), as well as adjust the font size. I advise you to leave the default setting, it is quite comfortable, large print is ugly and takes up a lot of space, most of the posts will be unreadable.
Above the dial is shown the red dot is the notification pull down and see what you come, until you looked at the watches. And here lies the biggest ambush. Notifications are not very good, let's talk about this in the examples. To begin with, as long as no application for watches Facebook, but come to the phone notification. You can see them, but to open any watches or on the phone they can not. That is, you have to go to the phone, open the notification there and watch all there.For comparison, on all alternative smart watches have the option to "Open the phone" when you instant access to the program there, you only need to take the phone in hand.
Another example – this app Instagram, which is adapted to Apple Watch. You look in the notification, see what you wrote something, but it's not the full text, but only two lines, the user name and the first few words. It's a shame? Not the word. You still have to open them on the phone to read.
I could continue to list these shortcomings, they are typical for most applications, no exceptions. All were clearly trying to catch run their applications for Apple Watch and do not pay attention to functionality. I hope that during the first year of life watches developers will correct these annoying shoals and this time will be much better realized.
The most interesting – it WatchFaces, ie screens with different dials.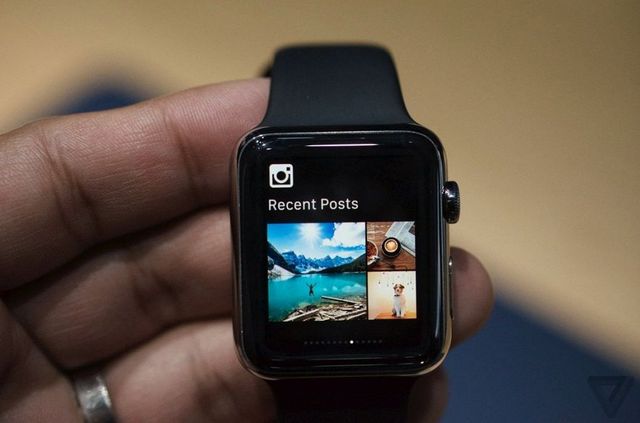 In standby mode, shows the watches , you can select the dials on which there is another explanation. Main menu – a set of icons, they piled in a heap, you can scroll the screen.
Is a mapping Glances, and you can disable an individual application, then they are in the cloud icon will not be displayed.
Log into the application you can click on its icon, the output – to a higher level, with the button on the right side. To deal with how to operate the watches, very easy to deal with that and the child.
Double-clicking on the crown throws you in the last application you were working with. It remains to be said about such features as Force Touch, this is where you can firmly tap the screen and something happens. In fact, this option is now used in applications to run one operation, usually creating a new something, such as messages. In standard messages so, we see exactly the same on Twitter. Learn this move easily, although there is no hint.
Brushing up the watches, you will see a display of the main programs, and your applications are added as the screen on the right. List turns big enough screen to the left – it's quick setup (airplane mode, night mode, the search for iPhone).Immediately – Music, heart rate measurement and the like.
Button under the crown is your favorite contacts. For them, you can quickly implement a set of numbers, send messages. And there are patterns in the messages, you can also edit them to your liking, there are pictures and emoticons, the ability to recognize the text or send it as a file. There is a small flaw, which differentiates from all other Apple products. If you have not set up iMessage, and if not installed an error occurs, the watches will not take even the usual SMS, which you see on the phone. They do not read them. Absolutely! This is called freedom of choice – in the SMS is impossible to get the most SMS. I use the iPhone from time to time, and iMessage has been set to another phone number, hence there was a problem with reading SMS on the watches. Truly a device for those who use only Apple and ignores the widely spread standards.
With standard features in Apple clearly namudrili, so you can not enter the address of the person on the watches, it is necessary to gain a voice or select from the list. Assume that the voice input is not always convenient, try to scroll through the list. And here starts the funny thing – the names on this list are in no particular order, that is, they are represented on the phone normally, and then haphazardly and surname .. Moreover, the search is not listed, so the voice input is the only real way to something quick to make. Obviously it did for show and thought that few people will start to write SMS with the watches . But did still crooked.
Another glitch, who caught it elected friends, I have my numbers are written as two contacts – Eldar Murtazin. Inside the different phones, pictures (a dog and a zebra, respectively). Watches, unlike phone somehow perceive these two pins as one when sending SMS-messages, but when receiving calls all true, shows a different picture.
Functions of a standard, a calendar displaying month, alarms, to-do list and so on.
When navigating the watches can show the route, and the screens are broken so that you can see their movements. You can turn off the screen, then the watches with vibration will suggest where to go. Intricate way, I get used to it and could not, it is not too convenient. A route must be on the phone, then he was transferred to the watches.
When calling, you can answer them with watches , then are utilized in microphone and speaker to them. Talk is not very convenient, as the surrounding hear your conversation.
Phone connection occurs via Bluetooth. In the watches do not have a GPS, so that all coordinates are obtained from the phone (the phone settings for GPS is a priority, so keep that in mind). Acceleration sensor located in watches , calculates the steps it is relatively accurate (comparing with FitBit Surge, was a discrepancy of 10-15 percent, watches of Apple's fib downwards – to remind you that FitBit is a kind of benchmark in the market pedometers).
The same applies to how the measured pulse. In Apple Watch it for a few beats lower than the FitBit Surge, at rest. Typically, a small discrepancy – 55-57 beats on Apple Watch, 60-65 strokes on FitBit Surge. When you load the difference becomes more pronounced, Apple Watch underestimates pulse. This is curious, since FitBit main gripe to measure heart rate that it is very understated, with peak load in athletes discrepancy with the actual values can be up to 25 percent, which can cause serious health problems. In Apple Watch roughly similar algorithms, and they lie exactly the same way. This is another thing that can not talk about that are interesting to watch sports activities (serious) for daily walks and fitness them enough for the eyes.
Conveniently, you can configure notifications for different signals vibrate. You are free to choose which notifications to receive. And more of them, the faster the batteries have expired. Tried to put all the notifications in their social profiles, the watches began to warn all the time, they had enough for 6 watches , and nothing more.
Integration service Apple Pay is available for the iPhone 6 and higher, as you know, in the US alone. The convenience of paying with watches that do not need to take the phone. But while he Apple Pay is not too popular and widespread, and people are more negative reviews.
Third-party applications are curious, but nothing new or unusual not offer. All of them or their ability we have seen in other watches . No breakthrough has not happened here, and this is the biggest upset of watches . Apple's approach was whether to give a lot of applications for hours, like a smartphone. Not sure this is the right approach that will work in this case. All applications are secondary to their version of the phone, remember that they are installed and there and there.
Notifications for applications is not very good. Use social networks on the watches – sheer torture, so the official Twitter client shows 6 posts of the tape. Around the same approach in Instagram. That is, flipping the tape, as in other watches , you can not, you have to press the button every time, "More."
It looks at least strange, and very different from what we see on the iPhone. Bit applications themselves, many of them are paid and are quite expensive. Toys as there are none, and those that are present, can be safely described in one word – self-indulgence, and at one time.
Call from watches or take calls on them is not very convenient, the speaker volume is minimal, as the quality of the microphone suffers a bit. Interlocutor hears you muffled in noisy environments rather not hear.
Manage your music on your phone as usual, left to say is that you can sync playlists from your phone, download music to commemorate watches watches . Why do it, I do not understand, because this music is stored on the handset, and can not be connected to the watches wireless headphones headphones (they can connect to the phone and control your music with hours on them). What's the point?And so you will see everything that is on the phone. If you leave the watches somewhere on the phone, then you can listen to music, but only through a speaker, it is still fun. A strange decision, which I do not understand. In other watches downloading music has nothing to do with the fact what kind of music is on the phone, you can download a very different composition, which is logical.
Another point that I was stumped, it's a real usage scenario watches . Walk down the street, listening to music on headphones, then the bell rings. I do not want to get the phone, the watches see an opportunity to respond, but a bunch of iPhone-Apple Watch does not understand what I prefer to talk on the headset, which is already in my ears. Instead, the response to the watches activates the speakerphone on them though. It's amazing.What is even more surprising to Apple clearly understand that man listening to music, since such a call watches screen does not turn on, that is, it is assumed that I hear in the headphones. Of course, you can answer the call by pressing the button on the headset, but then you will not see the caller's number. Minor flaws that should not be exaggerated, but Apple Watch the whole consists of such small defects.
For owners of watches added the ability to communicate with each other, you can draw and send the screen faces (doodles), share your heartbeat. And then, and another looks strange and unnecessary.
Impressions and Conclusions
Many expect from Apple, the company, unlike its competitors, could invent scenarios for smart watches, which will be different from all that has been on the market. Explain what exactly these are good watch. This did not happen. At the presentation did not even talk about usage scenarios, this time missed. And it is very strange – that is, Apple has no answer to this question. However, competitors also do not know what to offer customers.
The only value of watches of Apple is that they are released by Apple. No other achievements are not observed, and technically it is frankly a weak product (at work, lack of protection from water, job notifications and applications). The high cost is comparable to entry-level Swiss watches (mechanics). And to compare Apple Watch with Swiss watches impossible, it is two different worlds, the comparison is not in favor of a product from Apple.
Most of those who already have a good watch, will not look in the direction of Apple Watch, it makes no sense, since the first generation does not have any special functionality or some image in the watch segment. Still, for most Apple – a manufacturer of electronics. At the same time, children and adolescents who do not have high-quality watches, this toy would be ideal, but very expensive, besides should come with the iPhone. A large group of consumers Apple Watch in configurations up to 1000 dollars will be those who do not have good watches and denied their necessity in today's society, the nature of the status of this accessory. Now they have a relatively inexpensive option (cheapness compared with good clock) to be fashionable, to show their technologically advanced, which is imaginary. To release any other company, such a product, it is not simply would not use demand, and would have received a lot of negative reviews. In Apple's case that many watches in advance to forgive all the shortcomings.
The life of such watches will be 1-2 years on the force, more will need to change the battery, and there will be new generation who will definitely be better (faster, larger screen, longer work). In the market of smart watches rectangular shapes screens are typical for the first generation of devices in 2014-2015 are round dials that people like more. As Apple does not have the technical capabilities to create a product with the dial, probably we will see it through the year. The company catching up, but underperform the market is very noticeable. Once again, I repeat a simple idea – that Apple Watch technically weak, does not care about their target audience. It is not so important. Brand Apple will pull their sale, make a record, but there is no practical need for such hours not. There is no script for limiting their practical use. That is, Apple Watch – exactly the same fashion accessory, like a Swiss watch, but charge them a kind of image.
At the time of the sale watches are online only Apple store in a small number of countries, you can buy gold options in the largest trading houses in Europe, where there is usually represented suite. In the Apple store, you can try the clock, then to order the ones that you like. If sales in Europe will be weak, then in early summer. We already have a watch dealers, prices range from 80 to 200 (!!!) million, ie overpayment 3-4 times at least. Given the scarcity of this toy, it looks quite normal premium to the seller, but undue purchase from all points of view. It's hard to imagine how many people will buy a watch for that kind of money, considering that for a comparable amount you can buy a normal Swiss watch, a good mechanic that will live for many decades, and for products of an entirely different class.
Trying to find a Apple Watch some serious advantages over Swiss watches in terms of image, I have not found. They can only win from other manufacturers of electronic watches due to the image of Apple, but did not function, or any facilities of which there is no (daily charge – is not exactly user-friendliness). Term life is small, image charge for several months, and then the hype die down. Interestingly, the clock clearly will look with a suit, they are to some extent toy.My personal opinion is that apparently they did not look at all, although no accounting for tastes. Talk about Apple Watch can be long, but there's no sense in it, you buy them, if you believe that Apple – it is fashionable, and everything else you do not care. For reasonable people, do not throw good money after bad, this product is not the slightest interest. And for the fans there is another bomb, the clock does not give a large number of emotions as a phone or tablet, even though the device is much more personal. Here's a paradox.
Sport version is not worthy of attention – the high cost of you get no sapphire glass, cheaper charger without metal and so on. Budget version of watches , which is not worth it. However, in terms of functionality, all versions are the same, and that is what causes most of the problems. Very often I see a comparison of these watches with the first generation iPhone, they say, then finalized and did everything well. It is possible that this analogy has the right to life. But while Apple's watches are expensive and, by and large, useless toy, they are even slightly more useless than similar clocks of other companies. That does not make them better, I'm not seeing them use, but compared to Apple Watch they had gone far ahead. The same Pebble damp in the software, but it works 5-7 days, always on and is able to deal. Even Android Wear knows more than Apple Watch. Apple has released an extremely crude product, which will dopilivat at least one or two generations.
Review of smartwatches Apple Watch
updated:
April 28, 2015
author: