Review processor APU AMD A6-6310 (Beema): a little bit faster and more economical than Kabini new!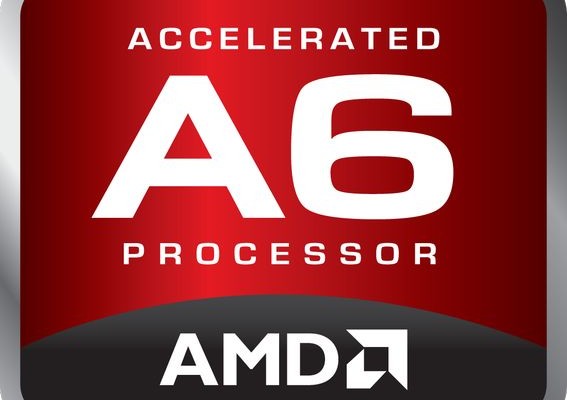 AMD has accustomed us to the fact that the really serious changes in its products only occur with a change of process technology, but at every stage produced a couple of generations of chips, "normal" and "enhanced". For example, 32 nm AM3 platform gave market Zambezi and Vishera, and for FM2 turned Richland and Trinity. In the last 28 nm process technology platform has also spawned Kaveri and Kaveri Refresh, but it is used for low-power SoC. What do we get? That's right – Kabini and Beema. We can not say that this is the same – at least because of the emergence of additional ARM-core (Cortex-A5) Trusted Zone, on whose support the software yet, however, can not hear anything (all the more so in this respect the representatives of line Beema unique on the market yet, so too narrow turns the audience of such decisions). However, the "core" processor and graphics cores in Kabini and Beema look almost identical – up to that normally allows a slightly increased clock speeds and equally little to reduce energy consumption, but not both.And there is one subtlety: as blocks in modern processors and a lot of work, they are not loaded at the same time, improvements in dynamic frequency control allow direct and sometimes increase productivity and efficiency. In Beema this is done, and at the same time in older models returned APU technology Turbo Core.
Bottom line? Its the easiest way to evaluate the tops of families. The best (in terms of performance) Kabini in BGA-performance is often studied by us A6-5200: four processing cores with a frequency of 2 GHz and 128 GP, clocked at 600 MHz. In the new family is the flagship A8-6410, where "only" the same, but GPU has been running at 800 MHz, and the frequency of the processor cores can be increased from 2 to 2.4 GHz. It seems to be not so much, but this comparison is not entirely correct because A8-6410 even lower TDP – 15 W instead of 25. And that could put in 15 watts under Kabini? Only the frequency of the A4-5100 CPU and graphics core 1.55 GHz and 497 MHz respectively. That is while maintaining the same theoretical performance can be that way in one and a half times higher. Alternatively, while maintaining the same level of performance can be reduced by 40%. Last understandably in this segment more important – after all representatives of Intel Bay Trail limited TDP of 10 W or less, and 25 W was too close to the demands of "high-grade" processor architectures.
And in practice? Some tests on our website have already been published in the laptop, and there have already "light up" and A8-6410, and A6-6310. If we talk about the practical results, the system first APU in the tests according to our method scored 60 points, while the second – 53.7 points: Compare this with 45.3 points on a laptop A4-5000, and all will become clear. Moreover, both the laptop on Beema managed to get ahead and computer based on "adult» APU A8-7100 – Kaveri with a TDP of 20 watts (plus chipset separately). In general, in the first approximation, all good 🙂 And today, we will deal with the comparison of the performance A6-6310 some potential competitors in the same environment, the benefit of the corresponding results were obtained when testing the mini-PC Foxconn nT-NanoPC ABM63 .
Testbed configuration
For obvious reasons, it is most interesting comparison BGA-processors to each other, the good they can be used under the same conditions. Especially when it comes to comparing devices from AMD and Intel: for Bay Trail-D and Beema conditions may be more similar than for them also and senior Kabini. Accordingly, the protagonists of today we will be Pentium J2900, A6-5200 and A6-6310.
| | | | |
| --- | --- | --- | --- |
| Cpu | Intel Pentium J2900 | AMD A6-5200 | AMD A6-6310 |
| The name of the kernel | Bay Trail | Kabini | Beema |
| Process Technology | 22 nm | 28 nm | 28 nm |
| Core frequency std / max, GHz | 2.41 / 2.66 | 2.0 | 1.8 / 2.4 |
| Number of Cores / Threads calculation | 4/4 | 4/4 | 4/4 |
| Cache L1 (amounts.), I / D, KB | 128/96 | 128/128 | 128/128 |
| Cache L2, CB | 2048 | 2048 | 2048 |
| Cache L3, MiB | – | – | – |
| ROM | 2 × DDR3-1333 | 1 × DDR3-1600 | 1 × DDR3-1866 |
| TDP, W | 10 | 25 | 15 |
| Graphics | HDG | Radeon HD 8400 | Radeon R4 |
| Number of GP | 16 | 128 | 128 |
| Frequency std / max, MHz | 688/896 | 600 | 800 |
| I / O | | | |
| SATA | 300 × 2 | 600 × 2 | 600 × 2 |
| USB | × 3.0 + 1 × 2.0 4 | 2 × 3.0 + 8 × 2.0 | 2 × 3.0 + 8 × 2.0 |
The main problem that we encountered while testing the trio – the memory configuration: all platforms had to be tested to differ from the reference conditions. Nettop Foxconn nT-iBT29 on J2900 is equipped with only one memory slot so that the processor was tested in single-channel mode thereof. Our board with A6-5200 does not want to work with DDR3-1600 – also repeatedly mentioned. Unfortunately, the same problem has overtaken us and Foxconn NanoPC nT-ABM63: APU officially support all the way up DDR3L-1866 itself mini-PC specifications – to DDR3L-1600, but with our existing modules DDR3L-2133 it is not earned at all, and DDR3-1600 was not found. On the other hand, in terms of comparison as a comparison it's not so bad: as a result of all three processors working with the exact same memory – 4 GB DDR3-1333 in single channel mode. They can no longer – especially Pentium J2900 – but, in theory: in practice all possible. Exactly the same version is operational at all times.
| | | |
| --- | --- | --- |
| Cpu | AMD Athlon 5150 | AMD Athlon 5350 |
| The name of the kernel | Kabini | Kabini |
| Process Technology | 28 nm | 28 nm |
| Core frequency, GHz | 1.6 | 2.05 |
| Number of cores | 4/4 | 4/4 |
| Cache L1 (amounts.), I / D, KB | 128/128 | 128/128 |
| Cache L2, CB | 2048 | 2048 |
| Cache L3, MiB | – | – |
| ROM | 1 × DDR3-1600 | 1 × DDR3-1600 |
| TDP, W | 25 | 25 |
| Graphics | Radeon R3 | Radeon R3 |
| Number of GP | 128 | 128 |
| Frequency, MHz | 600 | 600 |
| I / O | | |
| SATA | 600 × 2 | 600 × 2 |
| USB | 2 × 3.0 + 8 × 2.0 | 2 × 3.0 + 8 × 2.0 |
| Price | $ 56 ( 8 ) | $ 66 ( 10 ) |
And for fun we have added to the list of subjects of the two members of the family Kabini in a socket performance, the benefit of the official rate A6-6310 processor cores in between, but tested in "normal" mode of memory, ie, with DDR3-1600.
Testing Methodology
To evaluate the performance, we used our method of measuring performance using benchmarksiXBT Notebook Benchmark v.1.0 and v.1.0 iXBT Game Benchmark. All the test results in the benchmark iXBT Notebook Benchmark v.1.0 we were normalized with respect to the results of Pentium G3250 with 8 GB of memory and SSD Intel 520 240 GB, and the method itself integral calculation results remain unchanged. Another program that we like last time was added to the test suite – benchmark Basemark CL 1.0.1.4, designed to measure the performance of OpenCL-code.
This program will "load" work all that you can, so to some extent depends on the speed of memory, but can be clearly seen that in equal conditions A6-6310, nevertheless, not a competitor or senior Kabini, or Bay Trail-D . Even if the "throw" of 10 percent, this is still not enough. But some models it overtakes, and not being a top model in the family. A breakthrough to a new level, no one expected.

Similar to the balance here. But even without adjustment for memory A6-6310 kept steadily between 5150 and 5350 Athlon that in terms of intraspecific competition well: 5150 is the third in a family of productivity and faster than Kabini with a TDP of 15 watts or less.
As we have already noted, some filters Photoshop, we use support OpenCL, a graphics core in A6-6310 operates at a higher frequency than in Kabini. As a result, the processor will still not caught up with the A6-5200, but as close to it. And more importantly – Pentium J2900 he was able to overtake, although in his case teplopaket already comparable to the typical Bay Trail-D.

But the case when A6-6310 managed to beat almost everyone. The reason is clear – although Audition can use multithreading, it makes it very sluggish – our research has shown that an increase in the number of available hardware threads of execution to six times the performance of this program grows only half. What is the reason? From the fact that most of the time to perform one or two processing flow that allows A6-6310 increase its frequency up to 2.4 GHz – much more than the best Kabini. However, he can not do it all the time of the test, and memory limitations in our configuration impact, but performance technology clearly verified. And given the fact that the software mass assignment, "Load" work only one or two cores, car and small truck, this situation can only be welcomed.

Here, all the nuclei involved (except graphics :)) -, respectively, and the performance is proportional to the "basic" frequency. But this is also a good result – it is not A6-6310 older model with a TDP of 15 W in a new family, and compete in our testing it comes with a voracious Kabini.
Another great result from the fact that unpacking archives is still a single-threaded operation – thanks to Turbo Core A6-6310 managed to beat the Athlon 5350, working with faster memory.
Once again, we establish the fact that the first results of this test do not depend on the processor, and from his environment. Well, this part of the SoC is clearly not me 🙂

It is a decent overall result – we got a "second top" Beema model with a TDP of 15 W 25 W compete with Kabini and it was not the slowest 🙂 Not the fastest, however, but it would be so – there was no doubt. And with the new Pentium J2900 APU can at least compare the full – in fact they can be used in the same compact systems.

OpenCL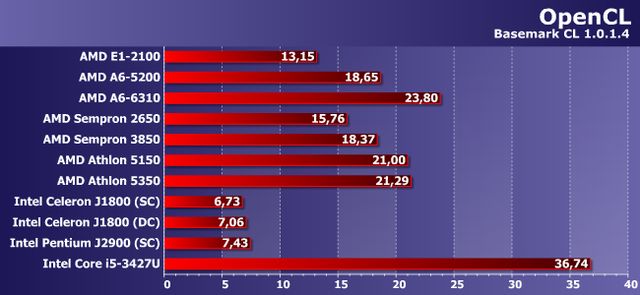 There will be many such code – will Bay Trail-D look very pale. And Kabini is also a concern that even the use of slower memory did not prevent A6-6310 surpass all previous models of the family.On the horizon, however, looms absolutely not new Core i5, but it's a completely different price class.
Game
In games too visible progress GPU (despite the slower memory), but we can also see that all such use surrogate platform suitable even less than some desktop Celeron or banal, especially A4 🙂
In total
What we have in the body? The miracle did not happen, but the modernization of the family is welcome: a new line of performance and economy becomes old. Performance of two generations older models, however, is similar, but there but decreased to quite decent values, suitable for compact systems or netbooks. In general, when used properly, these APU have a greater chance of success. At least partial – "15-inch" laptops on a platform other than a perversion will not name, but the application in this segment processor family Brazos was even greater mockery of common sense. So, as usual, much depends on the manufacturer of the final products – its a part of the work performed, AMD. And good complied, and with the ability to potentially improve the consumer characteristics of other segments – for example, "a socket" AM1 platform: it is obvious that at least a limited teplopakete (a standard for such performance is 25 W) Beema can run a little faster. Radical breakthroughs, however, can not count, but consistently outperform all members of the Bay Trail-D have updated Athlon can happen that some increase competition in the segment of compact computers, making their customers will benefit.
Review processor APU AMD A6-6310 (Beema): a little bit faster and more economical than Kabini new!
updated:
March 26, 2015
author: