Alienware Alpha review: PC game console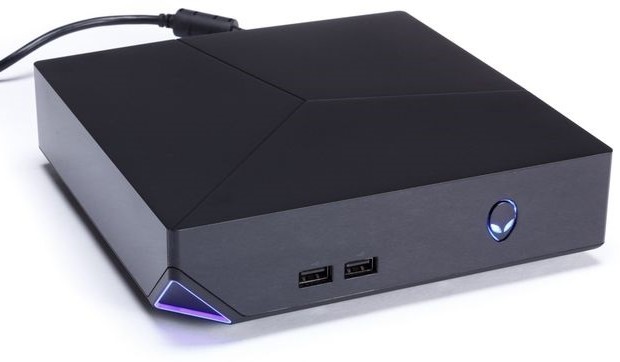 What the Apple Mac mini for luxury lovers Alienware Alpha must be for gamers. A mini computer with potential and actually meant for a place in television.
A game console but on the basis of a PC. That was the vision of the Steam Console, the known distributor of games. Alienware was one of the first manufacturers specifically for this platform presented a computer. The Alpha was already seen E3 last year for the first time and he was shown more often throughout the year. Similarly, we found him at Gamescom and let our parent company Dell just like to sniff the device TEDxAmsterdam.
Although the original device is not much changed, it is the lack of SteamOS become just another device. Because instead of this particular game system is now just supplied Windows. Also on the outside has changed slightly. The prototypes had a glossy exterior, this final model is matte black. The famous alien head is gone. The lighting on the outside, you can adjust to your own desire through AlienFX.
That's not just a black Mac mini alternative is immediately clear when you open the box. Because there is next to the small desktop also a Microsoft Xbox 360 gamepad in the box. So he's made it really nice to go gaming. Neat is that the HDMI cable is not forgotten.
Although Windows is the operating system, start first in a special environment where you can go directly by pressing a button on your game console directly to Steam. Much more functionality is not in there. Too bad, because a Netflix client example here had excellent fit. If you really just want to do boring, you can also switch to the regular Windows desktop. Then it's an ordinary PC. However one with special accessories because Dell does include a carrying case.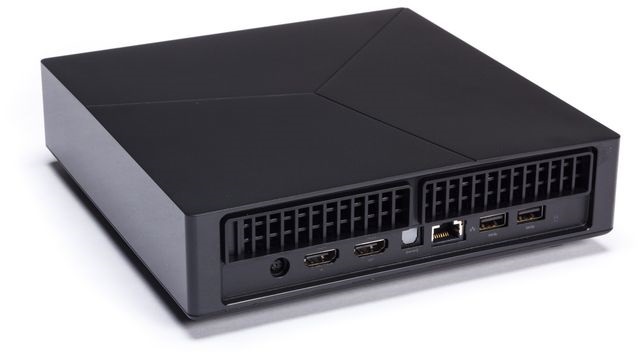 It is, all in all, a fun mini computer to play games on your TV, where Dell has him especially designed for indie games.
Connections
The Alpha has the front two USB 2.0 ports. Need some data quickly pumping then you are at the back: there you'll find two USB 3.0 connectors. It is remarkable that a regular headset jack is missing, but that there is an optical digital connection for a sound connection is available. At the bottom, you'll find in a special box, a USB 2.0 connection, useful, for example, to hide a stick.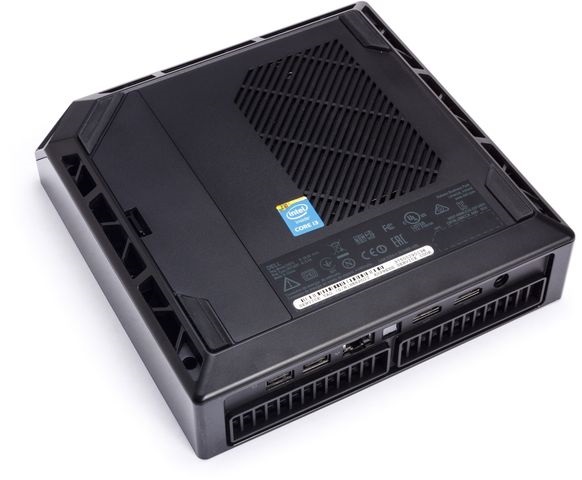 On the back, you'll find two HDMI connections: HDMI output and an HDMI input. Via CTRL-SHIFT-H, you can switch to two sources. Useful if your TV does not have enough inputs.
To connect to the Internet, Dell has built an Intel 802.11ac adapter. The 3160 provides one stream 802.11ac and 802.11n, so up to 433 Mbit / s if you are using the latest network or 150 Mbps router if you are a bit older. The card also provides Bluetooth and then there is a wired gigabit network connection via a Realtek chip available. Upgraded versions are incidentally comes with the Intel 7265 with two streams, good for up to 300 Mbit via 802.11n 867 Mbit / s via 802.11ac.
Core i3 and GeForce GPU
Although it's a bit like a console is positioned, the Alpha is a real PC. You can see that back to the technique. In addition, Alienware has not completely followed the beaten path but has some special choices. The processor is the Intel Core i3-4130T. That's not crazy for this purpose processor. This T-variant has a somewhat lower wattage than the standard processors from Intel (35 watts), which makes it possible to use it in this compact body. In America, it also comes with a Core i5 or i7 same T series.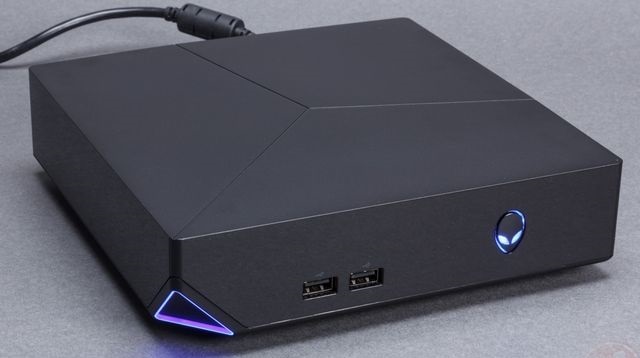 Dell has made an unusual choice for the graphic art. No, that is not to go through the cooperation with Nvidia. But the type of chip, this is in fact designed specifically for use in this configuration. He also called in the driver GeForce GPUs and has 2GB DDR5 memory. The base is a Nvidia GM107, which runs at 1020 MHz. As far as we can see it is a GeForce GTX 860m which has been given a different label for the occasion. In the laptop world, this is seen as a fairly smooth graphics processor, but for heavy Full HD gaming, this chip is not really suitable. If you are anything fewer high demands can be made fully aware of the feet.
Looking further into the box we find two memory slots. One is filled with a 4 GB module and continue Dell has built a hard drive. This 500GB drive from Toshiba is a popular choice among manufacturers of very cheap laptops. Undoubtedly due to the low price, because the performance definitely not convince us. Remarkably, the standard configurations in America (where the Alpha is already sold) always have a hard drive. You have their choice in drives up to 2 TB.
Conclusion
Is this fun or this is fun? Yes, this is fun. A PC game console to your television. Ready, entirely suitable to go directly gaming. We are very enthusiastic. But let it briefly hold that this is the first attempt by Alienware.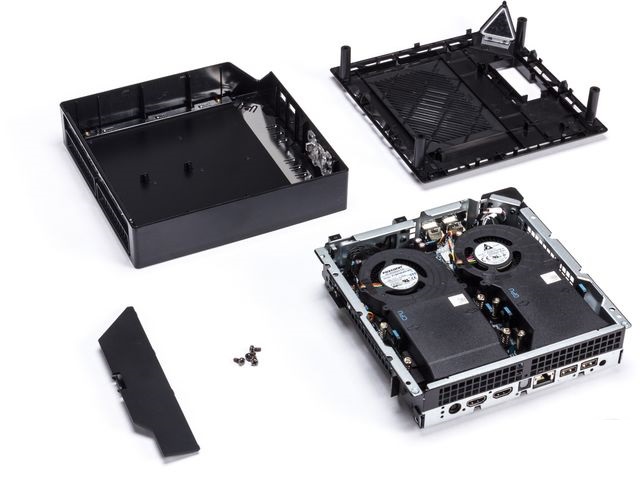 He is well suited to not play too heavy games. That is good to see in our benchmarks: Battlefield 3 is going fine in full HD, but Metro is too heavy. So if you want to go the newest superheavy games then we can say that we have found the Alpha and light weighted. Can it all Day less than it is a nice choice. With some funny features like the included wireless Xbox 360 controller and HDMI input in case your TV has few entries.
Configuration we are less enthusiastic: the slow hard drive makes starting and charging quite slow and we would have liked a better WiFi adapter. Now there are plenty of opportunities to grow, but the disadvantage is that then the price tag is high.
The price for this version is 569 euros and comes in March / April on the market.
Alienware Alpha review: PC game console
updated:
March 3, 2015
author: