Review and testing motherboard Gigabyte GA-Z97N-WIFI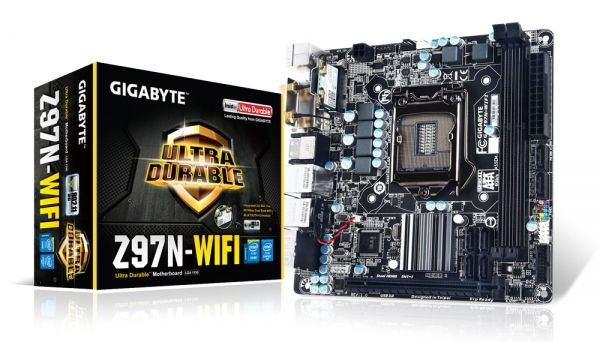 Following the very successful Gigabyte GA-H97-D3H today we examine and test the model Gigabyte GA-Z97N-WIFI . Despite the fact that this motherboard is based on the more advanced and functional chipset Intel Z97 Express, it relates to a standard mini-ITX, and therefore the possibility of its expansion much more modest than that of Gigabyte GA-H97-D3H. However, the manufacturer positions this "baby" as the basis for a compact gaming center, equipped with the most modern network interfaces.
Gigabyte GA-Z97N-WIFI: Specifications
Technical specifications of the motherboard Gigabyte GA-Z97N-WIFI rev.1.0 shown in the table.
Gigabyte GA-Z97N-WIFI rev.1.0
Cpu
Processors Intel Core i7 / Core i5 / Core i3 / Pentium / Celeron
by LGA1150 (fourth, an updated fourth and fifth generation microarchitecture Core)
Chipset
Intel Z97 Express
Memory Subsystem
2 × DIMM DDR3 (non-ECC) is not buffered memory up to 16 GB;
dual-channel memory mode;
Support 1333-3100 MHz;
support XMP (Extreme Memory Profile).
Graphical user interface
The integrated graphics core processor allows you to use the ports HDMI version 1.4a and DVI-I.
Supports resolutions up to 4096 × 2160 pixels, inclusive.
Audio Subsystem
2/4 / 5.1 / 7.1-channel HD-audio codec Realtek ALC892;
Support S / PDIF Out.
Net
interface
Network Controller Intel Gigabit LAN (10/100/1000 Mbps);
NIC Atheros Gigabit LAN (10/100/1000 Mbps).
Wireless module
Wi-Fi 802.11 a / b / g / n / ac;
Bluetooth 4.0, 3.0 + HS, 2.1 + EDR.
Expansion Slots
1 slot PCI Express x16, operation x16 / x8, Gen 3;
1 mini-PCI slot for wireless module.
Interfaces drives
Chipset Intel Z97 Express: 6 × SATA 3 bandwidth of up to 6 Gb / s;
support for RAID 0, RAID 1, RAID 5, RAID 10, Intel Rapid Storage and Intel Smart Response, NCQ, AHCI and Hot Plug.
Interface US
Chipset Intel Z97 Express:
6 USB 3.0 / 2.0 (4 – on the back panel, 2 ports are connected to the appropriate connectors on the system board);
4 USB 2.0 / 1.1 (2 – on the back panel, 2 ports are connected to the appropriate connectors on the system board)
Internal connectors on the system board
connector for a chassis intrusion sensor
6 × SATA 6Gb / s connectors;
4-pin ATX 12 V;
connector for the CPU fan;
group connector in the front panel;
24-pin ATX-connector;
audio connector on the front panel;
connector USB 3.0 / 2.0;
connector for the system fan;
COM-port;
jumper to clear the CMOS;
connector S / P-DIF Out;
connector USB 2.0 / 1.1.
Connectors and buttons on the rear panel
1 PS / 2 port for keyboard or mouse;
4-port USB 3.0 / 2.0;
2-port USB 2.0 / 1.1;
2 Port HDMI;
1 port DVI-I;
2 network LAN-socket RJ-45;
1 optical S / PDIF-output;
2 × SMA-connector for antennas (2T2R);
5 audio jacks (Center / Subwoofer Speaker Out, Rear Speaker Out, Line In, Line Out, Mic In).
IC
I / O-controller
IT8620E
BIOS
2 × 64 Mbit AMI UEFI BIOS with graphical user interface (SD / HD / Full HD);
support DualBIOS;
PnP 1.0a, DMI 2.7, WfM 2.0, SM BIOS 2.7, ACPI 5.0.
Proprietary features, technologies and features
Support APP Center;
proprietary utility Q-Flash;
Support Xpress Install;
Support Smart Switch;
support proprietary GIGABYTE On / Off Charge;
proprietary utilityBIOS;
proprietary function EZ Setup;
proprietary function Smart Recovery 2;
proprietary utility EasyTune;
proprietary utility USB Blocker;
Smart TimeLock;
Fast Boot;
support cloud station (Cloud Station);
commentator information system.
Operating system
Microsoft Windows 8.1 / 8/7
Form factor, dimensions (mm)
Mini-ITX, 170 × 170
Gigabyte GA-Z97N-WIFI: Packaging equipment
The compact box is framed in the standard style of Gigabyte. Basic information about the board set out on the front side and the back side to tell the potential buyer all the features of the device, its advantages and technical characteristics.
At one end of the box is glued sticker with the serial number of the board and its transfer characteristics.
The bundle includes a plug interface panel, two SATA-cable latches, installation manual, antenna Wi-Fi-module and two CDs with software.
Separately want to mention very stylish dish with two gold-plated connectors for connection.
The board is manufactured in Taiwan and overseas online stores worth 138 dollars. In Russia, at the time of publication of the article, this model can be bought for 6,600 rubles, while the average price was 8 600. The warranty period – 3 years.
Gigabyte GA-Z97N-WIFI: Design Features
Gigabyte GA-Z97N-WIFI – very compact board relating to the standard mini-ITX. In other words, its dimensions are 170 × 170 mm, so that as we learn GA-Z97N-WIFI highly penetrating all respect for the engineers, who succeeded on such a small piece of black PCB to create such a functional system board without having to move into the third dimension , which benefited in ASUS.
The downside looks pretty standard: see here can only be a few of the plate and stabilizing elements.
For mounting board inside the system case to the PCB has four holes.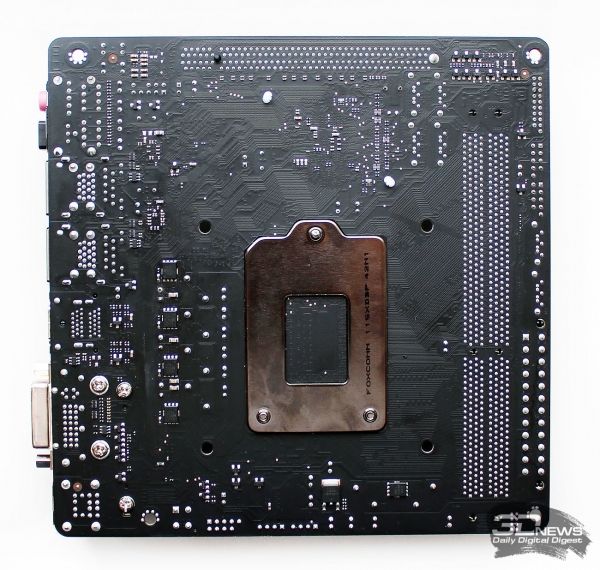 On the interface panel, you can see the universal PS / 2-out, adjacent to the two ports USB 2.0, video output DVI-I and two slots for Wi-Fi-antenna, two video outputs HDMI, four-port USB 3.0, two network ports LAN (RJ-45 ), as well as a panel with five audio outputs and one optical S / P-DIF out.
We supplement the visual inspection instruction manual and arrangement of its basic elements.
Processor socket LGA1150, coupled with the Intel Z97 Express chipset supports all of the Intel Core family of fourth-generation Haswell.
As previously discussed in our model of Gigabyte GA-H97-D3H, connector pins are gold plating thickness of 15 microns, five times the thickness of the layer model and improves the reliability of connections, corrosion protection and stability.
In addition, the CPU power is also used solid capacitors, MOSFETs with low resistance and choke with ferrite core, that is, all those components, which are equipped with the flagship motherboards Gigabyte record for overclocking.
The board has two DIMM slots for memory modules of the standard DDR3 (non-ECC), capable of operating in dual channel mode with a maximum volume of 8 GB per module.
Officially supported memory modules 1333 and 1600 MHz and XMP-profiles, but the board allows to overclock the memory frequency of 3100 MHz. List of official memory modules can be downloaded from here .
The functionality of the Intel Z97 Express chipset such that Gigabyte GA-Z97N-WIFI is not experiencing problems with the number of lines of PCI Express.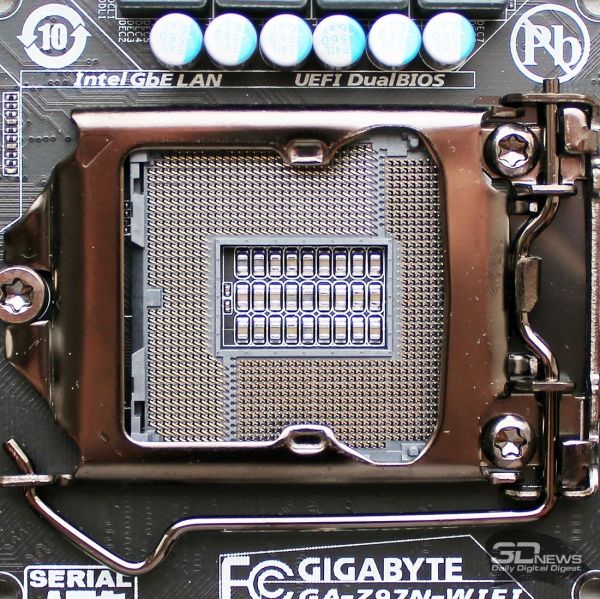 The lower edge of the board mounted connector PCI Express 3.0 x16, implemented by the controller processor Haswell.
As you know, when the discrete graphics card is not used, the video output of the motherboard Gigabyte GA-Z97N-WIFI can be simultaneously connected to three monitors with a maximum resolution up to 4096 × 2160 pixels.
Switching between video outputs by a pair of chips PTN3360DBS production NXP Semiconductors.
Power is provided by a 24-pin and 4-pin connectors.
The use of fiberglass PCB with a new generation of more dense weave nodes, as well as built-in protection against voltage surges and power outages within the concept of Ultra Durable should provide Gigabyte GA-Z97N-WIFI stability and durability even under extreme loads.
The power supply system is built on the four-processor scheme. Two additional phases allotted appear on memory and power connections are wired from the top edge of the PCB.
For power management responds digital PWM controller ISL95820CRTZ Intersil .
Next to the slots for RAM soldered connectors for USB 2.0 and 3.0, as well as shoes with connectors for the front panel.
For the organization of the disk subsystem Gigabyte GA-Z97N-WIFI equipped with just six ports SATA-3 with a capacity of up to 6 Gb / s, RAID 0, RAID 1, RAID 5, RAID 10, Intel Rapid Storage and Intel Smart Response, NCQ, AHCI and Hot Plug.
For function monitoring, fan control and PS / 2 port and COM board controller responds ITE 8620E.
Sound is implemented through the HD-audio codec Realtek ALC892, supports audio formats 2/4 / 5.1 / 7.1.
In addition to standard Gigabit LAN-controller Intel WG1217V, the board controller Qualcomm Atheros 8161.
Finally, a key feature of the motherboard – Support Wi-Fi networks and Bluetooth 4.0 – implemented controller Intel Dual Band Wireless-AC 7260 Plus Bluetooth, installed in slot mini-PCI Express.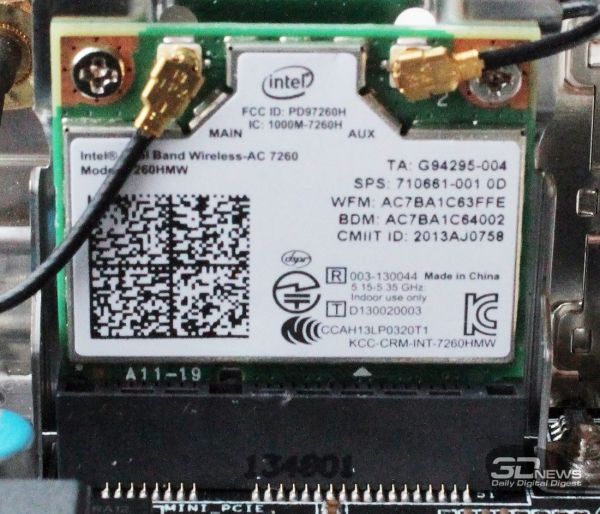 It supports wireless standards 802.11 a / b / g / n / ac, as well as technology transfer audio and video Intel WiDi. This controller is capable of providing data rates up to 867 Mbit / s and work in dual-band 2.4 GHz / 5.0 GHz.
We add that the board implements two chetyrёhkontaktnyh fan connector and two chips BIOS (technology Gigabyte DualBIOS).
Review and testing motherboard Gigabyte GA-Z97N-WIFI
updated:
January 30, 2015
author: