Review Motherboard Asus Crossblade Ranger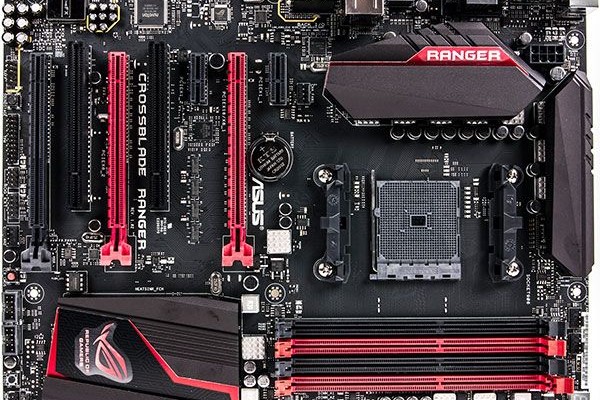 We have for a long time did not pay much attention to the motherboards for processors AMD, as this segment of the market is too little of interest: Platform AM1 too easy and cheap to expect output will mainboard for it, and update FM2 to FM2 + was not too significant ( again – and these processors are tightly left in the budget segment, which could not but affect the cost). But absolutely ignore the relevant products from all manufacturers are not too justified. Especially in an environment where top models with LGA1150 or, especially, LGA2011 are too expensive in terms of many buyers, rising after the appreciation of the dollar. And the video went up, which increases the attractiveness of processors for FM2 + – they are provided for the benefit of a very high-quality video core, allowing more or less tolerable to play many games. From the point of view of "serious, but thrifty gamer" advantage of this platform is the existence of a range of processors of the Athlon X4 – no graphics core, but with processor performance, not too inferior to Intel Core i3, but for the price of younger Pentium. In general, the popularity of the respective boards can not be increased, but not necessarily the cheapest – the use of the platform allows the budget, lying in a sane price range, do not indulge in any nice extra features.
For example, in the family of Asus ROG (Republic Of Gamers) is not only a model of the type recently reviewed Rampage Extreme V , at the cost of almost 30 thousand rubles, but also much more affordable Crossblade Ranger – three times cheaper. However, and 10 thousand – not too little, to say the least: a simple board on the same chipset, you can buy another two to three times cheaper. However, within the family ROG Crossblade Ranger – the cheapest solution. And it needs a "budget ROG»? It is clear that, in this case, the buyer is guaranteed to get big and nice box, complete set of cables and possibly adapters (if necessary per se), but it all becomes after assembly of the computer. Mousepad or a sign "Do Not Disturb" on the door handle (also familiar elements complete line of boards ROG) we honestly did not think it necessary, and to build. And what is really useful? Let us estimate.
Configuration and features of the board
Summary table of the characteristics of the board Asus Crossblade Ranger is listed below, and hereafter we will consider all of its features and functionality.
Supported Processors
Trinity, Richland, Kavery
Processor socket
Socket FM2 +
Chipset
AMD A88X
Memory
4 × DDR3 (up to 64GB)
Audio Subsystem
Realtek ALC1150
Network Controller
Intel I211-AT
Expansion Slots
2 × PCIe 3.0 / 2.0 x16 (version depends on the CPU model)
1 × PCIe 2.0 x4 (in the form factor PCIe x16)
2 × PCIe 2.0 x1
2 × PCI
SATA-connectors
8 × SATA 6 Gb / s
USB-ports
6 × USB 3.0
8 × USB 2.0
The connectors on the rear panel
1 × HDMI
1 × VGA
1 × DVI-D
4 × USB 3.0
2 × USB 2.0
1 × RJ-45
1 × S / PDIF (optical yield)
1 × PS / 2
6 × minijack audio connector type
Internal connectors
24-pin ATX power connector
8-pin ATX 12V
8 × SATA 6 Gb / s
5 × connectors for 4-pin fans
1 × connector USB 3.0 ports
3 × connectors for USB 2.0 ports
3 × connectors for temperature sensors
1 × connector panel Asus OC
Form Factor
ATX (305 × 244 mm)
Average price
T-10995932
Retail offers
L-10995932-10
Form Factor
Fee Asus Crossblade Ranger made in the form factor ATX (305 × 244 mm) and can be installed in the housing, supported by the motherboard form factor ATX or larger in size. For mounting board has 9 standard holes.
Fee Crossblade Ranger is based on the top chipset of AMD – A88X, different from the earlier A85Xonly support processor family Kaveri. Actually, errors in FCH just forced the company to move from FM2 FM2 +, and an updated platform support new processors, as well as any previous model families for FM2.Chipset and processor socket
Memory
To install the memory modules on the motherboard Asus Crossblade Ranger has four DIMM-slot that allows you to install two DDR3-module for each of the two memory channels with a maximum of up to 64 GB (after the sale of the corresponding modules). Memory slots belonging to different channels, marked by different colors (black and red), which is useful when building the system.Traditionally, Asus, they are latched on only one side, more convenient since even the longest graphics card will not interfere with access of the DIMM. Note also that the motherboard supports the memory not only with XMP-profiles, but also "alternative» AMP-profiles (AMD Memory Profile).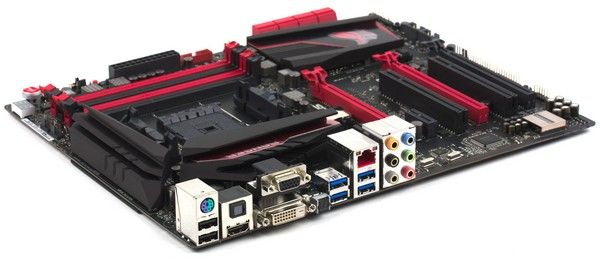 As for officially supported modes, the Asus is not limited to DDR3-2133 (nominally supported by the older models of processors for FM2 +) and adds to the list of possible frequencies as 2200, 2250, 2400 and 2666 MHz. Unfortunately, to check their work we could not, because all of us are tried modules even at a frequency of 2133 MHz did not provide the normal passage of gaming tests. In general, despite the output of multiple versions of BIOS, is only intended to improve the stability of the system, yet work with memory modules leaves much to be desired. Perhaps the problem can be solved by increasing the memory voltage and "Northbridge", but this does not make it non-existent – in the end, so a regular regime should operate normally.
Expansion Slots
To install the graphics card or expansion card on the motherboard, Asus Crossblade Ranger has three slots form factor PCI Express x16, two PCI Express x1 slots and two slots PCI. Note that seven slots – is the maximum for ATX motherboard format (so that on many models found fewer of them), and support for PCI is currently the nice feature mostly just platforms AMD (the benefit is provided by the chipset), useful for those who in the modernization plans to keep the old computer expansion card.
Two slot form factor PCIe x16 (they are marked in red) are made using 16 lines provided by the processor. Accordingly, the CPU dependent and supported by their standard – PCIe 3.0 when installing the APU line Kaveri and PCIe 2.0 in the case of older models. As usual, one of the slots (closest to the processor socket), and can operate in a mode x16, and mode x8 (to switch modes used multiplexers / demultiplexers lines PCI Express 3.0 ASMedia ASM1480), and the second one always runs at x8. Accordingly, if activated, only the first slot (closest to the processor), it will operate at x16, and if at the same time both slots are utilized, they will operate at the speed of x8. The third slot form factor PCIe x16 (black) always operates at x4 speed and implemented using four PCI Express 2.0 lanes A88H chipset (in fact, this PCIe 2.0 x4 slot form factor PCIe x16).
When two or three discrete video card supports technology AMD CrossFireX. It is possible to use and the use of a single graphics card "in a couple of suitable" to the processor GPU. Technology Nvidia SLI motherboard Asus Crossblade Ranger (just like any other board on A88H) does not support.
Two PCIe x1 slots are implemented using two PCI Express 2.0 lanes chipset. What is worth noting – both slots are slots, which allows to install them, and cards with "wider" than x1 interface (but, of course, will still be used only one line PCIe).
Video Connectors
To connect monitors and other display devices on the rear panel are ports HDMI 1.4 (a maximum resolution of 4096 × 2160 @ 24Hz or 1920 × 1200 @ 60 Hz), DVI-D (Dual Link – with a resolution up to 2560 × 1600 @ 60 Hz) and VGA (D-Sub).
SATA-ports
For connecting hard drives or optical drives on board has eight ports SATA 6 Gb / s, which are implemented on the basis of the integrated chipset controller. Naturally, all eight support the ability to create RAID-arrays levels 0, 1, 5, 10.
USB-connectors
To connect all kinds of peripheral devices on the motherboard provides six USB 3.0 ports and eight ports USB 2.0. Recall that the chipset AMD A88X supports up to 16 ports USB, of which USB 3.0 – four. Thus, additional controllers. More precisely, one: on the board used the familiar from other models of Asus ASMedia ASM1042 controller interface PCIe 2.0 x1, which implements a two-port USB 3.0, derived on the rear panel.
Another two USB 3.0 ports and two USB 2.0 ports on the rear panel supported by the chipset. To connect the other ports on the board has one connector USB 3.0 connector and three USB 2.0.Share with third connector plug ROG Extension, which is used to connect an optional (sold separately) control panel OC Panel, designed for overclocking.
Network interface
To connect to a LAN segment on the board implemented a gigabit network interface controller-based Intel i211-AT.
Note that the board uses RJ-45 connectors of a new type (technology LANGuard): they use capacitors with premium components and to protect the connector from electrostatic interference (ESD Guard) and bursts of voltage.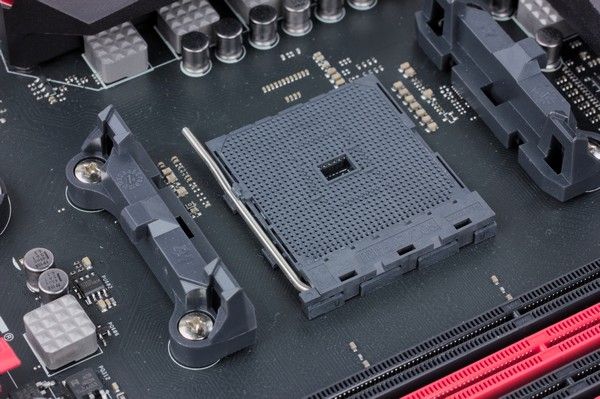 The card is supplied special utility GameFirst III, which allows you to configure network traffic priorities for various applications.
Additional Features
If we talk about the extra features of the board, it is worth noting the presence of the power button and reset on the PCB. In addition, there is a button ClearCMOS and traditional button MemOK. On the rear panel is a button USB BIOS Flashback, which allows you to easily update the BIOS is using the USB-stick. There is also a POST-code indicator and two new buttons that are present only on the game board: KeyBot and SoundStage.
KeyBot button allows to activate the same function, which is supported by all the boards ROG: it allows you to program the individual keys on the USB-keyboard. This hardware and software solution, and on the board for the implementation of this function uses a separate chip (microprocessor KeyBot). To take advantage of this opportunity, you need to connect the keyboard to the USB-port.
As for buttons SoundStage, it is part of the new audio subsystem series motherboards Asus ROG.This button allows you to adjust the audio subsystem under running application (FPS, Racing, Combat, Sport). However, if the board is installed in the cabinet, then use this button will be problematic. However, there is a new utility Sonic SoundStage, which allows you not only to select the profile you want, and customize it, as well as utility Sonic Studio, which allows you to adjust audio effects. Note that the basic set of tools designed to series ROG, we have repeatedly described, so once again sharpen attention on it we will not – enough to read any of the articles already published.
Supply system
Like most boards with the claim for overclocking, this is a 24-pin and 8-pin connectors for the power supply.
CPU voltage regulator on the board is an 8-channel (6 channels for power computing and graphics processor cores and two – for the integrated "Northbridge") and is based on the PWM-controller Digi + labeled ASP1107. Note that the MOSFET-driver disposed on the back side of the board and the heat dissipating metal plates are closed.

Cooling system
To cool the MOSFET-transistor voltage regulator on the CPU board has two radiators, connected heat pipe, which are located close to the CPU socket. On the reverse side of the board, as already stated, on the MOSFET-driver has two heat dissipating plates. In addition, another heat sink (as usual, the decorative rather than desired) is mounted on the chipset.
Audio SubsystemIn addition, for an effective system of the heat sink on the board, there are two four-prong (CPU_FAN, CPU_OPT) to connect the CPU fan and three four-contact connectors for additional case fans.
On all new motherboards family ROG has been further developed audio subsystem SupremeFX.Besides what has already been implemented earlier version SupremeFX 2014 added a new amplifier Sonic SenseAmp, which automatically determines the impedance headphones (32/150 ohms or higher) and adjusts to the load amplifier.
The basis is audipodsistemy HDA-codec Realtek ALC1150. On the rear panel has six audio connectors type mini jack (3.5 mm) and an optical connector S / PDIF (output). Himself codec Realtek ALC1150 closed metal casing with an inscription SupremeFX, and all the elements audiopath isolated at the PCB from the other elements of the board.
In total
As already mentioned in the beginning of the article, Crossblade Ranger stands apart as a family Asus ROG, and in the segment of motherboards for FM2 +. C first all is clear: it is the only model in the series to an integrated platform AMD. As for the second, it is a model rather expensive – much more expensive than most of the offerings on the market. And comparing it with theRampage Extreme V , we have a few slukavili: in stock Asus has a relatively "low cost" model line ROG. For example, comes to mind Maximus Ranger VII , comparable in price with our heroine, despite the initially more expensive platform. But just as the high price overclock the CPU under LGA1150 can do a disservice to "budget accelerates" board model, especially since some functional features Crossblade Ranger is not implemented in Z97 motherboards at all: for example, the same support PCI, which can greatly affect the buyer's choice , plans to keep the old system when you upgrade your sound card with this interface – progress in this area for a long time is not observed, so that the new card is not better than the old. On the other hand, it is rather a particular platform, which can be obtained from the cheaper boards, and improved built-in audio system user "Digital Audio" is certainly not necessary.
In short, the idea itself of development Crossblade Ranger originally compromise: it is an expensive fee for fiscal platform. It may be of interest to those who plan to purchase the type of processor Athlon X4 860K or 760K paired with a graphics card just above average (for example, based on the AMD Radeon R9 280/285) with a potential acceleration of all that is possible, good is not prohibited by the manufacturer: ) In this case, the buyer will also be implicitly push the idea that everything is feasible and cheaper to pay, but for aesthetic satisfaction or (more practical option) quality implementation of network capabilities and can pay. But a massive decision, we believe that the board this level will not ever: still FM2 + – a platform for low-cost highly integrated systems, so there is no need placer slots (and full-size ATX, respectively), and the high price generally cuts the idea in the bud .
Review Motherboard Asus Crossblade Ranger
updated:
March 12, 2015
author: