Review Kingston SM2280S3 / 120G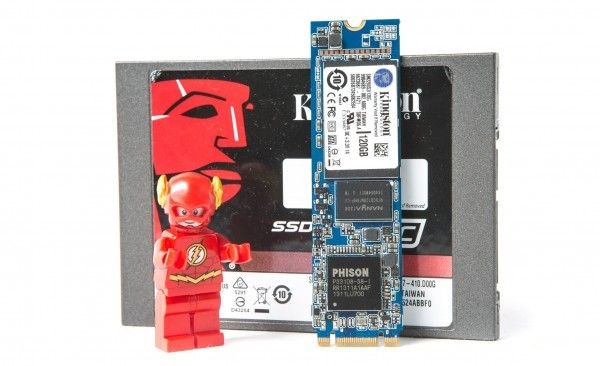 Who would have thought fifteen years ago, that the size of the drive will be with chewing plate, and its speed and the volume will increase tenfold. Yes, then this was weak imaginable, everything was a little different. But you can not argue with the fact that past times were much more interesting for those who missed it, we have Club "Keepers of Legends" , I think many will find there a lot of interesting things, and certainly a lot of interesting people. But I suggest that after a few lyrical retreat in the introduction, back to today's hero, they will be SSD drive Kingston SM2280S3 / 120G made in the form factor M.2 with the volume of 120GB.
APPEARANCE AND SPECIFICATIONS
Happy or not, but the description of the package today will not, because it simply does not, apart from a plastic box on a memory module, which came to drive for testing. Kingston SM2280S3 / 120G is the solution for OEM manufacturers, just so it is positioned. Yet Kingston SM2280S3 / 120G can be found in retail stores.
M.2 connector replaces mobile mSATA, which is by mobile devices is widely used on the motherboard. MSATA problem was that he simply limited to the speed of 600MB \ s, everything depended to any SATA controller he was tied, and by and large we can say that he is not caught. It was replaced by M.2 already involved as many as four PCI-E lanes and had a greater bandwidth.M.2 Found apply not only in laptops, but also motherboards. Very often you can find it on motherboards based on chipset Z97 and X99. He also found on some motherboards are based on the chipset Z87, but as a rule they do not line M.2 uses PCI-E, SATA III and the usual speed and it just limited to 600MB \ s.
Kingston SM2280S3 / 120G has a size M.2 2280, it follows that its length is 80mm, as in nature, there are also more compact version, but still in the lineup Kingston has solutions only this format.

Storage Controller Phison PS3108-S8, which is quite unusual for Kingston. Usually companies use storage controllers SandForcre, but SM2280S3 / 120G manufacturer has decided to move away from this tradition and take advantage of the controller production Phison.
As a buffer in the storage chip is used in volume 256 MB DDR3-1333 production company NANYA marked HNT5CB128M16HP-CG.
On the reverse side of the PCB soldered two blue chip memory in BGA package. Overall, the controller is wired to four of these chips, another couple is on the outside under the sticker.
The manufacturer uses its chip production, with marked FA32B08UCT1-BC.
At Kingston while there are a couple of drives in the form factor M.2, SM2280S3 / 120G SM2280S3 / 240G, 120GB and 240Gb respectively, below is a table with their technical characteristics.
Kingston SM2280S3 / 120G is much more compact than conventional 2.5 "SSD. On the test motherboard MSI Z97 MPOWER, it is fixed and set screw between PCI-E slots.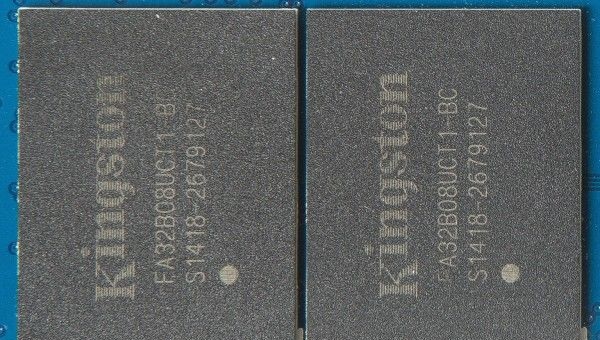 Additionally, the speed of the device has been tested on the motherboard ASUS Maximus VI impact based on the chipset Z87.Looking ahead, we say that the results were identical to the results on the motherboard MSI Z97 MPOWER.
KINGSTON SSDNOW KC300 SKC300S3B7A / 240G. TESTING
Adversary Kingston SM2280S3 / 120G will be the visit to our Kingston SSDNow KC300 SKC300S3B7A / 240G, which previously showed quite good results.
To test Kingston SM2280S3 / 120G test stand, we used the following configuration:
Processor: Intel Core i7 4770K
Motherboard: MSI Z97 MPOWER
RAM: 2x8Gb Kingston Fury
Disk subsystem:

Plextor PX-256M5S (Stistema).
Kingston SM2280S3 / 120G
Kingston SSDNow KC300 SKC300S3B7A / 240G.

Power supply: Corsair RN650 650W
Microsoft Windows 8.1 Professional + latest updates.
For comparison were selected the following applications: PCMark 8, AS SSD Benchmark 1.7 and CrystalDiskMark 3.0.3 x64 (random and sequential test modes). The results can be found on the charts, and below is a screenshot of AS SSD Benchmark 1.7 with subtests and CrystalDiskMark 3.0.3 x64 modes random and consistent work with the data.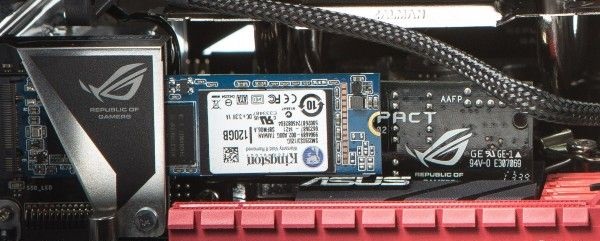 OUTPUT
Performance Kingston SM2280S3 / 120G is good, he successfully bypassed the normal drive based on SandForce. Of course, he has not shown prohibitively high rates but, for all its value in the normal range. But do not forget that Kingston SM2280S3 / 120G is the first test of the connector for M.2, so we will wait for new products.
If you have a motherboard connector M.2 then you can safely consider buying such a drive, given that its cost may be lower than similar solutions in the format of 2.5 ". Just M.2 is a worthy receiver mSATA, with a large backlog of speeds. And that means that we still have not once appear in the detailed test drives form factor, and I hope they will have higher speeds.
Review Kingston SM2280S3 / 120G
updated:
April 2, 2015
author: