Presentation of new notebook and desktop PCs Asus ROG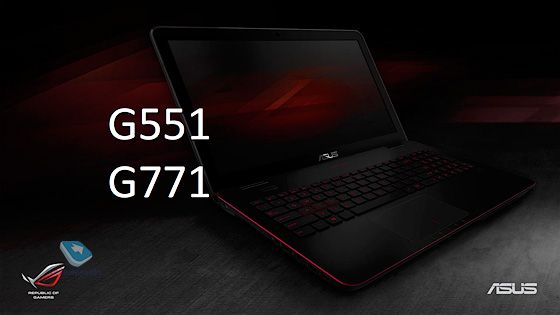 Introduction
As you probably know, I myself am not a big gamer, but about the series RoG even know me. It is mainly famous for its gaming notebooks, but Asus RoG to form a loyal audience and various brand accessories. This year they added and compact desktops.
Updated laptops
Let's start with laptops. The company introduced two models: Junior and Senior Asus G551JM Asus G751. To begin with let's talk about the first one.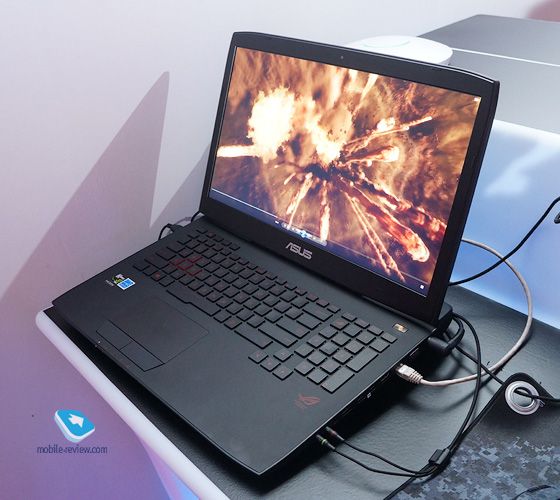 Junior model is equipped with 15.6-inch display with a matte finish and IPS-matrix. Display resolution will vary from version (1366×768 or 1920×1080 pixels).
Responsible for the graphics card NVIDIA mobile 800 series. Actually, we have a cost-effective solution, and therefore used the card last generation (GTX850m / 860m), however, even they recently were among the most productive solutions for laptops. Among the processors say nothing special, here the traditional Intel Core i5 / i7.
One of the interesting features of the manufacturer notes that there are dedicated keys WASD, large touchpad convenient and high-quality acoustics with fine-tuning the sound.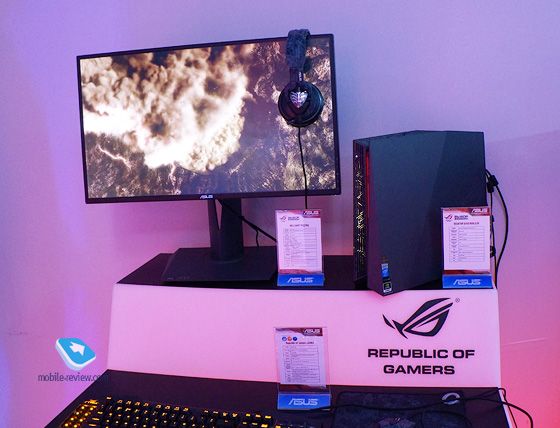 Sales Asus G551 appears at a price of 50,000 rubles. It is clear that for the modification and the powerful have to pay more.
The older G751 more aggressive design, made in the style of a fighter "Stealth", in any case, it is the description used in the description of its appearance. However, it is difficult to argue with them, looks G751-th really impressive: sharp beveled edges, a combination of black and red colors, all in the appearance of this notebook is aimed at underlining its gaming destination.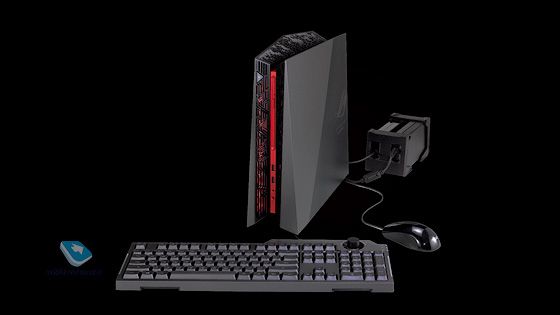 In contrast to G551, there has been used for more serious graphics from NVIDIA, or rather, I-mobile 900 series (in versions G751JY / JT NVIDIA GeForce GTX 980m / 970m, and G751 – GTX 860m). I've already talked about its features in a separate article.
Quality acoustics and WASD-keys are also still there, plus it adds a button Steam and several "hot" keys, which can store a certain action.
Personal computers
In addition to the expected upgrade gaming notebooks, the company also presented and gaming PCs. Announcement of gaming PCs I was very surprised, I always thought that these computers users always collect yourself, but it is not. The company showed two such PC: G20 and GR8.
Senior G20 looks like a regular desktop PC, but it is an important feature of the design. As laptops in this series, he looks, of course, brutal and very cool, I think that gamers will enjoy. As a "wow effect" the manufacturer has added to the front of the backlight having (at their request) eight million different shades.
Advantage of this efficient cooling secrete PC and quality components. In Asus proudly say that G2 (and GR8) – it is a work of engineering. In addition, the manufacturer also notes and quiet operation of the computer.
By the way, it's still a personal computer, so you can easily upgrade their own hands.
Sales ASUS ROG G20 will begin in mid-December at the price from 64 990 rubles.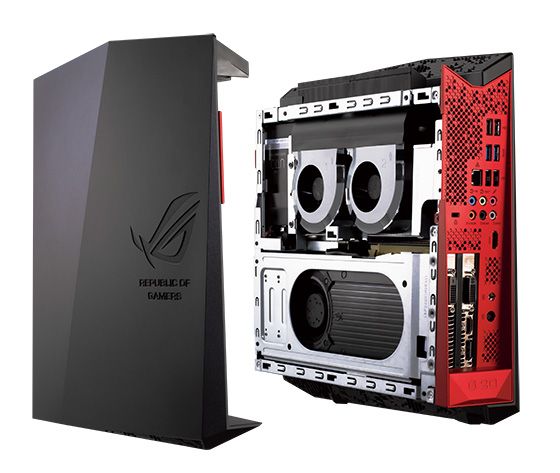 Junior Asus ROG GR8 is interesting primarily for its size, in fact, a real computer, but the size is not much larger than normal nettop. In fact, it was referred to as many computers as the game console. At the presentation of the leading shows how easy it can be packed into a backpack, looked impressive. Dimensions affected the power, so it is worth NVIDIA® GeForce GTX750Ti 2GB. Information about the price and the start of sales, unfortunately unavailable.
Conclusion
On the stand were shown and various accessories, the usual paraphernalia ROG: mice, keyboards, headsets, and even backpacks. By the way, I wonder if you would read about them? I'm not a great expert in gaming PCs, but with pleasure I can tell branded accessories.
Again, I myself am not a professional gamer, but as a fan of the idea of me to buy a fully assembled computer at home in the corporate design (even with the overpayment) very much, still gaming audience is extensive, it is not necessarily advanced players (although a good computer can now collect even fans).
Presentation of new notebook and desktop PCs Asus ROG
updated:
December 21, 2014
author: