PC market: HP close to Lenovo, Apple is aiming for a place Acer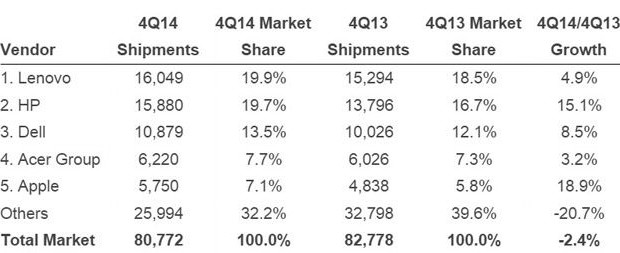 Systems on the market in the collection of late there is a clear tendency to concentrate the lion's share of income in the hands of a few companies, while the second-tier manufacturers generally are tightening their belts or even go out of business. The figures speak for themselves: Lenovo, HP, Dell, Acer and Apple in the IV quarter of 2014 increased the supply of branded PCs by 4.9%, 15.1%, 8.5%, 3.2% and 18.9% respectively, while other companies "dove" by 20.7% as compared with the same period of 2013.
Thanks to active actions in the US market, as well as projects in the Asia-Pacific region and Africa, HP Corporation took the initiative in the confrontation with Lenovo and now it is separated from the competitor only 169 thousand. Shipped computers or 0.21%. In third place remained stable Dell, but Acer is already feeling pressure from Apple and its hi-end systems Mac, iMac and MacBook.
According to analysts IDC, good statistics IV quarter of companies are obliged to brisk sales "Chromebooks" and mobile PCs with a free operating system Windows 8.1 with Bing.
PC market: HP close to Lenovo, Apple is aiming for a place Acer
updated:
January 13, 2015
author: