NHK show 350-inch screen 8K surround soundtrack (22.2 channels)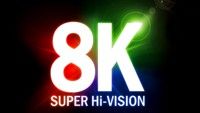 Japanese Broadcasting Corporation NHK plans to start broadcasting in the format of Super Hi-Vision (8K) next year, hoping to make it massive in 2020, when the Tokyo Olympic Games will be held.
In time for the schedule, the company has accelerated the development of appropriate. On the current status of the project will assess the exposure NHK exhibition NAB2015, which opened a few days in Las Vegas.
In particular, NHK intends to show a 350-inch screen 8K surround soundtrack (22.2 channels). In addition, the equipment will be shown for the preparation of materials in the resolution of 8K, 85-inch LCD display and 8K system for broadcasting permission 8K.
For the needs of television developed two light and compact camera models 8K. One focused on the broadcast of sporting events and in the studio, the second is equipped with its own recording device, and is the first portable camera 8K.
In addition, the exhibition will include the world's smallest display resolution of 8K, which uses a technology called OLED. Its size – 13.3 inches diagonally.
Source: CDRinfo
NHK show 350-inch screen 8K surround soundtrack (22.2 channels)
updated:
April 9, 2015
author: