Review and testing video cards EVGA GeForce GTX 960 SuperSC ACX 2.0+ and Gigabyte GeForce GTX 960 Mini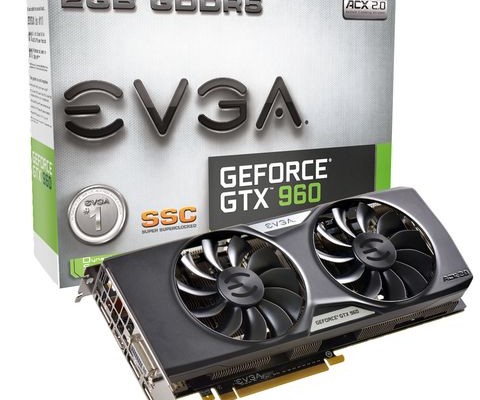 Laboratory continuing series of articles devoted to the line of graphics cards GeForce GTX 960. The next two versions of the non-reference design issued by companies EVGA and Gigabyte. These models are united by one thing – they are based on GPU GM206, the rest of these solutions are completely different.
The first participant survey, EVGA GeForce GTX 960 SuperSC ACX 2.0+, equipped with the original cooling system and factory-overclocked. In contrast, as well as having been in our hands before Gigabyte GeForce GTX 960 G1 Gaming, video card Gigabyte GeForce GTX 960 Mini is designed for installation in a HTPC and systems based on Mini-ITX.
Thanks to our partner – company Regard, we managed to get two interesting trends. It remains only to identify their strengths and weaknesses, to lay down a more objective opinion.
Review EVGA GeForce GTX 960 SuperSC ACX 2.0+
Full name: EVGA GeForce GTX 960 SuperSC ACX 2.0+, manufacturer's code: 02G-P4-2966-KR.
Packaging and delivery
The novelty comes in a package with a predominance of white and gray shades, covered with plastic wrap to prevent it from mechanical and other damage during transport. On the right side is attached liner, briefly talk about the benefits of the cooling system ACX 2.0+, get some innovation, as evidenced by the "+" in the title. But the possibilities of CO will be discussed later.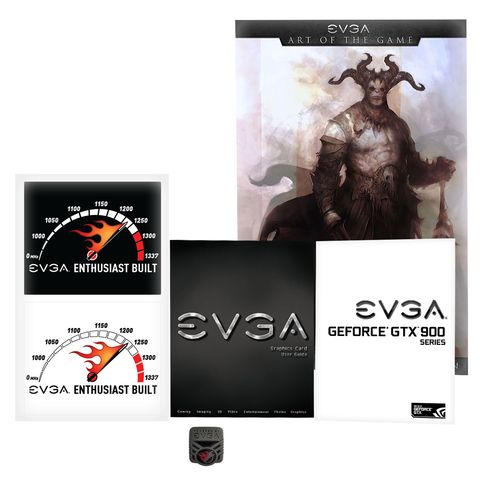 The reverse side is reserved for the classical description of the technical component of the graphics card with the mention of old and new technologies and features. There's also a list supplied, as well as the fine print told about the company EVGA and nuances of 3D Blu-Ray.
In the upper right corner to place the image graphics accelerator EVGA GeForce GTX 960 SuperSC ACX 2.0+. Below that is a window through which one can see a printed circuit board with a sticker telling the product serial number and country of origin.
On the side tabs provides a modest list of recommended requirements, among which the first place is the power supply with a capacity of at least 400 watts, which will not think about when buying a PSU upgrade the video card in this series.
The liner can be easily, making it possible to photograph more closely. Producer talks about the new design of the cooler and the technology used in the manufacture of the cooling fans. Judging by his statements, they are more productive and quieter than their counterparts. Benefit soon we'll find out.
Large print at the bottom of comparative characteristics after the test with the reference model. Since the reference version of GeForce GTX 960 has been submitted, the opponent was a class above – GeForce GTX 980.
According to the traditions of the video card was placed in a box of blister transparent plastic bottle.
It is located in between the two plates and secured with clamps.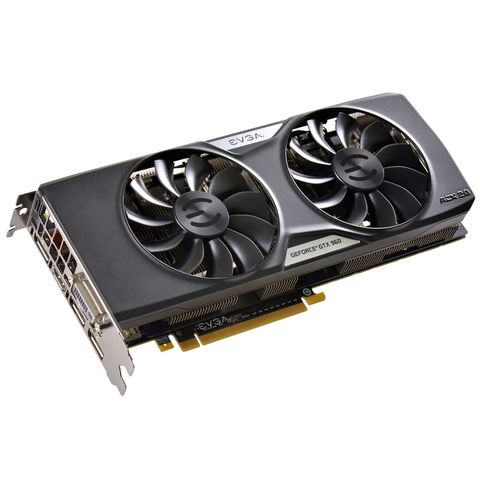 Supplied packaged in all possible and hollow compartments. It includes:
User Manual (brief and extended version);
CD with drivers and software;
Power adapter type Molex -> 8-pin;
Video output adapter DVI -> VGA;
Corporate magnets;
The leaflet with the power supply.
Of course, it was not without a poster with the company logo and a picture of EVGA robot. Honestly, it would be better to leave the old menacing monster.
Appearance and size
Graphics card EVGA GeForce GTX 960 SuperSC ACX 2.0+ inherited from older solutions original cooling system, which is based on simple and basic principles – the most effective and simple plain view.
The entire front portion closes the plastic casing with two small inserts of the company and the series to which it belongs. For active cooling meet two rather large 90 mm fan, through which looked through the massive radiator and three heat pipes.
On the back of anything interesting: model lacks rear, which, in turn, offered to buy at the official site EVGA for a fee.There are two memory chips made by Samsung and another seat.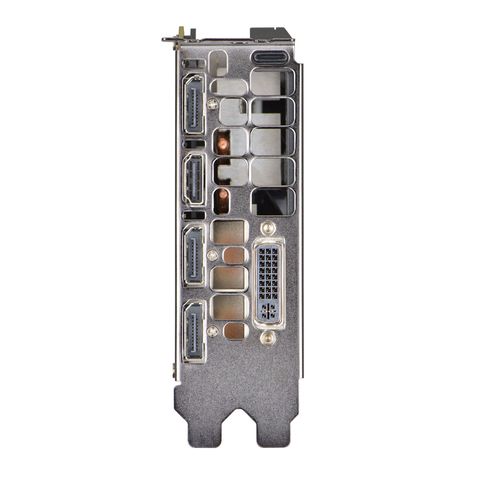 We should also highlight the stickers with notes on the production stages, which took place this instance and the version of BIOS.
To display an image provided the following set of interfaces:
One DVI-I;
One HDMI;
Three DisplayPort.
This choice of ports corresponds to the reference graphics cards, as well as the top model Nvidia.
The following resolutions:
Digital – up to 4096 x 2160;
Analog – up to 2048 x 1536.
In place and additional power connector: novelty although it has modest appetites, but the models GeForce GTX 750 (Ti) it is still far.The developers have equipped it with one Eight-connector, which is placed almost in the middle of the board. Despite this, the TDP level graphics card according to official figures is 120 W, and the power supply, as mentioned above, it is recommended by 400 watts.
The Side you will notice a small switch with two interesting signatures – «Slave» and «Master». And both cause a smile. In the first case we supposedly have the opportunity to manage something, and the other, apparently opens superpowers.
But we will not speculate, but refer to the official slide. Everything is simple and clear: the user is given a choice of two control circuits fans, and he needed the right to choose himself. The relevant section, we discuss these technologies.
Lack backplate offset between the reinforcing plate and the cooling plate. In the field of power system lacks any cooler, so we conclude that it is the same and the heat-dissipating element.
We return to the general figures. Model EVGA GeForce GTX 960 SuperSC ACX 2.0+ though looks eerily huge, but it is actually within reason – the length of new items is only 257 mm, width – 108 mm. In the case of the system, unit overrides the two expansion slots.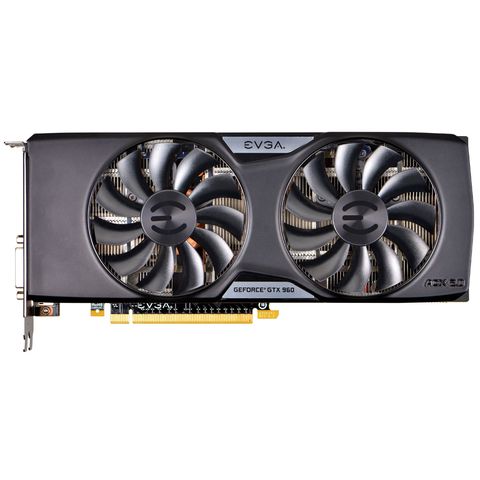 To implement the technology Nvidia SLI graphics card to use one connector for the respective bridges, with which you can connect up to two accelerators for joint calculation of graphical effects.
What's interesting is supplied many manufacturers this bridge is missing, so if necessary it will have to be purchased separately.
Cooling system
Proceed to one of the main points on which the user must pay attention when choosing – quality and efficient cooling system. Let's see how well coped with this task developers.
First, you need to unscrew the four small spring-loaded screw on the perimeter of the GPU. In the same eye catches a massive heat sink and thermal interface, which was though uncured, but feels like starch plasticine.
The cooler is really huge and deserves respect. It is based on a lot of nickel-plated aluminum plates pierced by three 10 mm heat pipes.
At the base is a copper plate for a contact with a graphic processor and the heat distribution among all the elements SB.
By the way, all connections carefully soldered. On one tube could be seen figures: perhaps is the serial number of the heat pipe.
For removing the casing need to arm a small screwdriver, otherwise the four cogs not podlezesh.
Under this element hides a massive heatsink with plates of different geometric shapes, special chassis for fans and turntables themselves with interesting impeller blades.
Obviously, the developers wanted to use all available space.
Fans securely mounted on a stand. In this case the company Power Logic model labeled PLA09215B15H characteristics 12 and 0.55 A.
After their removal gaze open cooler with complicated structure.
We can only talk about a couple of points.
Reinforcement plate secured with nine screws and is something like a radiator, or rather the heat distribution element (because it does not have fins) for two memory chips and the power subsystem.
Cope if such a decision with the task – to find out later. Contact the latest via the thermo rubber.
Reference model GeForce GTX 960 Nvidia company has not been presented, so each manufacturer was free to make a video card of this series as he pleases: someone has to develop a new circuit board, someone had based PCB past generations.
I note that in the review of EVGA GeForce GTX 960 SuperSC ACX 2.0+ similarities with other models is not found, is another plus for developers. The model uses quality components, such as tantalum capacitors and transistors type DirectFET.
Heart speaks GPU Nvidia GM206-300-A1, produced on 28 nm process technology at the end of November 2014.
As for the power subsystem, the six phases doubled responsible for the power core, two – for food storage.
PWM controller NCP81174 – this is a classic choice for the entire line of graphics cards GeForce GTX 9xx. Because he was deprived of a "smart" tires, the need to control the power through the video card driver.
Four memory chips 512 MB each made by Samsung marked K4G41325FC-HC28 make up the total 2048 MB of data exchange bus is 128 bits. Passport memory frequency – 1753 MHz (7012 MHz effective frequency).
Moving to another interesting novelty.
Review of Gigabyte GeForce GTX 960 Mini
Full name: Gigabyte GeForce GTX 960 Mini, manufacturer's code: GV-N960IXOC-2GD.
Packaging and delivery
Gigabyte video card comes in a black package of modest size with blue accents and cybernetic eye that allows you to immediately identify the manufacturer. The front side has remained almost unchanged over the past few years, providing a brief background information about the product.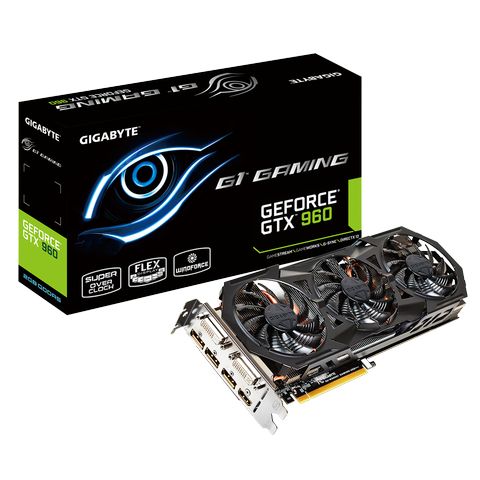 As is the case with other models on the back shows the basic technical data in different languages, including Russian. It is noted that this board is made in accordance with the company's concept of Ultra Durable VGA, which involves the use of only high-quality components in the production of graphics solutions.
A lot of attention paid to the narrative of a new cooling system, which had to invent from scratch and do a very compact. Engineers are proud of the work done, we also should check their word tests.
At the bottom is a list of system requirements to a PC, which will be installed in this model. There were no surprises: the power supply capacity from 400 W to the presence of one six-pin connector.
Video card Gigabyte GeForce GTX 960 Mini and the entire package is hidden in a black box with the logo of the manufacturer.
Under the hood is waiting for us everyday catcher – a model in anti-static bag, placed between sheets of cardboard. In crowded but not mad.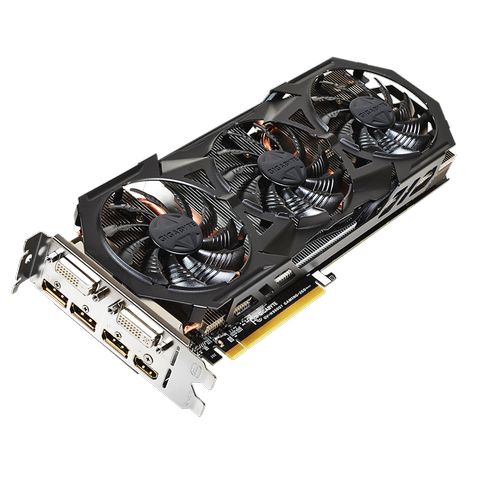 In such hard, but not extreme conditions and is supplied. By the way, he too spartan:
Instruction manual;
CD with drivers and software;
Power adapter type Molex -> 6-pin.
Compared with the video card EVGA accessory kit little bit poor.
Appearance and size
After removing the card from the box really surprised her modest dimensions. Measurements in the laboratory has shown that the length is exactly 170 mm Width – 109 mm. This crumb is perfect for HTPC systems and motherboards format ITX.
But for the small size and was followed by a number of difficulties faced by developers. First, a compact cooling system, which had to be fit to the board length of 170 mm. Secondly, in such circumstances, the engineers not to look, so the novelty looks pale and uncomplicated.
Before us is an ordinary plastic housing with little or no pattern and even the labels, but who will enjoy them as long as the graphics card will work in close body?
For active cooling is responsible only one fan, but quite large size – 90 mm. Him discern the radiator with longitudinal ribs. To him we shall return.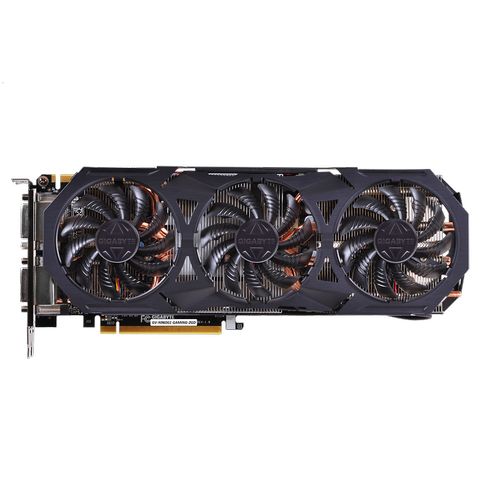 The reverse side is devoid of significant elements except for the two memory chips production Samsung.
To display the picture on the card contains the following set of interfaces:
One DVI-D;
One DVI-I;
One HDMI;
One DisplayPort.
The following resolutions:
Digital – up to 4096 x 2160;
Analog – up to 2048 x 1536.
"Kid» Gigabyte GeForce GTX 960 Mini has a "children's" appetite. Despite the fact that the developers do not disclose TDP graphics card, it is equipped with a single six-pin connector. Given the fact that many systems are equipped with weak power supplies, this model is suitable as a good future replacement.
Engineers have managed to cram so the cooling system, its heat pipes do not protrude beyond the edge of the PCB. Well, bravo!
At what angle does not look, but the video card Gigabyte GeForce GTX 960 Mini is able to compete for the right to occupy a place in HTPC systems users by offering the models of other manufacturers.
And if you seem a little one of this video, it will come to the aid of technology Nvidia SLI, allowing to install and connect into one another tandem accelerator.
However, there must be more powerful and power supply, and housing roomier and motherboards appropriate. Although in this case a special meaning in this format model no.
Cooling system
Cooling System Gigabyte GeForce GTX 960 Mini does not take up much space and can be easily dismantled. To do this, remove the four spring-loaded screw in the graphics processor.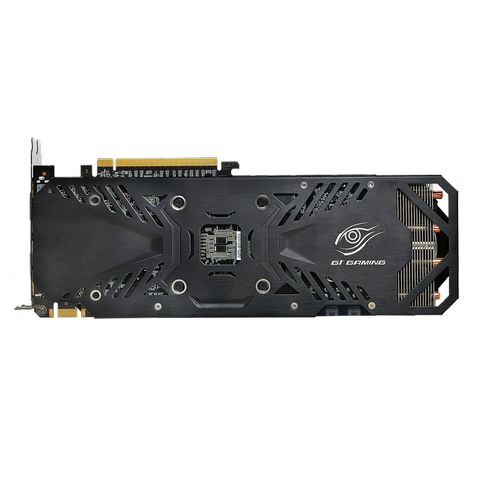 After removing the cooler look attracts cooling power subsystem implemented in the form of tiny aluminum radiator with low fins.Marvel expect from such a baby is not necessary, so the question arises: what temperature mosfetov in this part of the load is achieved?
Engineers combined the technology of direct contact with two heat pipes with a diameter of 8 mm each ideally suited to cover the graphics processor GM206 completely.
Here are just a base cutter processed and feels small hollows.
The plastic casing is attached directly to the heat sink with four tabs and cogs.
Its design is simple and uncomplicated. More here to tell about.
For active cooling meets one fan blades with a diameter of 88 mm, which is presented by Power Logic. Another interesting new form of the blade unit, according to which it has become quieter and more productive. Marking model – PLA09215S12H, features – 12 V and 0.55 A.
It is built on a plain, which promises low noise level during operation. Traditional drawback considered smaller compared with other types of bearing life. However, the inscription «Long life bearing» indicates that the manufacturer has taken into account the time and took care of a long period of operation.
If you remove from consideration all the cooler canopies, it remains one radiator simple form.
Two heatpipes transfer heat from the GPU to the edges of the plates, which in turn caused a stir by soldering for better thermal conductivity.
The thickness of the radiator is small, but in a strictly limited space developers can not be choosers.
On a separate photograph shows a low profile heatsink responsible for cooling the FETs power subsystem. As already mentioned, one should not expect a miracle: even capacitors above it. Contact us via the light-gray thermal pads.
PCB
Gigabyte GeForce GTX 960 is based on the original Mini PCB length of 170 mm with a standard principle of layout elements. Used element base corresponds to the concept Ultra Durable VGA: She scored exclusively from high-quality components – Japanese solid capacitors, ferrite core and field-effect transistors with low on-resistance.
Graphics processor Nvidia GM206-300-A1 produced on 28 nm process technology in mid-November 2014.
The power subsystem is implemented according to the scheme 4 + 1: four phases are assigned for the GPU, two – for the memory.This implementation remained faithful to many manufacturers. Of course, there are exceptions, but not in this case.
Responsible for the management of the classic PWM controller NCP81174.
Eight memory chips of 512 MB each produced Samsung. Their marking K4G41325FC-HC28.
Together they make up the total 2048 MB of data exchange bus is 128 bits.
Conclusion
Let's start with the negative aspects. First, Nvidia engineers came slyly removing sensor from the power supply subsystem video card few series, and many users now do not know what is really going on there. Since they take their lead and some other companies, although there are exceptions. At first glance, everything is in order, the GPU temperature is in the range 60-65 ° C, but at the same time on all mosfetah 85-90 ° C. And then there's the semi mode starts to move.
Second, the model GeForce GTX 960 has not won in Russia, and all over the world especially popular. Many confused memory interface of 128 bits, and only two gigabytes of video memory installed, which are nothing new. Meanwhile, new games placing increased demands on its volume. And, thirdly, the economic situation with the dollar inflated price tag card up to 15 000, highlighting the decisions of previous rulers. The picture is interesting, but not in favor of a new generation of young Maxwell.
Now as to the heroes of the review. Model EVGA GeForce GTX 960 SuperSC ACX 2.0+ turned out well, despite the small number of observations. It has a high factory overclocked and was able to surprise us with their frequency potential, good cooling system, a rich set of supply and firm guarantee. In fact, in this news has the potential to become an interesting proposal in the future.
Gigabyte GeForce GTX 960 Mini positioned for a narrow range of people and build HTPC. Against other "classmates" novelty stands out for its modest size classes. However, already released ASUS GeForce GTX 960 Mini, and on the way another model – Zotac GeForce GTX 960 Mini-ITX. Therefore, the requirements for such a graphics accelerator other than a "full-length» GeForce GTX 960. And if you do not pay attention to the temperature mosfetov, video card Gigabyte makes a good impression. But as they say, the truth is somewhere nearby.
Pros EVGA GeForce GTX 960 SuperSC ACX 2.0+:
Performance and quiet cooling system;
Two chips BIOS;
A rich set of delivery;
Factory overclocking;
Good overclocking potential;
Extended three-year warranty.
Cons video:
When the rotational speed of impellers 600 rev / min and lower power subsystem overheats.
Pros Gigabyte GeForce GTX 960 Mini:
Compact size (for ITX systems);
Silent cooling system;
Factory overclocking;
Good overclocking potential.
Cons video:
Mediocre cooling zone of the power subsystem.
Source:
Review and testing video cards EVGA GeForce GTX 960 SuperSC ACX 2.0+ and Gigabyte GeForce GTX 960 Mini
updated:
April 10, 2015
author: