Computer with Core i7-5960X and GeForce GTX 980 is satisfied with passive cooling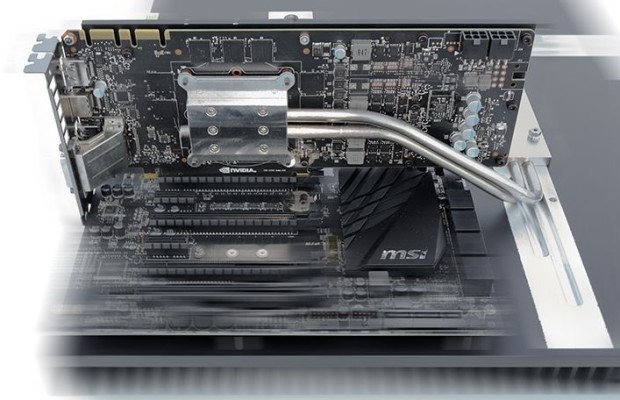 Attempts to use the walls of the system unit as a cooling radiators were made several times – one of the first made with the idea of the South Korean company Zalman. The graphics processor, chipset and motherboard CPU in this case transferred its heat energy via the large radiator heat pipes. The German company Deltatronic has released workstation PC Silentium! X99, which is able to dispense with the fan in the cooling system not only through the use of silent power supply capacity of 550 watts, but also thanks to the cooling system with two large heatpipes that can dissipate up to 240 watts of heat energy totally silent.
The entire side wall system unit acts as a large heat sink, through which the aluminum bar with two grooves for the heat pipes are attached radiators GPU and CPU. The presence of grooves on the guide bar allows you to adjust the graphics card at the time of assembly.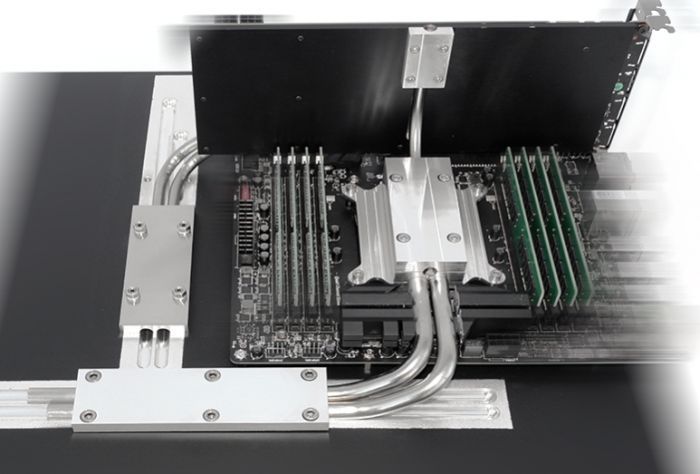 The motherboard MSI X99S SLI Plus is able to accommodate up to 64 GB of RAM in the four-channel configuration, graphics card, you can choose from a range of GeForce 210 and GeForce GTX 980 or Quadro K4200, as the CPU can be any of the models Haswell-E (up to 140 W inclusive ) or even Xeon E5-2687W v3 (160 W inclusive).
In its basic configuration the system unit is 1990 euros, but well-equipped system can cost several times more expensive. For storage there are separate enclosure with passive heatsink.
Side panel system unit acting as a radiator, shown in the photograph only as a fragment.
Computer with Core i7-5960X and GeForce GTX 980 is satisfied with passive cooling
updated:
May 11, 2015
author: