Review power supply Chieftec GPM-1250C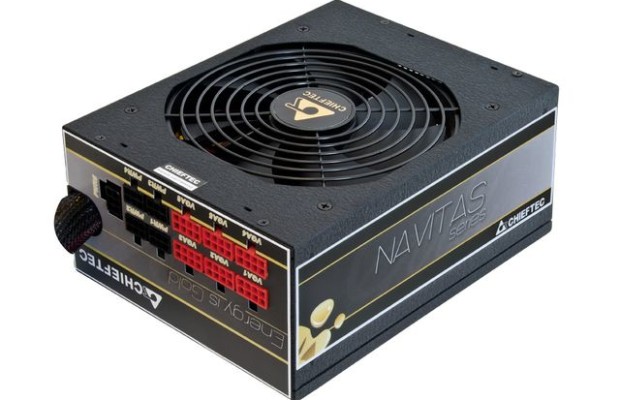 Box unit Chieftec GPM-1250C was almost as large as that of Cooler Master – 385 x 210 x 140 mm.
Pictured to "cover" the PSU is in a pool of molten gold – looks funny. Informative on the excellent level: the manufacturer provides a brief description of the device with a few graphs and tables of characteristics with the list of connections.
For safety package also no complaints – the block is placed in a soft form. Cord storage after assembly systems are encouraged to use a cloth bag with a drawstring.
Package – the most simple: manual, power cord, mounting screws.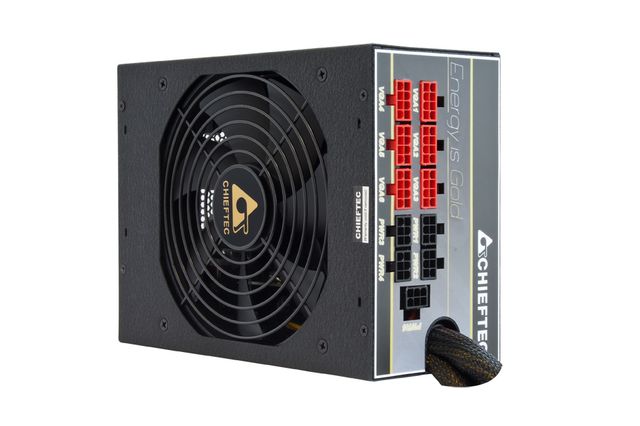 Take a look at the block itself. Looks Chieftec GPM-1250C is simple and solid, good manufacturer uses many times we meet "rough" covering the body, appearance diversify numerous labels.
Case dimensions – 149 x 199 x 86 mm, the length is increased by 60 mm (unit turned one centimeter longer Cooler Master V1200).Weight of the device is also "inspires" – 3030 g
Model Chieftec GPM-1250C is made partly of modular circuit – Turn off the cords are made with connectors and peripheral connectors PCI-e.
The unit is equipped with a large seven-bladed fan size 135 x 25 mm (in the form it is very similar to those used by Cooler Master).
Grille, covering the fan, mounted so that it can not be removed without dismantling the housing.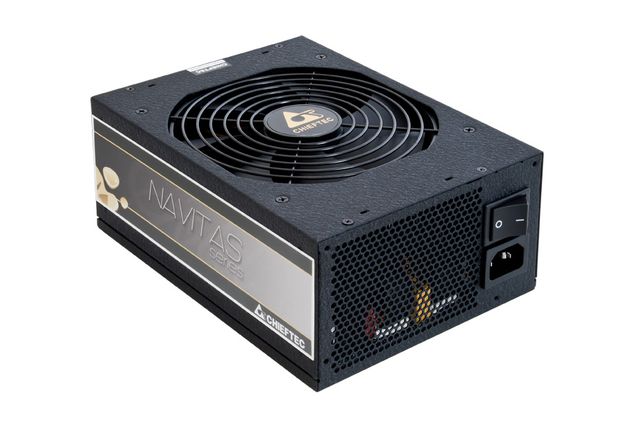 The current in line 12 can reach 104 A! This corresponds to the power of 1248 W, which represents 99.8% of the nominal value of the block. This figure is almost as good as Cooler Master V1200.
Along the lines of 3.3 V and 5 V can be submitted up to 150 watts of power, the limit on a current – 25 A per channel. Chieftec GPM-1250C is certified under the standard 80 Plus Gold.
All cords of BP in the form of circular cables with additional braid. The length of the cords with connectors ATX Mainboard 20 + 4-pin and the CPU 4 + 4-pin (these are two of connections) is 470 and 520 mm. These cables are "permanent", the rest are connected to the unit as needed.
To power the video card has six slots PCI-e 6 + 2-pin – two times less than the V1200. If set, offers an array of Cooler Master, can be considered redundant (twelve PCI-e will be in demand only in very rare professional system – although it is, of course, can not be considered a disadvantage), the six connectors from Chieftec GPM-1250C from my perspective a little. Blocks such a high capacity should allow to collect any bunch of SLI / CrossFire, including – of the four models. The length of cord is 520 mm.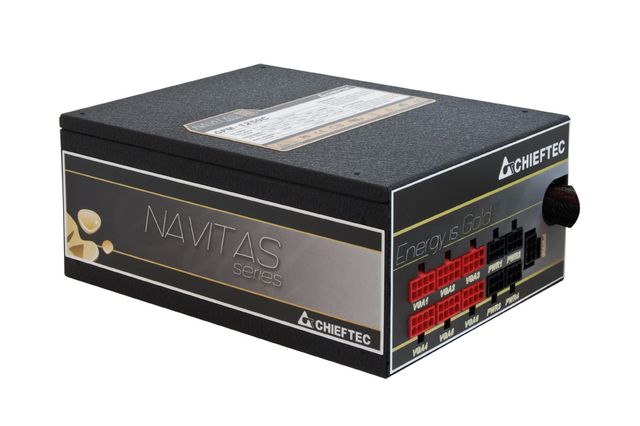 A set of connectors for peripherals also raises questions – with the SATA connectors in this block all right – twelve pieces; but the "Molex" are only three. Not enough, even considering the fact that today this connector is used less and less. Also provided is a connector for Floppy-disk drive. Cord length 950 mm (Molex) and 850 mm (SATA).
Thus, the power supply Chieftec GPM-1250C has excellent power characteristics, but markedly inferior to its competitors in the number of connectors. Nevertheless, it is obvious that this is a product of very high quality.
Read about next participant of our test – EVGA SuperNOVA 1200 P2.
Review power supply Chieftec GPM-1250C
updated:
May 13, 2015
author: